Through artists eyes: Tracey Moffatt and Gordon Bennett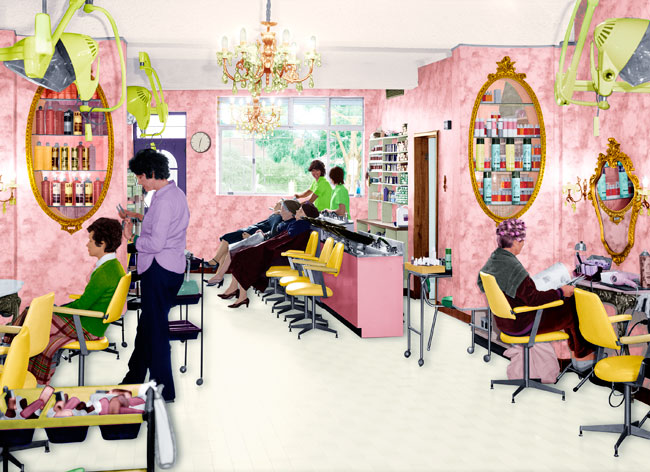 26 September – 16 November 2008
Through artists' eyes features a selection of works by Queensland artists Gordon Bennett and Tracey Moffatt. In Tracey Moffatt's First jobs series of 2008, the artist re-visits the dreary jobs she undertook as a teenager and art student. Moffatt inserts herself into twelve found images of Queensland workplaces, their high-keyed colour replicating the look of 1970s magazine illustrations. The cheery and up-beat images carry a certain irony. Now a highly successful artist, Moffatt says she is 'resentful and appalled at the work I had to do to survive', be it at a pineapple cannery, fruit market, canteen or corner store. Tracey Moffatt's First jobs series is a major new acquisition for the University's collection.
 
Gordon Bennett's series of self-portrait prints of 2003 form a dialogue with the way in which an artist's 'signature' style offers a form of self-portraiture. He overlays his own face with recognisable styles ranging from Pablo Picasso to Roy Lichtenstein, in a sense using their appropriated style as a mask, while a second layer of reference alludes to his identity as an Indigenous person. Ben-day dots used in the printing process and in Lichtenstein's work, for instance, remind the viewer of the dots of Central Desert Indigenous art.
 
In recent years, the University has begun to develop a focussed collection of artists' self portraits, the only collection of its kind in Australia. The first art work acquired by The University of Queensland, in 1929, was a self portrait by Mary Christison. The University of Queensland National Artists' Self-Portrait Prize – a prize by invitation only which was first held in 2007 – was won by Ben Quilty, a Sydney-based artist.