Repeat that again! – The serial impulse in art since the 'sixties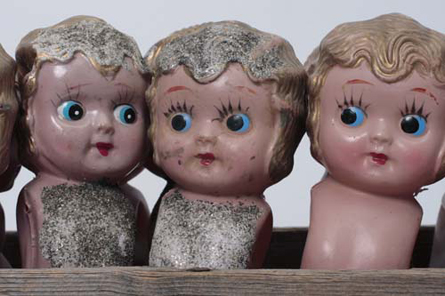 30 May – 13 July 2008
The repeated image that has permeated so much of Australian art since the 'sixties has various forebears: cinema and Edweard Muybridge, Minimalism, Conceptual and Op art, the mechanically reproduced image and Pop art, avant-garde literature, music and performance, and contemporary suburbia.
Repeat that again! shows how artists over the last four decades – from Robert Rooney and Rosalie Gascoigne to Fiona Foley and Xiao Xian  Liu – have used repetition and systems to different ends. Artists have revelled in the play of chance within fixed systems; enjoyed the banality of a set task acted out over time; enmeshed the grid with humour and the everyday to deflate pomposity; targeted the copy for its 'democracy' and lack of 'aura'; signalled the multiplicity of digital worlds; invested repeated forms with the body and the politics of a wider world; and, once more, found room for contemplation.
Repetition has also been paramount in the work of Australia's Indigenous artists; the work of Dorothy Napangardi and George Tjungurrayi here embeds long-practiced traditions within canvases of dazzling opticality. This exhibition – by no means a definitive survey – highlights how vital repetition and serial imagery have been, and continue to be, for Australian artists.
Curator: Michele Helmrich