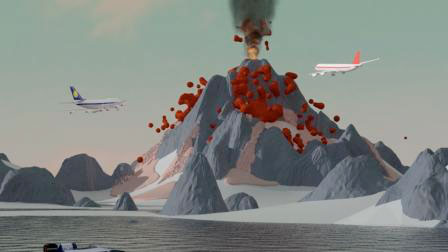 28 March – 11 May 2008
'This split-screen animated video uses the visual language of gaming and fashion advertising to construct a choreographed ballet of bloodless hand-to-hand combat and spectacular transport disasters. Doom-laden, funny and nerve-rackingly fake, [Last Riot] was one of the most memorable new works to emerge at last year's Venice Biennale'- Sebastian Smee, Art Critic for The Australian, writing of Last Riot at the Adelaide Biennial 2008.
Last Riot is a computer-animated video installation by one of Russia's most critically acclaimed contemporary art groups, AES+F Group. This three-screen video work is set in a Caravaggio-inspired virtual 3-D world, accompanied by a thunderous Wagnerian soundtrack. 
 
The AES+F Group comprises four Russian artists. Tatiana Arzamasova, Lev Evzovitch and Evgeny Svyatsky have collaborated as AES since 1987, and have worked with photographer Vladimir Fridkes since 1995 (AES+F Group). Arzamasova and Evzovitch are graduates of Moscow Architectural Institute, Svyatskiy is a graduate of Moscow University of Printing Arts, and Fridkes has been a fashion photographer for Russian editions of Vogue, Harper's Bazaar, ELLE, Marie Claire, Cosmopolitan and others. In collaboration, their work has included photo-projects, video, sculptures and installations.
 
Last Riot was shown to high critical acclaim at the 52nd Venice Biennale in 2007, as part of the official Russian Pavilion. Also in 2007, AES+F were included in biennales in Istanbul and Goetheborg, they received a large retrospective at Mramorniy Palace in St Petersburg, and celebrated 20 years of collaboration with a retrospective at the Moscow Museum of Modern Art.  
 
The screening of Last Riot at the UQ Art Museum will be the only screening of this work on Australia's eastern seaboard and is courtesy of Triumph Gallery, Moscow, with kind support of Dr Dick Quan.
Media
View 'AES+F: Last Riot media release' here