Pat Hoffie: Madame Illuminata Crack's phantasmagorical armchair for ecologically sustainable recreation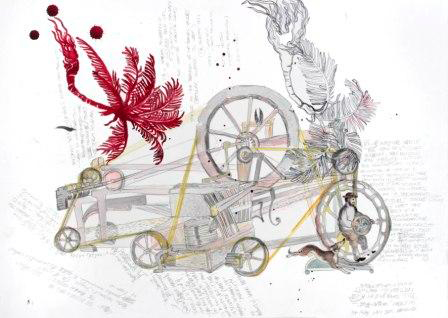 10 October – 16 November 2008
In this exhibit the benefits of self betterment through art, travel and exercise are brought together in a way that completely avoids the necessity of exertion of any kind. Bereft of ideas, aesthetics and physiological understanding, the exhibit postulates a new way of engaging with the mind, the body and the region itself.
Drawing from extensive data compiled during package holiday experiences, gym workouts, aimless netsurfing and intermittent astral armchair travelling, this work promises nothing for the future.
Media
View 'One-of-a-kind installation opens at UQ Art Museum' here
This project has been assisted by the Australian Government through the Australia Council for the Arts, its arts funding and advisory body and by the Visual Arts and Craft Strategy, an initiative of the Australian State and Territory Governments.