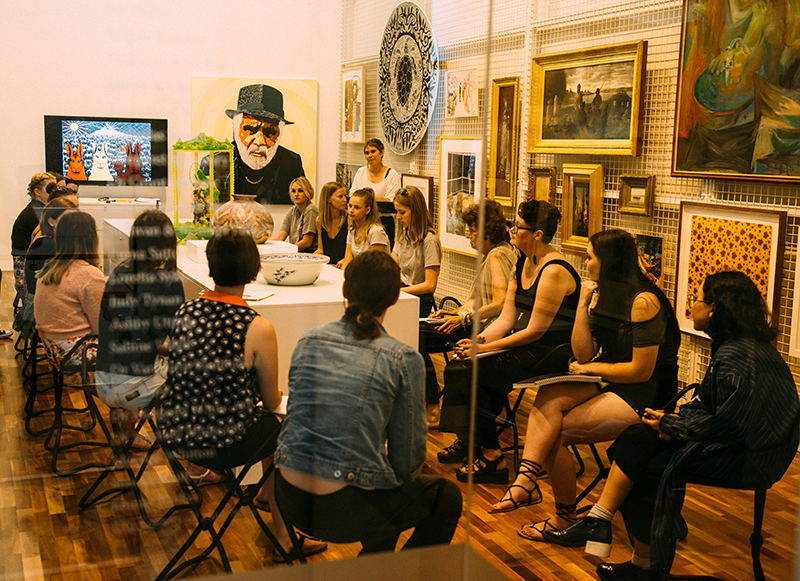 The University of Queensland Art Collection is one of Queensland's most significant public art collections and features more than 4,000 works of art. 
Developed over seventy years, the UQ Art Collection comprises works by major Australian artists, from the colonial period to the present, as well as a significant collection of Chinese antiquities. In 2004, the University initiated the National Collection of Self Portraits, which has become an important focus area within the Collection.
The University continues to acquire innovative works of art across a range of media that respond to the contemporary moment. Historic works of art also enter the Collection primarily through gifts (including gifts under the Australian Government's Cultural Gifts Program), donations and bequests.
Works from the Collection feature in exhibitions at UQ Art Museum and are frequently loaned to exhibitions presented by state and national institutions. 
Collection artworks are also displayed in buildings across the University's campuses via the UQ Art Museum-curated 'On-Campus Art Program'.
The Alumni Friends of UQ Collection Study Room, a dedicated workroom on the top floor of the Art Museum provides a way for students, researchers and interested members of the public, to request supervised access to examine artworks from the UQ Art Collection. 
Email us to find out how to access and book the Collection Study Room.