National Artists' Self-Portrait Prize 2011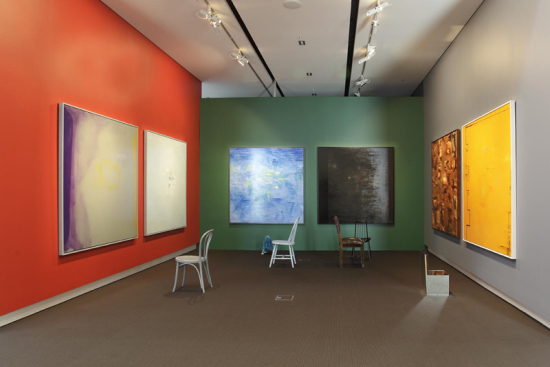 Life is risk / Art is risk
24 September 2011 – 12 February 2012
What is contemporary art if not a risk, a monumental folly? Could there be a riskier venture than creating art—painting, music, dance— and showing it to an audience, with no control of how it may be received or understood? Does not art, broadly speaking, reflect the human condition? Not in the sense of emotions, but rather in the idea that life itself is a risk: we are born, we live and we die. All that happens in between is a calculated risk: we sink or swim.
Making and exhibiting art is a risky pursuit. The artist need not be rewarded financially or be critically well received, or even acknowledged on the cultural landscape. The artist risks their work being reviled, celebrated or, in the worst-case scenario, ignored. To make a self portrait then is to add to the calculated risk, for it is to say something about oneself explicitly, to risk exposure. Herein lies its strength. The 2011 Self-Portrait Prize invites artists to take a risk, a risk that the work may not be revered, but instead may provoke.
Curator: Alison Kubler
Judge: Rhana Devenport
Artists
Alfredo & Isabel Aquilizan | James & Eleanor Avery | John Barbour | Polly Borland | Daniel Boyd | Eric Bridgeman | Dadang Christanto | Daniel Crooks | Domenico de Clario | Michael Doolan | Cherine Fahd | Nicholas Folland | Louise Hearman | Narelle Jubelin | Laith McGregor | Noel McKenna | Tim McMonagle | Kate Murphy | Raquel Ormella | David Ray | Joan Ross | Rebecca Smith | Grant Stevens
Video
Judge's comments
Domenico de Clario's work 2047 (the immortal) is a deeply considered and complex meditation on memory and mortality. Taking poignant moments from each decade of his own life since 1947 and projecting possible moments into an imaginary future, de Clario coalesces 100 years of a life lived. Each decade is marked with a painting and a chair from which it could be viewed. These elements are presented in a vividly painted room that itself recalls the artist's overpowering first encounter – via his own father's hand at aged ten – with 'modern art'.
2047 (the immortal) explores, in the artist's own words, 'how paradoxical ideas about risk and failure and expectation can be negotiated in one's life'. The self constantly evolves in a never-ending circular quest, and 'momentariness' hones our experiences, memories and sense of self. As always in de Clario's work, European literature infiltrates and informs his questions, this new and vast constellation of thoughts and painted forms registers an unveiling and a revealing of human sensitivity.
Rhana Devenport
Director, Govett-Brewster Art Gallery
New Plymouth, Aotearoa New Zealand
Public Programs
Saturday 24 September
10.30 am – 11.30 am: Alison Kubler in conversation with Rhana Devenport
11.30 am – 12.30 pm: Artist talks by Louise Hearman, Nicholas Folland, Raquel Ormella and David Ray
Media