Capital and country: the Federation years 1900–1914

25 July – 1 November 2015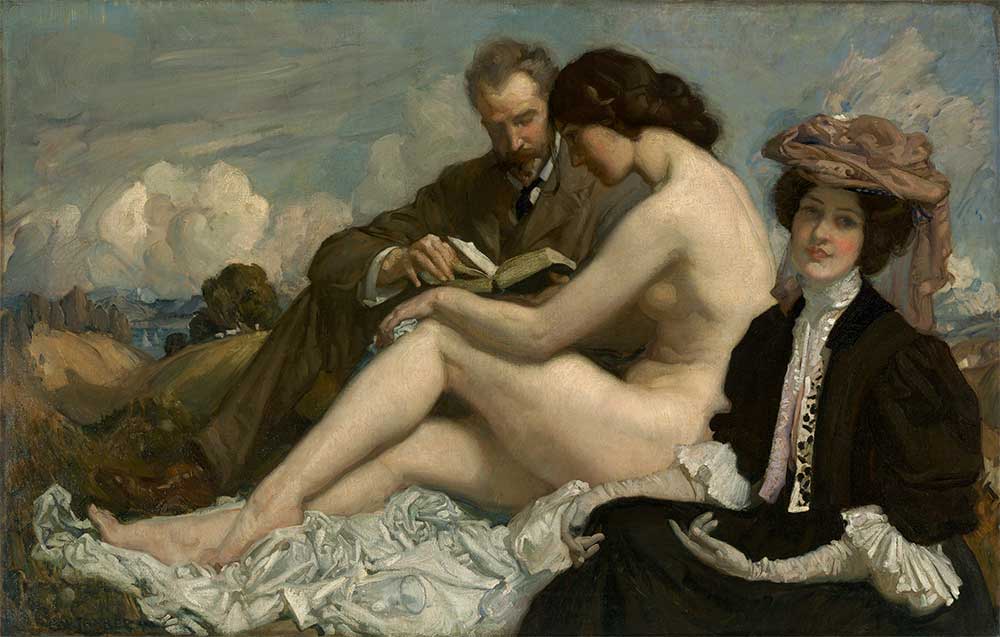 Capital and country: the Federation years 1900–1914 celebrates the art of the newly federated Australia alongside the work of Australians working in Europe during these formative years of the new century. The paintings by 25 Australian artists invite viewers on a journey through the era and around the world, from patriotic visions of the Australian bush to the bohemian enclaves of London and Paris where sumptuous portraits were produced. Well-known and loved works in the national collection by Frederick McCubbin, George W. Lambert and Hans Heysen are brought to light in new ways alongside lesser-known images by Florence Fuller, R. Godfrey Rivers and Richard Hayley-Lever. 
Website
Learn more about the exhibition on the National Gallery of Australia website here
Public Programs
Lunchtime music program: 12.00 pm – 2.00 pm, daily until Sunday 1 November
We invite you to enjoy our first lunchtime music program. You are welcome to bring your lunch, and listen to the playlist in the foyer, but please do not take any food or drink out of the foyer. Curated by UQ Music student, Ben Heim, this playlist seeks to mirror the artistic output that is representative of the period between 1900 and 1914, within a musical aesthetic.
Sunday 20 September 11.00 am – 1.30 pm
In association with the National Gallery of Australia exhibition Capital and country: the Federation years 1900–1914, please join us for a Sunday program of music and art.
Concert: Tinalley String Quartet 11.00 am – 12.00 pm
The Tinalley String Quartet has rapidly achieved recognition as one of the most exciting quartets, not only in their home of Australia but also on the world stage. The ensemble brings together four experienced musicians: Adam Chalabi, violin; Lerida Delbridge, violin; Justin Williams, viola; and Michelle Wood, cello.
Curator tour: Lara Nicholls 12.30 pm – 1.30 pm
Please join Lara Nicholls, Assistant Curator, Australian Paintings and Sculpture, National Gallery of Australia, on a tour of the exhibition.
Free. All welcome.
Wednesday 23 September 2.00 pm – 4.00 pm
Panel discussion: Living with dementia
During Dementia Awareness Month, and in association with our pilot 'Art and Dementia' program, please join Adriane Boag, author and dementia survivor Christine Bryden, Professor Elizabeth Coulson and A/Professor Christine Brown Wilson, in a conversation about ageing dementia, which is currently the second leading cause of death in Australia. Chaired by Gillian Ridsdale, Curator of Public Programs, the panel will discuss the latest research findings and the engagement programs that can support the quality of life for people diagnosed with this illness.
Opening
Friday 31 July 6.15 for 6.30 pm
opened by
Dr Deborah Hart
Senior Curator of Australian paintings and sculpture, post 1920
National Gallery of Australia
Media
A National Gallery of Australia Travelling Exhibition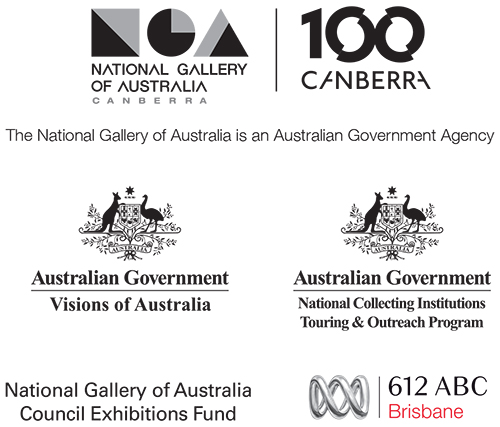 Supported by Visions of Australia, an Australian Government Program supporting touring exhibitions by providing funding assistance for the development and touring of cultural material across Australia, and the National Collecting Institutions Touring and Outreach Program, an Australian Government program aiming to improve access to the national collections for all Australians. The exhibition is also supported by Media Partner ABC Local Radio.