Multiplicities: Self portraits from the Collection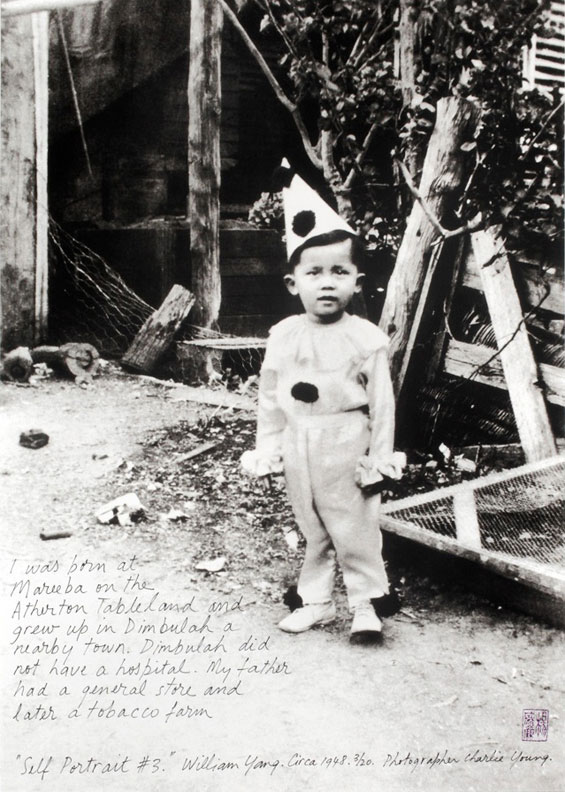 25 November 2010 – 16 January 2011
Over the past forty years self portraiture has evolved to encompass more variety than ever before. Multiplicities: Self portraits from the Collection celebrates this diversity through works that challenge and surprise: a video in which twins mirror each other's movements and become indistinguishable; a monumental work on paper in which mother, son and daughter merge; a sequence of cardboard panels emblazoned in red and white that assert the artist's identity through the evocation of her name. Whether through repetition, in series, or as part of ongoing self-portrait projects, the artists in Multiplicities have invigorated and expanded the form.

Included in the exhibition are videos by Laresa Kosloff, and Gabriella and Silvana Mangano; a series of inkjet prints by Gordon Bennett; photographs by Luke Roberts, Robert Rooney and William Yang and a sequence of papercuts by Pamela See.

Narcissistic or sceptical, playful or antagonistic, the self portraits in Multiplicities confront, intrigue and engage, and help us to navigate the plurality within ourselves.

The works in Multiplicities are drawn from the National Collection of Artists' Self Portraits. Established in 2004, the Collection is an important focus area of The University of Queensland Art Collection. Del Kathryn Barton's 2008 Archibald Prize-winning painting, you are what is most beautiful about me, a self portrait with kel and arella …, has been generously loaned for the exhibition.

Artists included in Multiplicities are: Vernon Ah Kee, Del Kathryn Barton, Gordon Bennett, Cherine Fahd, Anastasia Klose, Laresa Kosloff, Kevin Lincoln, Gabriella Mangano and Silvana Mangano, John Nixon, Rose Nolan, Mike Parr, Scott Redford, Luke Roberts, William Robinson, Robert Rooney, Pamela See and William Yang.
Curator: Samantha Littley