AES+F: THE REVOLUTION STARTS NOW!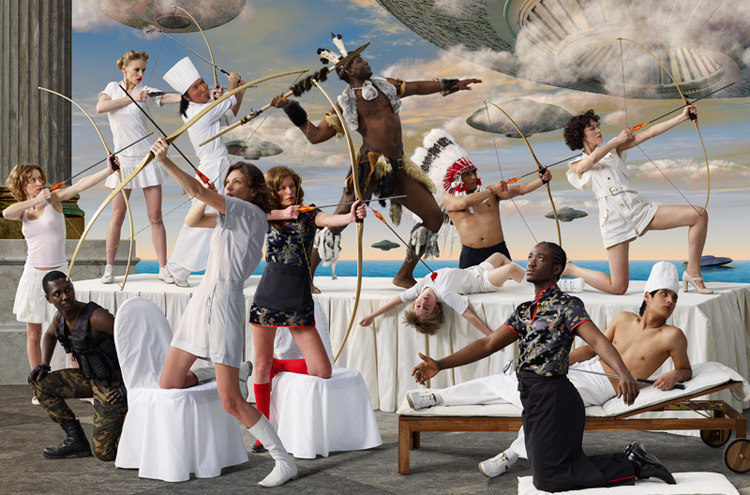 9 July – 29 August 2010
Russian artist collective AES+F create fantasy worlds combining classical western mythology with contemporary global consumerism.
AES+F: THE REVOLUTION STARTS NOW! presents photographic and new-media artworks, including two large-scale digital video installations: The Feast of Trimalchioand Last Riot 2 previously shown at the Venice Biennale 2009 and 2007 respectively.
The Feast of Trimalchio retells Petronius's epic poem from the Satyricon for a twenty-first century audience. Using the imagery of high-fashion, cinema, lifestyle magazines, and luxury design, The Feast of Trimalchio is an Olympic-sized orgy of wealth and pleasure. Set in a luxury hotel on an artificially constructed island paradise, the guests and staff change roles to live out their gastronomic and erotic fantasies. Despite the hotel's endless pleasures, anxiety, inequality, and disaster continually threaten to destroy this very contemporary vision of paradise. 
The AES+F Group comprises four Russian artists. Tatiana Arzamasova, Lev Evzovitch and Evgeny Svyatsky have collaborated as AES since 1987, and have worked with photographer Vladimir Fridkes since 1995 (AES+F Group). Arzamasova and Evzovitch are graduates of Moscow Architectural Institute, Svyatskiy is a graduate of Moscow University of Printing Arts, and Fridkes has been a fashion photographer for Russian editions of Vogue, Harper's Bazaar, ELLE, Marie Claire, Cosmopolitan and others. In collaboration, their work has included photo-projects, video, sculptures and installations.
'…the work overpowers the viewer with its scale, hyper-real CG enhanced tableaux and monumental score, the Allegretto from Beethoven's Seventh Symphony' (Jacqueline Millner, Eyeline 70).
Media
View 'Art exhibition explores digital dreamscape' here
Supported by the Gordon Darling Foundation