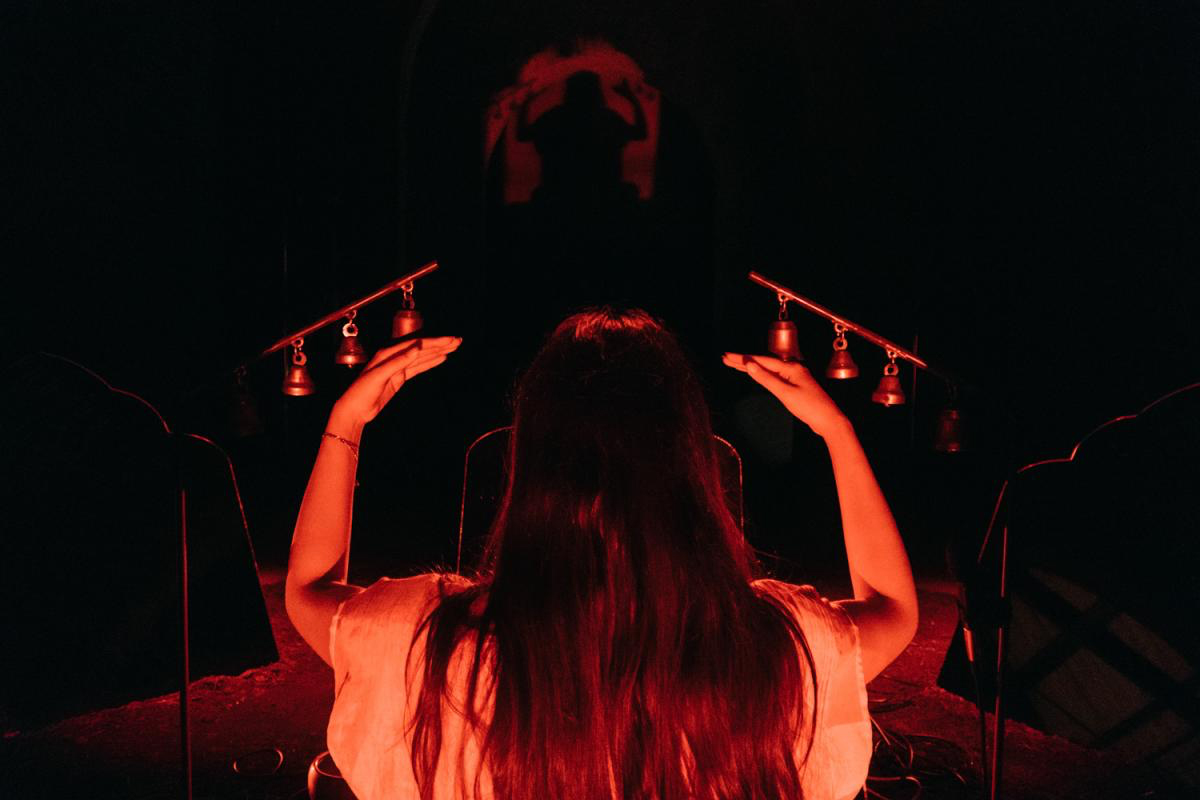 Naomi Blacklock presents her performance, Aflame, A Singing Sun (2019), the residue of which will remain in the gallery space. Blacklock's enactments often include natural elements, such as turmeric or dirt, and sound recordings of reverberated movements of her body upon a mirror.
Aflame, A Singing Sun is conceived as a healing space for personal power and calls upon the history of individuals seeking self-sovereignty. A golden ring of fire rendered on the alcove wall frames the space and directly references a Hindu motif, the Prabhavali. Regularly positioned around artistic depictions of deities, these halos of fire symbolise a cycle of creation and destruction.
In her performance, Blacklock positions her body behind a large golden gong and activates the sun, a symbol of life and death, through the gong percussions hitting her body. Recent data reveals that the flames from the sun's surface metallically vibrate, emitting a low and pulsing frequency, like a gong.1 In alchemy, the sun's energy possesses the same qualities as fire. Witches are masters of fire – they brew potions and concoct spells over fiery flames. Blacklock's use of charcoal in the performance echoes similar sentiments, as charcoal speaks of fire, smoke, and heat. Moreover, while charcoal is used for healing purposes, it can also be poisonous.2
Blacklock approaches the figure of the witch as a channel to move through, rather than a trope to appropriate from. By placing her body in the work, Blacklock controls her image, concealing and revealing herself. The ritualised performance and resulting residue of Aflame, A Singing Sun emerge simultaneously and speak of the sun's spirit – its mythology, its matter, its power.3
Naomi Blacklock (b. 1990, Alice Springs, Northern Territory) lives and works in Brisbane, Queensland. She is currently a PhD candidate in Visual Arts at Queensland University of Technology, Brisbane, where she also received a Bachelor of Fine Art, Honours (2016). Solo exhibitions and commissions include Conjuring Alterity, Outer Space, Brisbane (2018); Häxan (Witchcraft through the Ages), Institute of Modern Art (IMA), Brisbane (2018); Parallel Presence, IMA, Brisbane (2017); and BLACK MASS, Seventh Gallery, Melbourne (2016). Blacklock also featured in the group exhibition NETHERWORLDS, which toured Firstdraft Gallery, Sydney; The Walls Art Space, Gold Coast; Seventh Gallery, Melbourne; and Spring Hill Reservoir, Brisbane (2016–2018). Blacklock was shortlisted for the Jeremy Hynes Award, IMA (2017).
Naomi Blacklock
Padma 2018
Performance documentation from NETHERWORLDS exhibition, Spring Hill Reservoir, Brisbane, 9 June 2018.
Photo: Charlie Hillhouse 
Courtesy of the artist