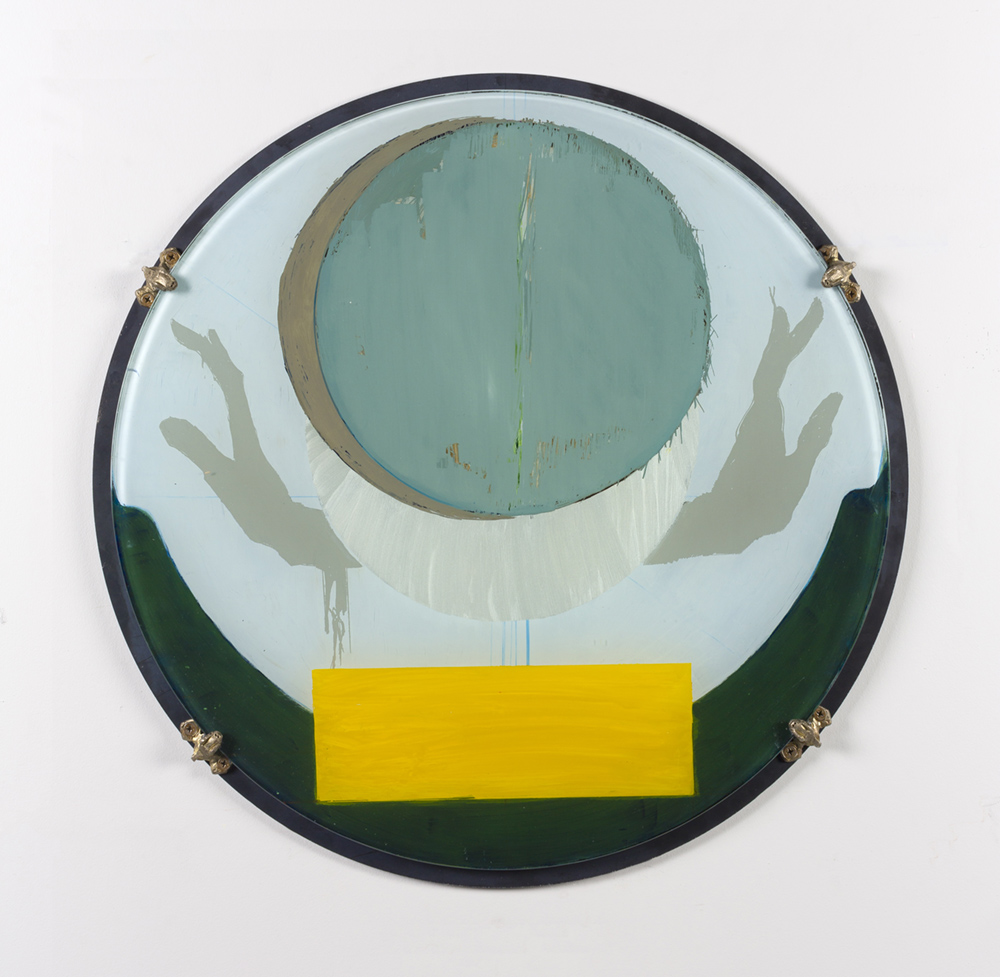 Clare Milledge presents a unique approach to thinking about witchcraft and
nature. Witches were once held accountable for environmental strife and said to call forth tumultuous weather events. Now with the advent of climate change magical intervention may be humankind's final hope for survival.1
Milledge presents a project called Art as Fieldwork: Hot Spell on the Way (2019), which includes installation, sound, performance, sculpture, and paintings. Surrounding the pipe organ is a plywood ziggurat (an ancient Mesopotamian temple platform) covered in recycled patchworked textiles designed by Milledge in collaboration with architect Luke Pigliacampo. A sound performance, Raven Triad - F Minor - 128bpm (2019) by sound artists Austin Buckett and Tom Smith, activates the ziggurat. Buckett and Smith composed an arrangement for the organ, which is accompanied by aural elements: field recordings gathered by Milledge in central Australia, and Corvidae (crow and raven family) recordings prepared by ecologist David Milledge. Buckett and Smith have utilised a chord sequence known as a tritone or 'the devil's interval,' with an interval of six semitones. The sequence produces an unsettling sound. The tritone was banned from musical compositions during the Middle Ages for its satanic and witch-like properties.2
A recurring aspect of Milledge's work is a painting technique called hinterglasmalerei, a process that involves the artist painting backwards on glass panes, commonly used in the Middle Ages. The imagery across the project included paintings glide between abstract forms, biological transformations, and witchy mysticism. Milledge has titled every component of the installation with a line of incantation drawn from 'The White Goddess,' a 1948 translation by Robert Graves of 'The Song of Amergin.'3 Graves bisected each statement with a colon, evoking a call and response. When read together, the titles of the works conjure an incantation that seeks to reconnect us intimately with nature and its lost magic.
Clare Milledge (b. 1977, Sydney, New South Wales) lives and works in Sydney and Broken Head, New South Wales. She holds a PhD from Sydney College of the Arts, the University of Sydney (2013), where she also received a Bachelor of Visual Arts (Painting) Honours in association with Statens Kunst Akademi, Oslo (2006). Milledge has participated in studio residencies at Artspace, Sydney (2015–2016); Gertrude Contemporary, Melbourne (2014); and K2 Residency, Karosta, Liepaja (2008). Significant solo exhibitions and commissions include Sacks of wind: a rock harder than rock, STATION Gallery, Melbourne (2018); Strigiformes: Binocular, Binaural, Museet for Samtidskunst, Nasjonalmuseet, Oslo (2017); Skara Thynge: Travelling Stock Reserves, The Commercial Gallery, Sydney (2016); Altus Duel: Total Environment, Gertrude Contemporary, Melbourne (2014); and Maximalist Ritualist, Australian Experimental Art Foundation, Adelaide (2012). Recent group exhibitions include Remedial Works, Perth Institute of Contemporary Art, Perth (2017); What Remains, Fotogalleriet, Oslo (2017); Crusted Heat, The Commercial Gallery, Sydney (2017); Gesture Manifest, Blindside, Melbourne (2016); and Dämmerschlaf, Artspace, Sydney (2016).
Clare Milledge
I am the womb: of every holt 2018
Oil on the reverse of recycled tempered glass, bronze close-readers, steel
52.5 cm diameter x 0.6 cm
Courtesy of the artist and STATION, Melbourne
Clare Milledge's project Art as Fieldwork: Hot Spell on the Way is assisted by the Australian Government through the Australia Council, its arts funding and advisory body.