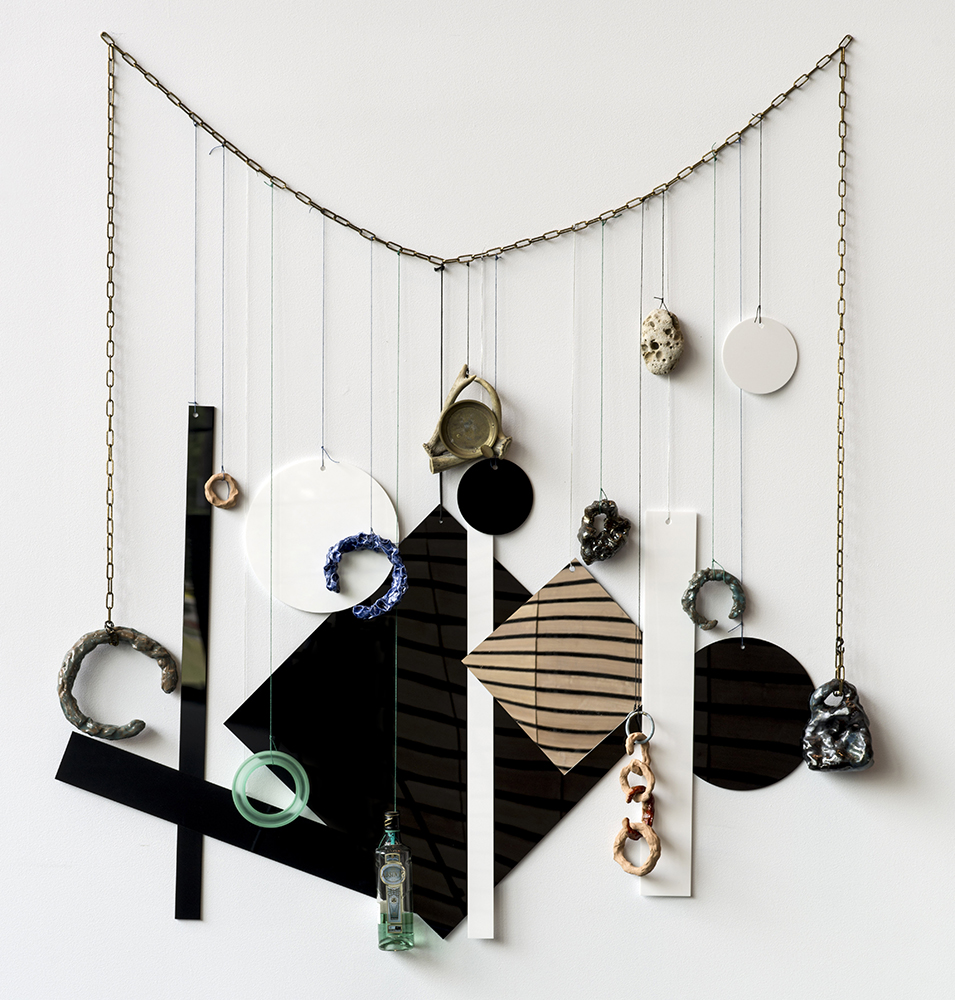 Mikala Dwyer is renowned for her sculptures and large-scale installations that demonstrate an interest in magic and occult forces. Many of Dwyer's works explore and validate ritualised practices associated with the 'other'. This exhibition includes two works by Dwyer both from 2015: Spell for a corner, and Green Fairy Necklace for Wall.
Spell for a corner is a geometric wall painting designed to seamlessly fill the corner of a gallery room, its colourful array of crystalline triangles casting a spell into the space. In this work, Dwyer's interest in occult forces converge with painterly abstraction and spirituality. She cites the 'mystic' Swiss–German artist and healer Emma Kunz (1892–1963) as being a direct influence,1 with the mandala structure of Spell for a corner recalling the complex geometric patterns that Kunz created and utilised in her spiritual healing practice.2 Dwyer evokes a similar technique of spiritual connection, as her work draws upon the therapeutic effect of colours in connecting with our psyche.
Suspended from a chain, like charms on a necklace, the objects become tokens that transcend their often banal qualities. Channelling a psychic medium, Dwyer has collected items that evoke wider fascinations. The array of objects include an ashtray, a rock, antlers, a ring of uranium glass, and an almost empty bottle of Absinthe. This anise-flavoured spirit, also known as la fée verte ('the green fairy'), informs the artwork's title and underscores the transformative properties of hallucinogens.
Mikala Dwyer (b. 1959, Sydney, New South Wales) lives and works in Melbourne, Victoria. She trained under Professor Stan Douglas at Universität der Künste, Berlin (2007); holds a Master of Fine Arts from the College of Fine Arts, University of New South Wales, Sydney (2000); and a Bachelor of Fine Arts from the University of Sydney and Middlesex Polytechnic, London (1986). Recent solo exhibitions include Mikala Dwyer: A Shape of Thought, Art Gallery of New South Wales, Sydney (2017); In the Head of Humans, Hopkinson Mossman, Auckland (2016); and Mikala Dwyer: MCA Collection, Museum of Contemporary Art Australia, Sydney (2015). Significant group exhibitions include Soft Core, Shepparton Art Museum, Victoria (2018); Unfinished Business: Perspectives on Art and Feminism, Australian Centre for Contemporary Art, Melbourne (2017); and Occulture: The Dark Arts, City Gallery Wellington, New Zealand (2017).
Mikala Dwyer
Green Fairy Necklace For Wall 2015
Perspex, ceramic, brass, antler, ash tray, string, uranium glass, absinthe, rock
172 x 160.5 x 12 cm
Collection of The University of Queensland, purchased 2016.
© Mikala Dwyer/Copyright Agency, 2019