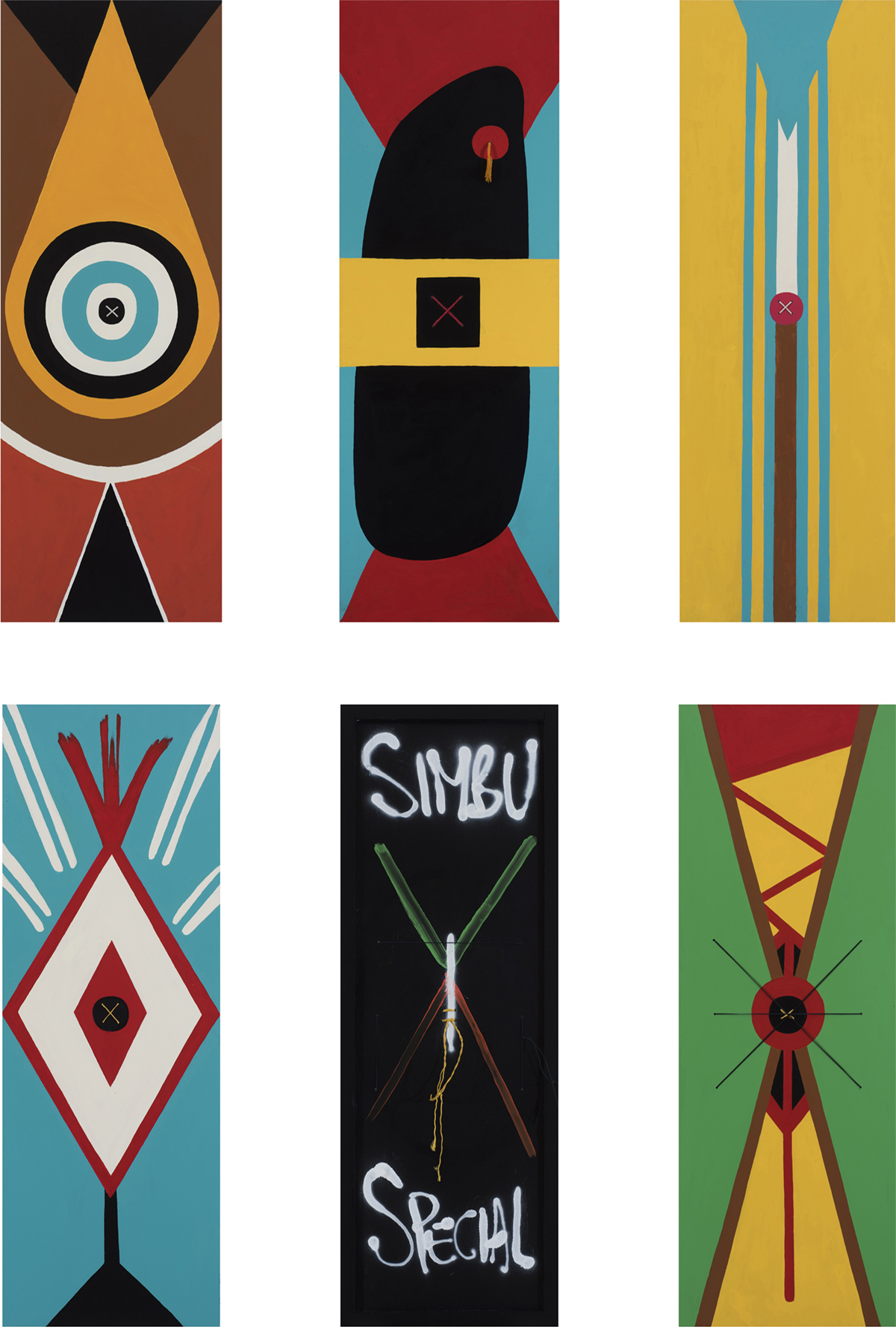 Eric Bridgeman's artworks explore sociocultural threads of his lineage from the Yuri Alaiku clan of the South Simbu province in Papua New Guinea
(PNG). For this exhibition Bridgeman has developed a new presentation of his kuman (shield) painting project. The Yuri Alaiku clan have crafted kuman for generations,1 their shields embodied an individual's connection to clan lineage. They were used en masse in close-range battle to optically confuse opponents, through their bold colours and geometric patterning.2 In 2017, Bridgeman initiated the kuman painting project with his cousins and uncles in Kudjip, Jiwaka province.3 Bridgeman's lineage, as 'the grandson of late Muka Gelua of Omdara, chief and revered marksman,' allows him to lead the group to share cultural knowledge of the kuman, an aspect of secret men's business, and to discuss possible futures for its imagery through processes of sketching and painting.4
Individual designs reference interests in pop culture, politics, sport, and spiritual beliefs. However, when seen as a group they collectively convey wider concerns of 'protection and danger; tribal warfare and brotherly love; sorcery and healing; and the living, the dying, and the dead.'5 Through this generative approach, the shield paintings are recast and imbued with individual and collective identities of Chimbu province today.
Eric Bridgeman (b. 1986, Redcliffe, Queensland) lives and works between Brisbane, Queensland, and the Eastern and Western Highlands of Papua New Guinea. He has a Bachelor of Photography from the Queensland College of Art, Griffith University, Brisbane (2010). Significant solo exhibitions and commissions include Kala Büng, Milani Gallery, Brisbane (2018); My Brother and the Beast, Gallerysmith, Melbourne (2018); SNO 145, Sydney Non-Objective, Sydney (2018); The Fight, Monash Gallery of Art, Melbourne (2017); All Stars, Carriageworks, Sydney (2012); Haus Man, Museum of Contemporary Art Australia (MCA), Sydney (2012). Recent group exhibitions include Just Not Australian, Artspace, Sydney (2019); Australians in PNG, Monash Gallery of Art, Melbourne (2017); Number 1 Neighbour, Queensland Art Gallery | Gallery of Modern Art (QAGOMA), Brisbane (2016); The 8th Asia Pacific Triennial of Contemporary Art, QAGOMA, Brisbane (2015–2016).
Eric Bridgeman, "Eric Bridgeman Kala Büng (Colours join together)," Art Monthly, no. 309, August 2018.
Natasha Matila-Smith, "Eric Bridgeman: Kala Büng (Colours join together)," Art Almanac, July 2018.
Bridgeman, "Eric Bridgeman Kala Büng (Colours join together)."
Ibid., 46.
Ibid.
Ibid.
Eric Bridgeman
Pis Mangi (front), Spak Man (front), Bolma (front), Kakaruk (front), Simbu Special (verso), Simbu Special (front) 2018
acrylic, enamel, twine, plywood
six parts, each 170 x 60 x 5 cm
Reproduced courtesy of the artist and Gallerysmith, Melbourne.
Photo: Ian Hill