Janet Dawson Survey 1953–2006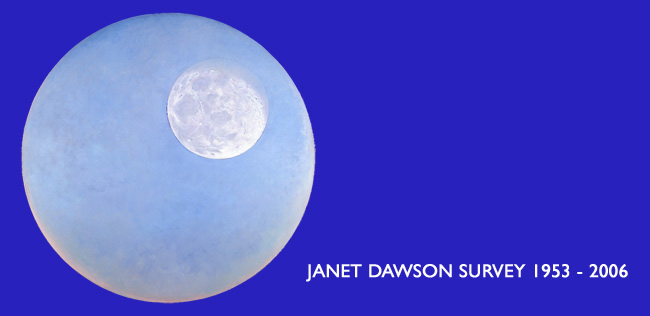 7 July – 19 August 2007
A Bathurst Regional Art Gallery travelling exhibition
Janet Dawson Survey 1953–2006, has drawn together over 60 art works from a large number of public art galleries and private collections, including 22 works from the National Gallery of Australia. Famously one of three women artists included in the National Gallery of Victoria's 1968 exhibition The field, Janet Dawson's work later shifted from minimal abstraction to still life and landscape.
Born in 1935, Janet Dawson's talents were recognised early and from the age of eleven she studied privately before attending the National Gallery Art School, Melbourne, from 1951–56. In 1956 was awarded the National Gallery of Victoria Travelling Scholarship, enabling her to travel to London to enrol at the Slade School of Fine Art and study lithography. Living in Paris in 1960, she extended her technical knowledge at the Alelier Patris in Montparnasse, a lithographic printing workshop producing hand-printed, fine art editions.
After a period spent living in Sydney from 1965, Janet Dawson and her husband Michael Boddy moved in 1973 to Binalong in rural NSW, where Dawson's practice shifted to focus on the landscape of the area. In the same year, Dawson's portrait Michael Boddy reading won the Archibald Prize. Janet Dawson continues to live and work near Binalong.

This exhibition is supported by Visions of Australia, an Australian Government Program supporting touring exhibitions by providing funding assistance for the development and touring of cultural material across Australia.