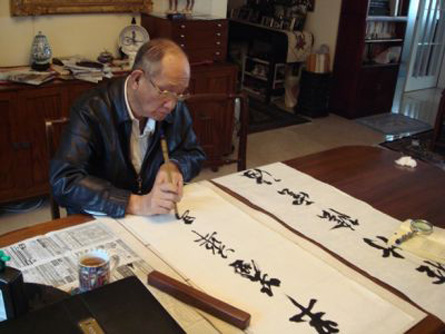 29 September – 14 October 2007
In its 3000–year history, calligraphy has had close ties to the literature and ethos of the Chinese. Calligraphers devoted their talent to the teaching of philosophy and morality, immortalising warriors and kings, spreading the gospels of Taoists and Buddha, praising and worshipping the beauty of nature and, above all, transforming the written form as a visual art in itself.
The study of the works of the ancient masters has been a first step in learning the art, with the calligrapher's ultimate objective being to establish their own artistic style. Chinese calligraphy is presented by the renowned scholar and calligrapher, the late Mr Lo Yat Ngam, his senior student and devoted disciple of 35 years Mr Wong Kwok Hing, and Dr Nat Yuen, who also studied with Mr Lo. Sadly, Mr Lo passed away on 24 April 2007.
Media
View 'Kung Fu artists fight for the write' here