The Critic as Artist: Simon Palfrey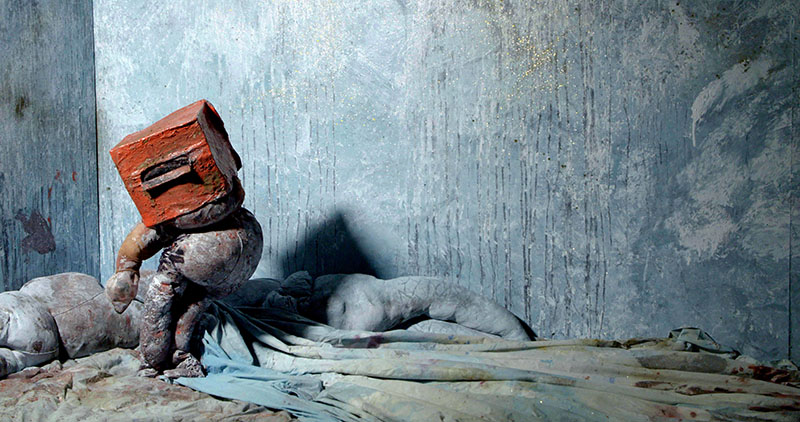 16 September – 9 November 2017
In coming months, the UQ Art Museum is pleased to present two film works, drawn from large-scale multimedia installations, that explore new possibilities in literary and art criticism. Creative, collaborative, and highly experimental, Simon Palfrey's Demons Land: a poem come true (2016) and Mieke Bal's Reasonable Doubt (2015) take up the traditional tasks of arts criticism and scholarship – to interpret and evaluate the aesthetic and intellectual objects of the past – while also reimagining the critic as artist. 
Simon Palfrey's Demons Land: a poem come true 2017
What might it mean for a poem to come true? Demons Land is the story of a rapturous Romantic called The Collector, who in 1798 is transported to an island beneath the known world. He thinks the island savage and formless, and determines to remake it in the image of his favourite poem. That poem is Edmund Spenser's hallucinogenic epic, The Faerie Queene, a poem equally of militant Protestantism and erotic transport, written in the service of the Elizabethan conquest of Ireland. Like the poem that is its inspiration and antitype, Demons Land offers a shadowy allegory of the dreams and crimes of empire ‒ as a political and racial act, and as an expression of sexual desire and imaginative speculation. This vast, conflicted poem becomes the seminal text of the unfinished modern world. 
The film of Demons Land is the centrepiece of a multi-media travelling exhibition that also features paintings, sculptures, soundscapes, and text. The film was written and produced by Simon Palfrey; artwork for both film and installation is by Tom de Freston; editing and cinematography by Mark Jones; music and sound design by Jethro Cooke and Luke Lewis; acting by Stephanie Greer. The film was co-directed by Palfrey, Jones, and de Freston.
Simon Palfrey is Professor of English Literature at Brasenose College, University of Oxford. He is a founding editor of the Bloomsbury series 'Shakespeare Now!' and 'Beyond Criticism'. His books include Late Shakespeare: A New World of Words (Oxford, 1997), Shakespeare in Parts (Oxford, 2007, with Tiffany Stern), Doing Shakespeare (Arden, 2004, 2nd ed. 2011), Shakespeare's Possible Worlds (Cambridge, 2014), Poor Tom: Living King Lear (Chicago, 2014). His most recent publications are Shakespeare's Dead (Bodleian Library/Chicago, 2016, with Emma Smith) and the novel Macbeth, Macbeth (Bloomsbury, 2016), written with Ewan Fernie.
Simon Palfrey is also co-author, with Ewan Fernie, of Macbeth, Macbeth (Bloomsbury, 2016), an experimental novel written in response to Shakespeare's greatest tragedy. Simon and Ewan will be reading from Macbeth, Macbeth on 17 September at Bloodhound Corner Bar in Fortitude Valley.
Presented in collaboration with the UQ Node, ARC Centre of Excellence for the History of Emotions (Europe 1100–1800).