Andreas Angelidakis: DEMOS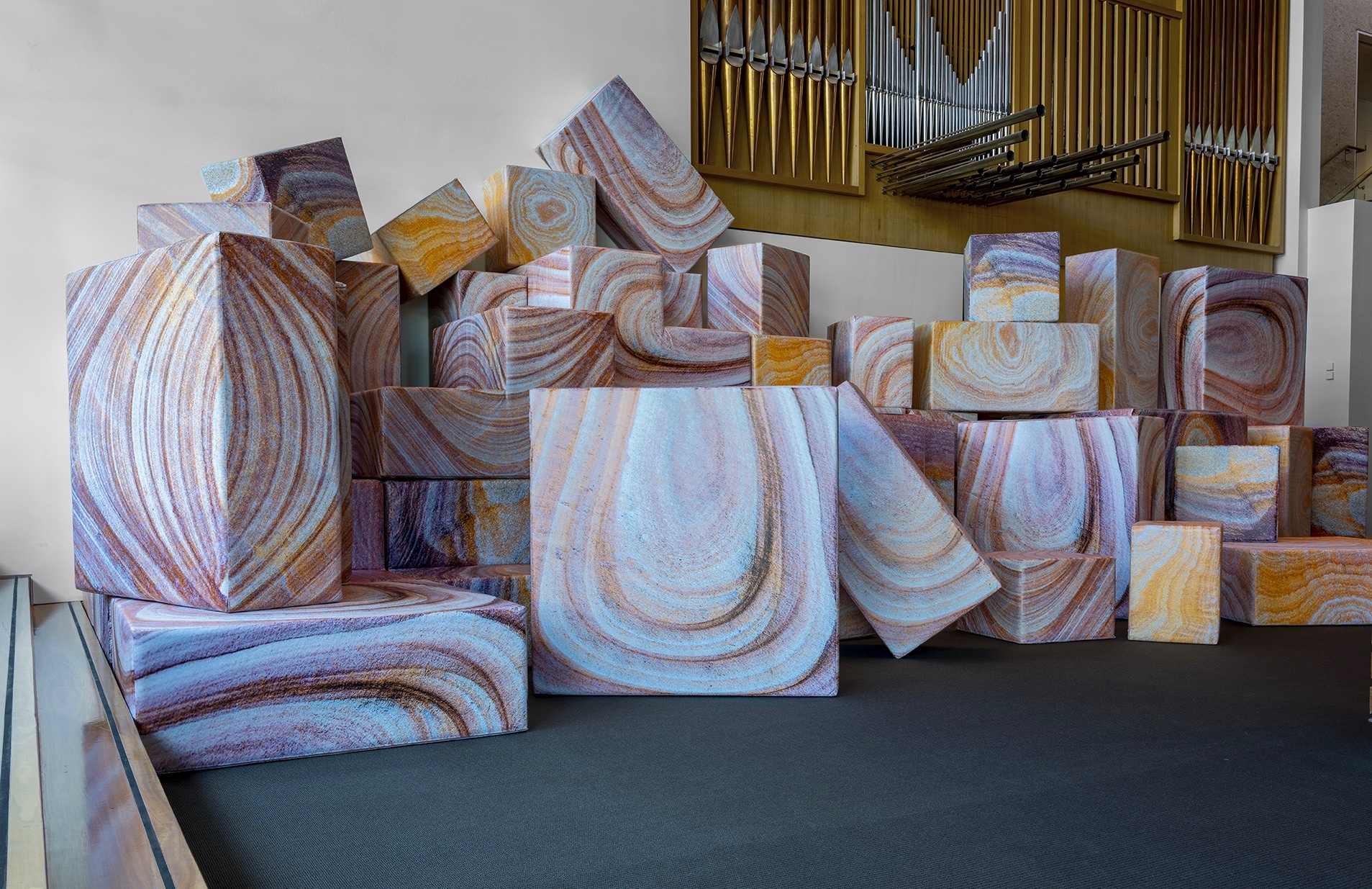 Andreas Angelidakis
DEMOS
Ongoing 
The Greek word 'demos' comes from the root of 'demo' meaning people, or population. Demos refers to its plural; a group, an assembly, a city, or a chorus of individuals. A 'demo' can also mean the "demonstration" of something, such as music, a political protest or computer software. Athens-based artist and architect Andreas Angelidakis' ongoing project DEMOS is an installation of 50 foam modules that have been commissioned for UQ Art Museum. The formation of these lightweight blocks will change throughout the exhibition run - the structures may form a seat, a stage, a study space, a wall, a monument, an archway, or even a ruin. Revisiting this concept in our current context, Angelidakis thinks through how we create community and inhabit space in a global pandemic.
DEMOS (Sandstone) approaches architectural and colonial legacies through satire; the physical elements of the works gesture to antiquity – timeless sandstone and concrete slabs – but are in fact light enough to lift. While intrinsically about Greece and Athenian foundations of democracy, where some citizens were allowed to speak and vote, DEMOS disrupts this legacy. The work is also about everywhere else simultaneously; the spread of failed democracy, the borderless flattening of the internet, the human body; and futures in ruin through climate change and resource scarcity.
DEMOS (Sandstone) is symbolic for collaboration, as the inherent nature of 'working together' is required in order to build a space that works for a temporary community. This practice radically rethinks democratic sculpture in art and architecture. Inhabiting these structures highlights Angelidakis' interest in "unofficial architecture", that is built by the people, for the people.
First imagined for 74-days of public programming at documenta 14's parliament of bodies at Parko Eleftherias, Athens, as a way in which to redefine the relation between stage and audience. 2020 will be the first time that the work has been commissioned for a university audience, connecting disciplines across campus such as law, architecture, engineering, philosophy, coding, drama, among others in a common space and collective action.
"Like the surrealists' cadavres exquis, the architectural practice of Andreas Angelidakis is the result of violent collisions combining various contemporary obsessions: climate upheavals, celebrity culture, and the inflation of big data. Following the creation of virtual metropolises in the late 1990s, he constructed wondrous post-modern Merzbau – Babylonian collages to the glory of the digital age – with the help of 3D printers. More recently, his work has revolved around the creation of a forum of exchange and sociability." Cruising Pavilion team, 2018.
Athens-based Andreas Angelidakis describes himself as "an architect who doesn't build." Instead he utilizes an artistic voice that switches between the languages of architecture, curating, writing, and the internet. He often speaks about spaces, buildings, and the society that inhabits them, with the exhibition format acting as a vehicle for his ideas and a medium for his artistic practice. Recent exhibitions include Demos-A reconstruction, MOCA, Toronto (2018); I used to build my feelings, now I watch them leave" La Loge, Brussels (2018); Learning from Athens: Documenta 14, Kassel/Athens (2017); Biennial of Moving Image at Centre d'Art Contemporain in Geneva and OGR in Torino, a large scale installation for Art Basel Unlimited, and a solo exhibition at The Breeder gallery in Athens titled "A Submissive Acknowledgement of Powerlessness." 
Andreas Angelidakis, 'DEMOS (Sandstone),' 2020, foam, vinyl, fifty parts. Installation view. Reproduced courtesy of the artist. Photo: Carl Warner.