Fireworks: tracing the incendiary in Australian Art
22 December 2006 – 4 February 2007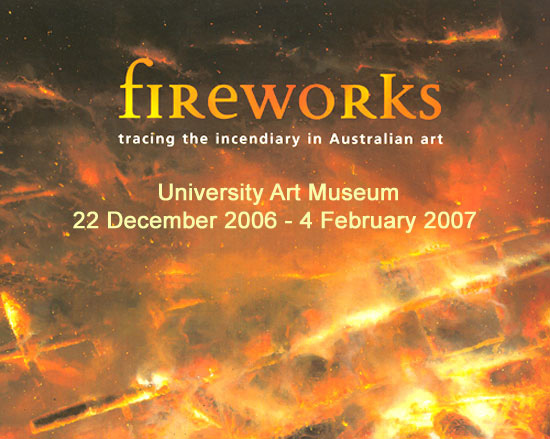 An Artspace Mackay exhibition toured by Museum and Gallery Services Queensland
The exhibition Fireworks traces Australia's experience of the destructive and creative nature of fire. Summer in Australia is known across the country as the bushfire season. Yet fire has been an integral part of national life well before the arrival of European settlers. Indigenous inhabitants have used fire as a land-management tool for tens of thousands of years. By tracing the interplay between humans and landscape in relation to fire, the exhibition illuminates the character of both, and encourages us to consider our country's fragile resources and landscape systems. 
 
Fireworks comprises over 50 works by historic and contemporary artists, including Eugene von Guerard, Arthur Streeton, Sidney Nolan, Fred Williams, Claudine Marzik, Ronnie Tjampijinpa, John Firth Smith and Wendy Sharpe, with images incorporating the bush, the suburbs and the cities.
Curator: Gavin Wilson
This exhibition is supported by Visions of Australia, an Australian Government Program supporting touring exhibitions by providing funding assistance for the development and touring of cultural material across Australia.