We recently said goodbye to Jenna Muir, our Kinnane Endowment Curatorial Intern, as she left to join the team at Queensland Art Gallery | Gallery of Modern Art (QAGOMA).
Jenna has provided tremendous support to the Art Museum beginning as an advancement intern and going on to work across the education, visitor engagement, and curatorial departments. Below, we hear from Jenna about her experience as the Kinnane Curatorial Intern.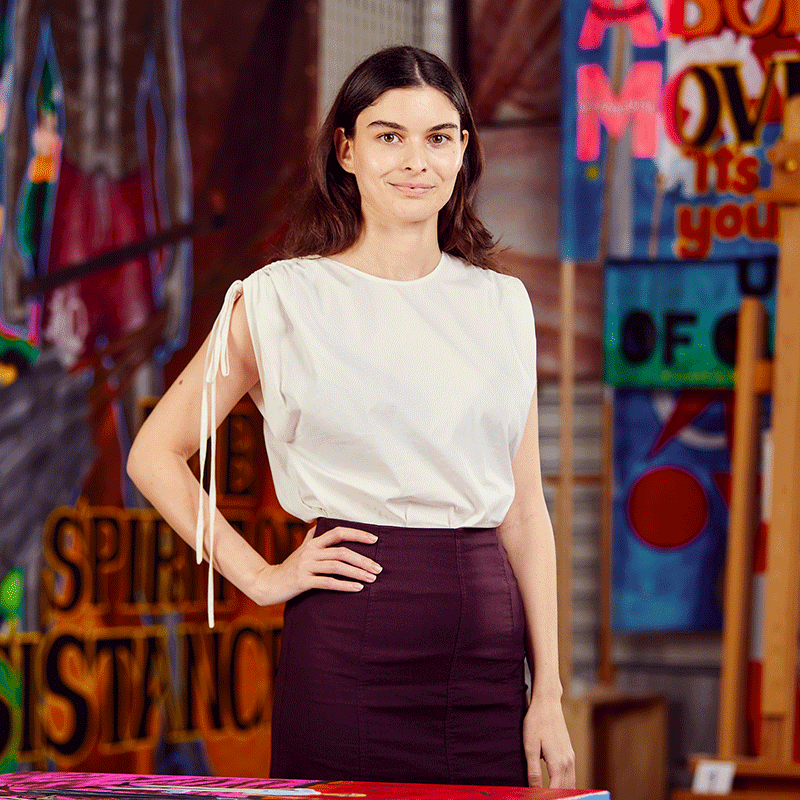 Can you tell us about your new role at QAGOMA?
At the QAGOMA I will be supporting the Business Development and Partnerships team as a Sponsorship and Partnerships Administration Assistant.
How has the Kinanne Curatorial internship assisted your career progression?
The Kinnane Endowment Curatorial Internship uniquely fosters individual and professional development for UQ students pursuing a career in the arts. The invaluable mentoring I received from curators Peta Rake, Anna Briers, and Isabella Baker has greatly assisted my career progression. The UQ Art Museum is full of incredible role models, and I am so grateful to carry their values and teachings into my future roles.
While interning at the UQ Art Museum, I developed industry-specific skills that I wouldn't have had the opportunity to develop anywhere else. The team guided me through writing acquisition rationales, conducting collection research and artist interviews, and leading educational exhibition tours. All of these experiences have expanded what I have to offer the arts and culture sector and enriched my understanding of the role of curatorship within museums and the broader community.
Were there specific parts of your internship you found rewarding?
Engaging around the initial idea of an exhibition was particularly exciting for me. At the UQ Art Museum, on-campus research efforts inform the direction of each show, along with regular all-staff reading sessions and discussions. It was rewarding to watch the team come together around each curatorial vision.
Do you have any highlights from your time at the Art Museum?
There are so many! But, interviewing Benjamin Armstrong about his ink and pigment painting, Edge of a known world (2018) was a highlight. There really is no comparison to speaking directly with an artist about their work. 
What are you looking forward to next in your career? 
I'm looking forward to dedicating myself to a full-time role at QAGOMA as well as supporting the Melbourne Art Library with fundraising and public programming, something I've been doing for some time. At present, I volunteer for two arts organisations and study Museum Studies part-time. I have been working in this way for some time, so I am thrilled to have finally landed a job that will allow me to focus my energy.
Thank you Jenna and we wish you all the best in your new role!
Jenna is completing her Master of Museum Studies at UQ. She also sits on the board of the Melbourne Art Library and volunteers for Outer Space.
The Kinnane Internships are funded by the Paula and Tony Kinnane Endowment, an extraordinary $8 million bequest received in 2016 from Paula Kinnane and her late husband Tony. Former interns have gone on to secure roles at leading state and regional galleries and institutions around Australia.