Charles Callins began painting at age 63 after spending most of his professional life as a maritime journalist, often writing under the pseudonym "Prudence." Callins came to painting seascapes late in life, and with little experience created his first work with leftover house paint found in his Brisbane home.
He used painting as a vehicle to preserve his memory and visions of the landscape. His practice rested heavily on years of accumulated stories, vivid memories, and knowledge of coastal Queensland. After a brush with death in 1951, when he rescued a teacher from drowning, Callins began to document seascapes and their adjacent industrialisation to evidence habitat loss.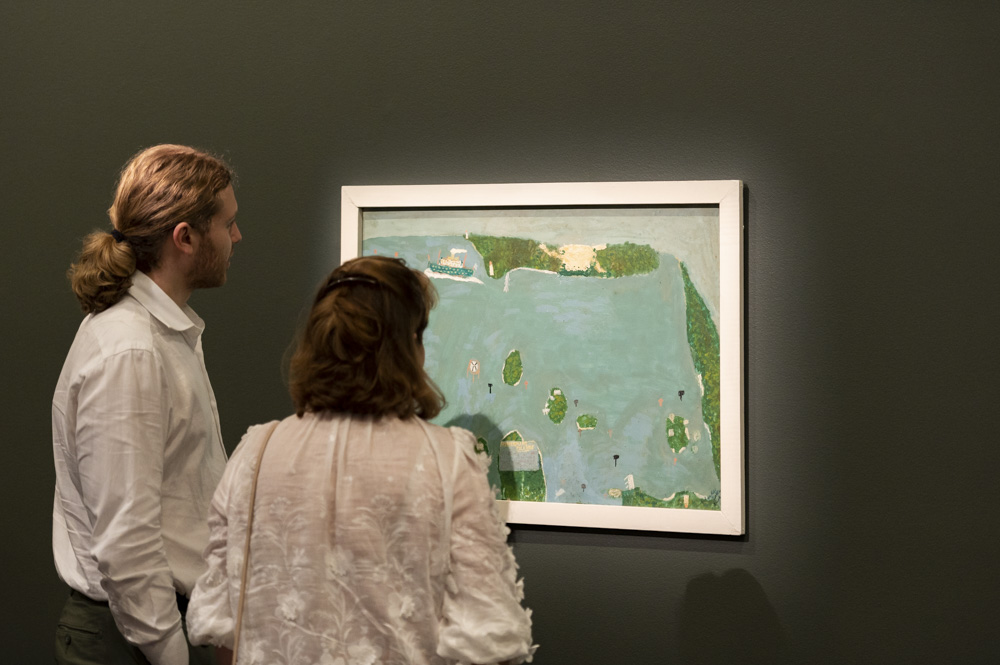 Painting as marine activism
In Moreton Bay, Callins captures the Fisherman Islands group before it was developed to form one of Australia's largest ports. The horizon line warps and pulls towards the edges of the canvas to squeeze in Bangamba (Mud Island), Noogoon (St Helena Island), Danggar (Green Island), and Jercuruba (Peel Island), Minjerribah (Stradbroke Island), and Mulgumpin (Moreton Island). The multi-perspective composition remembers the essence of the sea as water and sky meld, with islands, ships, navigational buoys, markers, and beacons. His naive approach maximizes the canvas to map the flow of the narrative and the details of the location.
Almost an extension of his journalistic practice, the canvas space is maximized for storytelling. The painting's perspective is distorted and flattened to produce an all-encompassing multi-perspective ariel view – a fisheye in the sky. His paintings allowed him to evidence habitat loss whilst showcasing the beauty of local fauna and flora.
Conservation deeply informed Callins' painting technique, which prioritized the narrative and sought to physically endure the harshness of depicted marine environments. His painting technique developed so his art could withstand the harshness of the marine environment. He used weatherproof materials such as oil paint and enamel on Masonite in the hopes that they could withstand flood, rain, and salt spray from the ocean. "All my paintings can go out in the wet," Callins told The Australian in 1977.
On display as part of Oceanic Thinking
In Oceanic Thinking, Charles Callins work Moreton Bay (1976) expands our perspective of the ocean and serves as a narrative depiction of the lasting impacts of colonial violence and industrialization on the watery spaces of our planet. Oceanic Thinking encompasses a diverse array of perspectives on the ocean that stimulate discussions about race, the ongoing extractive colonial project, climate crises, decolonisation, languages, industries, sci-fi, diasporas, interspecies relations, and kinship. Moreton Bay tells a story closer to home of habitat loss and changing landscapes. 
The painting is on display until 30 July, 2022.