As a training institution we play an essential role in training the next generation of leaders in the arts sector. Our interns have gone on to work in incredible institutions, including QAGOMA and National Gallery of Australia. Students gain insider knowledge of art museum operations and graduate with hands-on tools and skills that make them highly desirable candidates as they pursue opportunities in the sector.
This article was written by Myf Halton, one of our inaugural Kinnane Communications Interns. The Kinnane Internships are funded by the Paula and Tony Kinnane Endowment, an extraordinary $8 million bequest received in 2016 from Paula Kinnane and her late husband Tony.
I am pleased to introduce Kyle McIntyre, Jocelyn Flynn, Alex McFarland, and myself (Myf Halton) as the four new interns joining the Art Museum in 2022. Thanks to the generous support of Ashby Utting, and Paula and Tony Kinnane, we have been given the rare opportunity to get a head start in our careers. 
As an organisation that is committed to diversity and inclusion, we all come from different educational and professional backgrounds that have led to burgeoning careers in the arts. Opportunities such as these are instrumental in giving us the confidence and independence needed to transition from student to professional. This article shares more about our experiences so far and how they have already begun to shape our careers.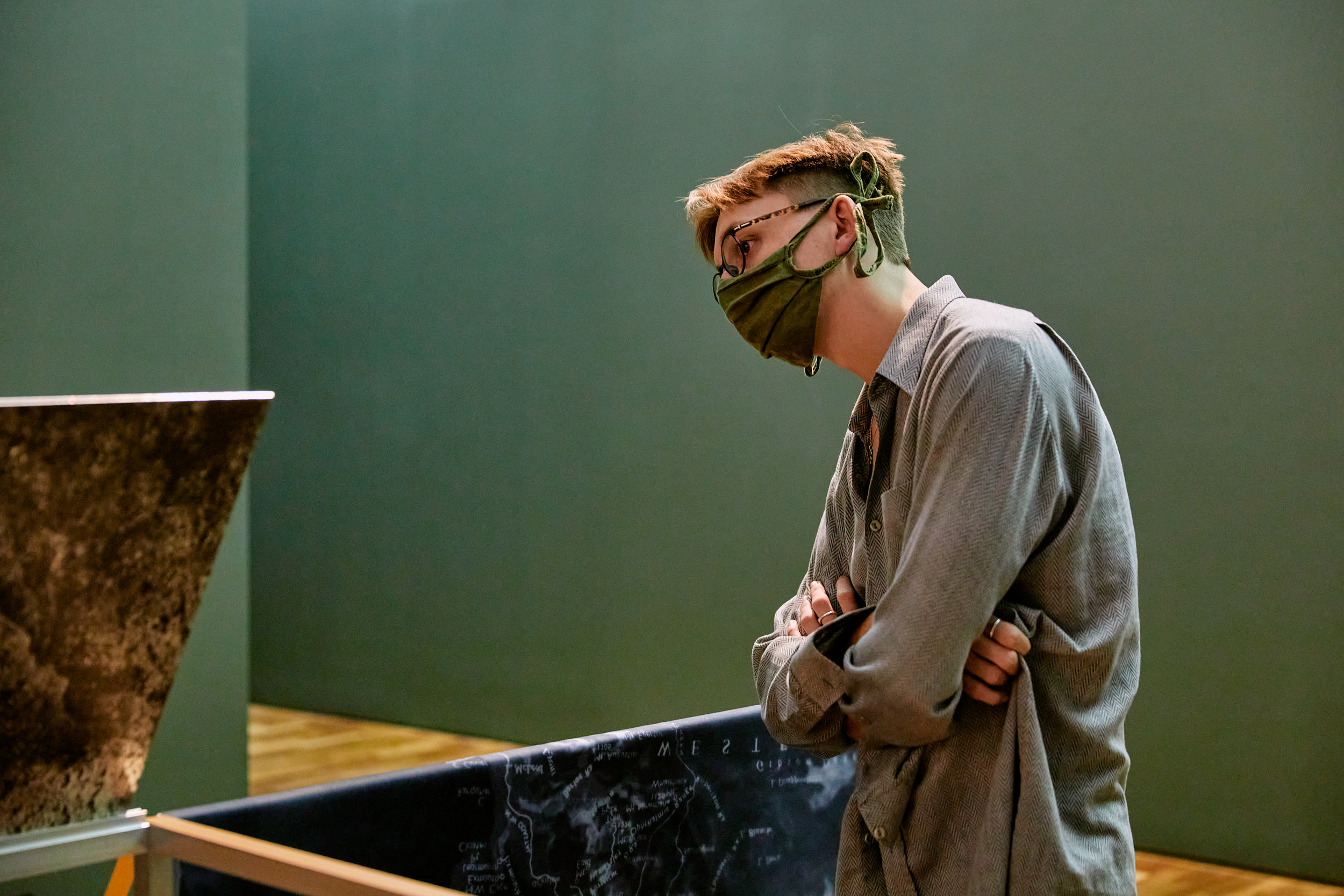 Kyle McIntyre: Ashby Utting Arts Administration Intern 
Kyle McIntyre is the Ashby Utting Arts Administration Intern. This Internship is provided through the philanthropic support of Ashby Utting and provides training opportunities for UQ students with interests in the operational aspects of the sector: a vital and often overlooked aspect of our work. Kyle has a Bachelor of Business in Accounting and Sustainable Enterprise and recently completed a Diploma in Art History at UQ.
What have you enjoyed working on since joining the team? 
Since joining, I have been working under the mentorship of almost everyone on the team! I have worked in operations, completing invoice processing, calendar management and other administrative duties. 
So far, I have loved being witness to exhibition management and the install and curatorial team. It has been very rewarding to see how an exhibition comes together, especially in the last few days leading up to opening. I have also loved the research aspect to acquisition and curatorial writing, as well as being a part of the events and public programs team.
How will this experience impact your career? 
These experiences will have a profound impact on my career in both personal and professional development. It has solidified my desire and passion for working in the arts and allowed me to be a part of a very kind, welcoming and talented team. 
My previous roles have aided me in my tasks in the operations team, however it has been very different working here. By being given the opportunity to work alongside so many different areas of the Art Museum I have gained a very wide range of experience about how a museum functions.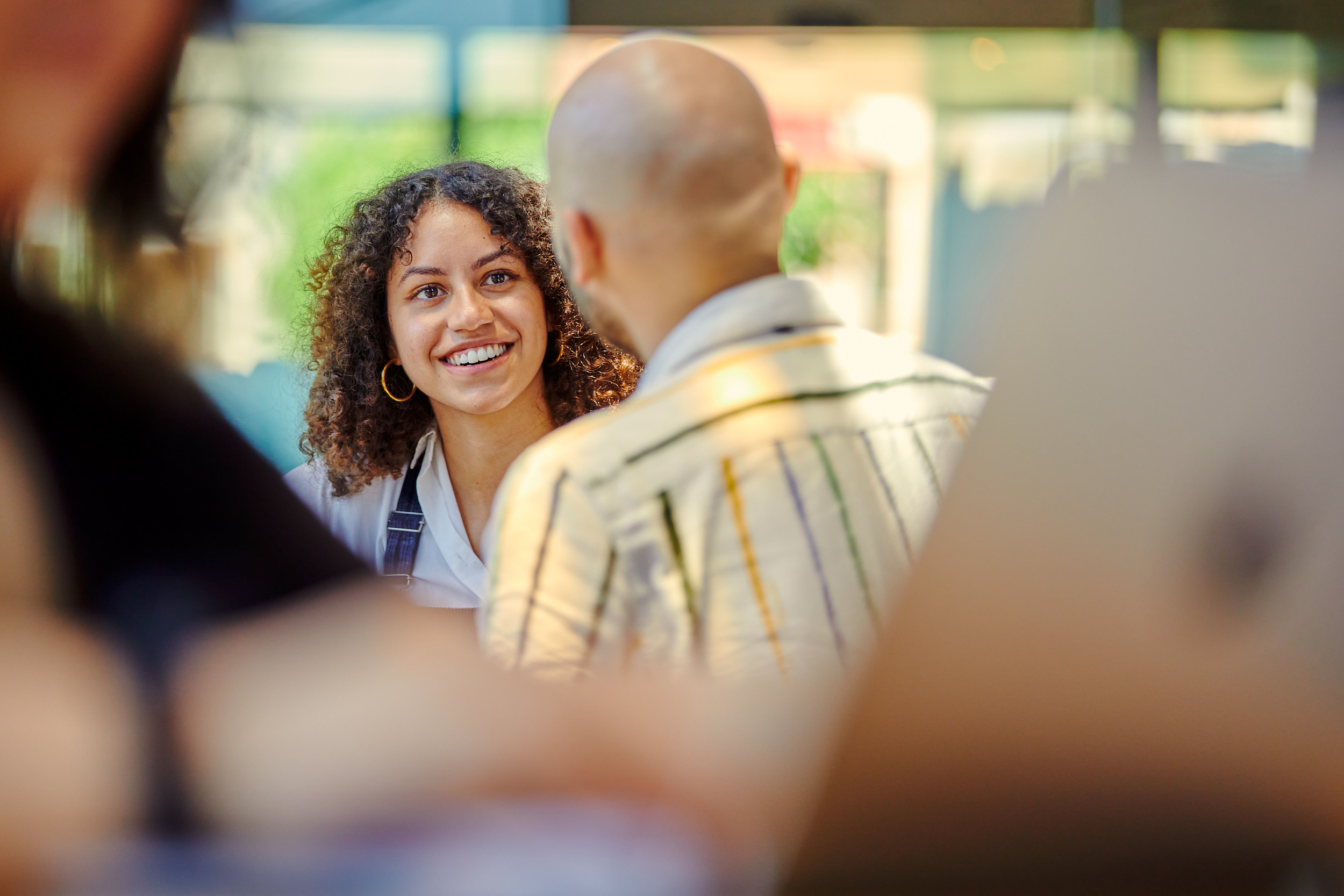 Jocelyn Flynn: Kinnane Education Intern
Jocelyn Flynn is the new Kinnane Education Intern. She is currently in her third year of a Bachelor of Advanced Humanities majoring in Art History and Anthropology. 
What have you enjoyed working on since joining the team? 
My experience at the Art Museum so far has been varied which is awesome! My days are filled researching about upcoming exhibitions and programming events, assisting with events happening in the Museum like panel talks and visits from university classes.
My favourite aspect of my internship is working with the wonderful team at the Art Museum and thinking about how we engage students, staff and visitors. Creating a space for critical engagement with art is a very rewarding part of my role so I'm excited to continue to extend upon this passion. 
What are you hoping to learn in this role? 
I'm hoping to learn about how the Art Museum is committed to challenging existing preconceptions about the way art museums have functioned in society. As a place for learning, the Art Museum is a space where my tertiary studies have benefitted significantly by engaging with exhibitions and research. I would love to learn how I can contribute to create a critical space for learning and reflection for future generations.   
Alex McFarland: Kinnane Communications Intern
Alex McFarland is one of the inaugural Kinnane Communications Interns. She is currently in her fourth year of studying a Bachelor of Communication/Bachelor of Arts, majoring in Art History.
What have been your favourite aspects of your internship so far?
My favourite aspect of the internship so far has been getting to know the team behind the Art Museum. It has given me insight into how marketing and communication can fit into different aspects of museum operations in important ways. I have also enjoyed how hands-on my role as an intern is. I have already been able to learn so much more than I could've expected. 
I am very keen to highlight the incredible artworks in the Art Museum's collection, both on campus and in the Collection Study Room. It will be great to be able to profile a range of different works from the collection which all have interesting stories and reflect the values of the museum. 
What are you hoping to learn in this role? 
As much as I possibly can! I hope to improve my knowledge of the art industry and soak up everything I can from being in such a collaborative and professional environment. I also look forward to sharpening my communication, marketing and writing skills under the guidance of my supervisor Alex Tuite. 
Everything I learn through this internship will be extremely beneficial to me in my future. More specifically, I will be able to apply the skills and knowledge I gain in writing about art for diverse audiences and social media content creation to a future career in arts communication.
Myf Halton: Kinnane Communications Intern
I have also been selected as one of the inaugural Kinnane Communications Interns. I am currently completing my Honours in Art History. I have come from QUT after completing a Bachelor of Creative Industries majoring in Journalism and Art History. 
What are you hoping to learn in this role?
I'm eager to learn and contribute to marketing and communications in an institutional environment. I've been lucky to learn from a lot of amazing independent artists and small arts organisation but would like to learn how to support artists through an institutional environment. 
I'm excited to work alongside the curatorial and programming department to profile the high calibre of research and artwork that makes up their exhibitions. There is so much to engage with in the exhibitions and programming at the art museum and I'm excited to work with different departments to profile them. 
How do you think this experience will impact your career? 
The internships offered at the Art Museum are unlike any other internship I've undertaken. I've been unable to find an opportunity that allows me the same level of professional support as well as independence. 
Being in an environment where you can actively contribute as well as receive mentorship and guidance with compassion is very rare. This is an incredibly valuable experience that will no doubt be instrumental in the advancement of my career. 
The generosity of donors and staff at the art museum ensure we have a head start in our career. We are incredibly grateful for the rare opportunities presented by these internships.