If Pain Persists: Linde Ivimey Sculpture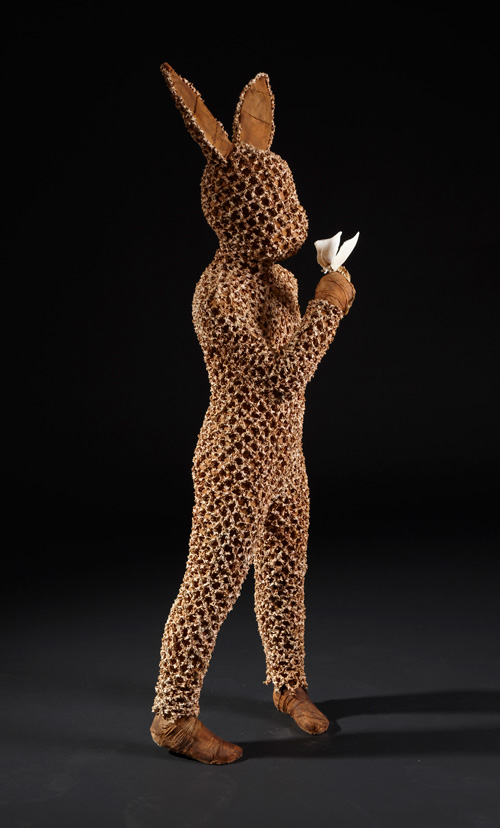 3 November 2012 – 24 March 2013
Linde Ivimey's sculpture is often technically complex and intricate, utilising skills from welding to cooking, weaving, wood-sculpting, and sewing, all adapted to create objects with an intense personal resonance. The emotional impact of her figures and animals is multiplied by her use of materials – skin, bone, fabric, hair, wax, gemstones, teeth, and other personal and found objects. The exhibition includes works from 2001 to 2012, with themes ranging from 'Saints and sinners' to 'Child's play' and 'Self portraits'. A new series is inspired by the 100th Anniversary of Sir Douglas Mawson's expedition to Antarctica.
The first major publication on the artist's work, Linde Ivimey, will be launched with the exhibition.
Curator and publication author: Louise Martin-Chew
Public Programs
Panel Discussion: Antarctica: Bravery in the landscape
Thursday 7 March 3.00 pm – 4.30 pm
Please join our panel discussion responding to the exhibition with Dr Sylvie Shaw, artist Linde Ivimey and exhibition curator Louise Martin-Chew.
Wednesday 20 February 12.00 pm
Curator talk by Louise Martin-Chew
Friday 2 November 5.00 pm – 6.00 pm
Join artist Linde Ivimey, curator Louise Martin-Chew and gallerist Martin Browne in a conversation about self-portraiture and other aspects of Linde Ivimey's sculpture.
So you think you can't draw? 
Saturday 3 November – Sunday 24 March 10.00 am – 4.00 pm daily
Pablo Picasso wrote, "The critics say I draw like a child. When I was a child I drew like Raphael. It took me my whole life to draw like a child". We invite you to connect with your own childhood experiences of art making, and pick up a pencil, some paper, a drawing board and a stool, and spend some time in the exhibition.
Online publication


Media



This project has been assisted by the Australian Government through the Australia Council, its arts funding and advisory body