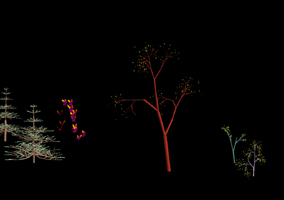 18 June – 31 July 2005
UAM Project Show presents a mini 'survey' exhibition of the art practice of four very different Queensland and ex-Queensland artists - Catherine Brown, Denise Green, Sebastian Di Mauro and Tom Risley.
Catherine Brown's work, Turtle branching of 2005 was developed through an art residency she began in 2004 with The University of Queensland's Centre for Plant Architecture Informatics (CPAI). Her work with the Centre has focussed on computer modelling of plant forms.
Denise Green's monochromatic triptychs, A rose is a rose is a rose is a rose…, are intended to 'memorialise my mother, a gardener, and her relationship to New Farm Park'. Moreover, as Green states, the way the 'repetitive shapes [are] intertwined with each other is inspired my study of the writings of AK Ramanujan, a major Indian poet and linguist'.
Sebastian Di Mauro's works on display include the large flloorpiece, Interval, created from many sheets of carpet underlay, as if layers of skin have been cut away. Shimmer suite, developed from his floccus series, transforms the materiality of commercial products—in this case steel wool—into poetic and organic forms.
Tom Risley's works in this exhibition span the period from 1997 to the present. They are from five distinct bodies of work and provide an insight into the evolution of process, materials and subject matter over that time. His work has incorporated such media as paint, ink and pastel, together with found material (as distinct from found objects).