"Untitled (Death Song)" Performances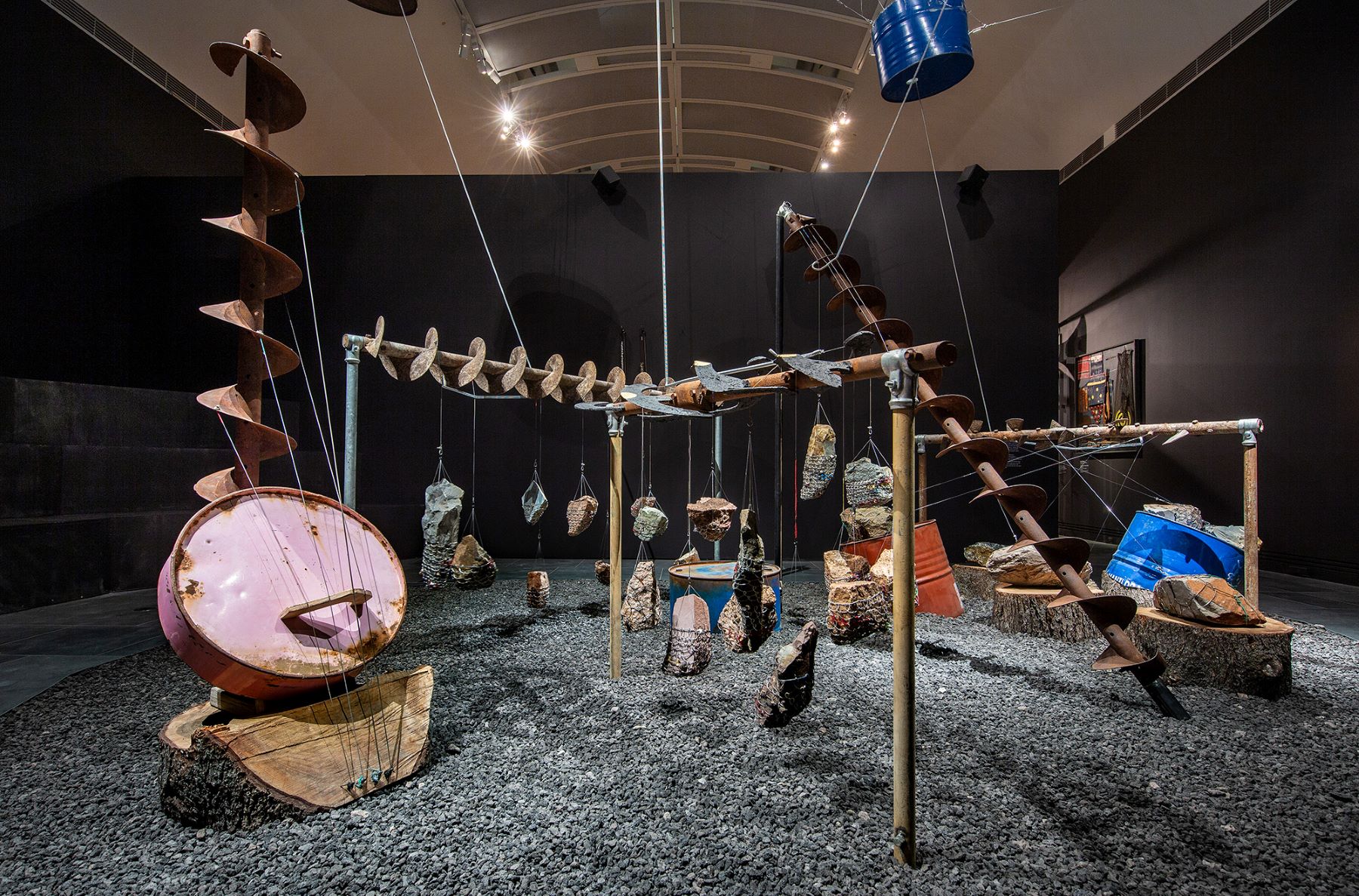 Experience live performances of Megan Cope's Untitled (Death Song)
In a series of live performances, musicians will activate Quandamooka artist Megan Cope's sound installation Untitled (Death Song) (2020) as part of the exhibition We Are Electric: Extraction, Extinction and Post-Carbon Futures.
The performance acts as a lament, a harbinger of death, and a warning for the future. Megan Cope's Untitled (Death Song) takes its first note from the haunting cries of the yellow-eyed Bush Stone-curlew, a bird known for its distinctive call, an eerie "weer-lo" sound often mistaken for a crying baby or wailing woman. An endangered species within certain Australian states due to land clearing, habitat loss and predation, the bird's threatened status registers ongoing ecocide and the impact of settler-colonial land management.
Untitled (Death Song) is composed of found objects traditionally used in mining and extractive processes that have been reimagined as instruments. Rusted industrial drills, scaffolding, and oil drums are assembled alongside geological specimens retrieved from the Earth's crust during prospecting for mineral and energy resources. A series of strings borrowed from orchestral instruments such as violins and cellos are tethered and strung taut across the objects, transmitting their hidden sonic potential through the energy of sound and frequency.
In this work, Cope explores how sound can enter the body in ways that other art forms cannot. She asks "If the land could sing, what would it sound like?" Untitled (Death Song) is a work that calls for deep listening, drawing on embodied knowledge through the affective power of sympathetic vibration.
Performance schedule                  
The artwork will be activated by the UQ School of Music across the run of the exhibition.
Opening celebration performance: Friday 24 February: 7:30-7:45pm.
RSVP for the opening celebration. Limited spots available for the performance due to space capacity. Arrive early to ensure a spot.
Curatorial tour and lunchtime performance:  Wednesday 8 March: 12noon-1pm .
Gain insights into the overarching curatorial thematic from exhibition Curator Anna Briers, followed by a 15 minute performance.                                    
Lunchtime performance:  Wednesday 29 March: 12noon-12:15pm.
More performances to be added soon.                                                      
Artist: Megan Cope. Musical Director: Isha Ram Das. Musicians: Joseph Burgess, Sarah Lone, Abigail Lui, Felicity Mohr, and Emily Winter.
This project has been assisted by the Australian Government through the Australia Council for the Arts, its arts funding and advisory body.