This article was written by Kinnane Communications Intern Shirin Mirshafiei. 
This year, there are seven UQ student interns working at the Art Museum. In this article, I look forward to introducing Lucy Milne, Sachi Orrock, Ella Gagg, and myself as the "Kinnane Interns" for 2023. Through the generous support of the late Paula and Tony Kinnane, we are so grateful to receive this invaluable training opportunity in the early stages of our careers.  
As a research and training organisation, UQ Art Museum celebrates the diverse professional backgrounds that have led students to develop dynamic career pathways in the arts. UQ Art Museum provides a unique space for us to learn face-to-face from expert staff and contribute to this year's thought-provoking programs and events. Below, the interns share how this experience has impacted their professional development in the field so far.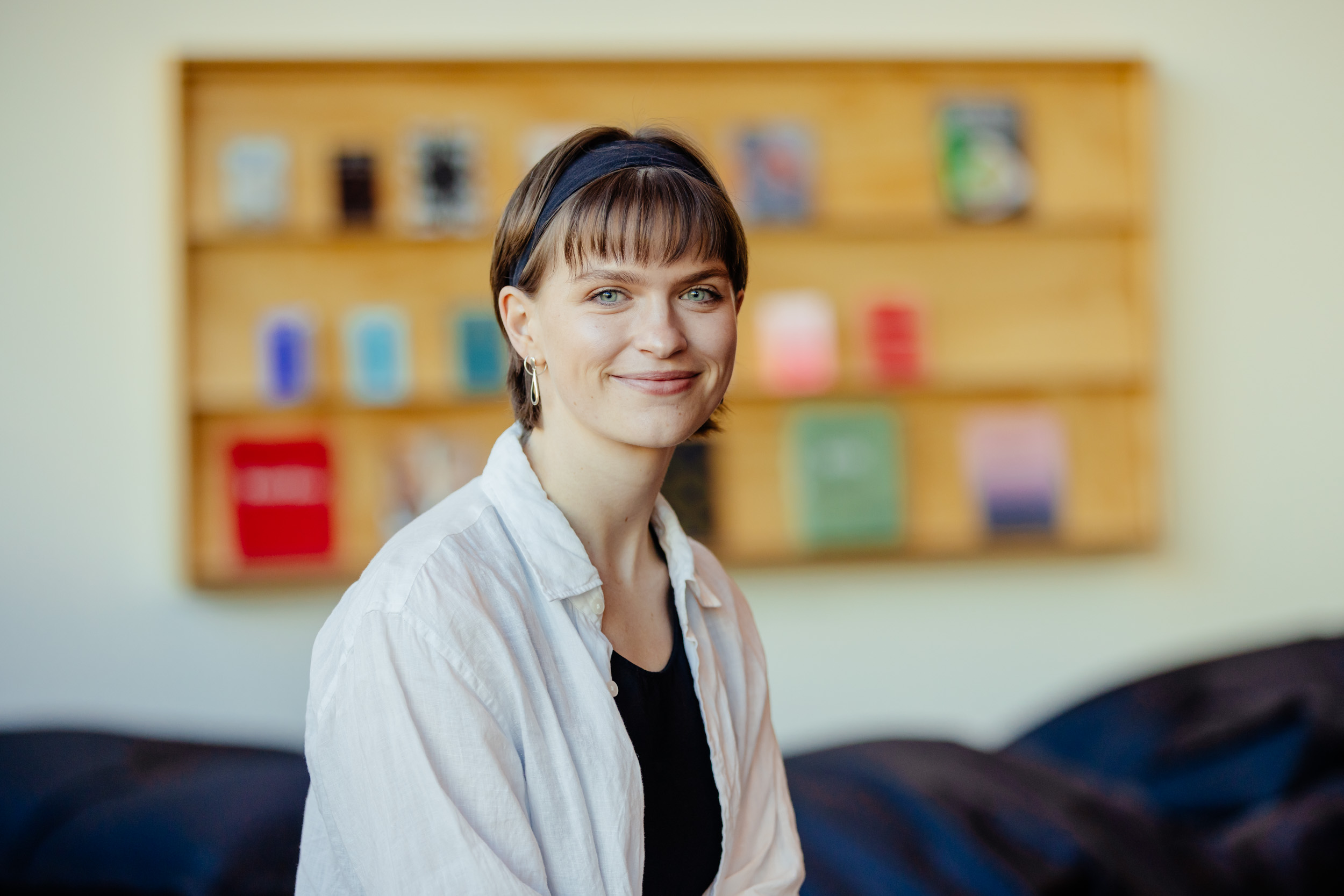 Sachi Orrock: Kinnane Curatorial Intern
Sachi recently graduated with a Bachelor of Arts, majoring in Art History, and minoring in Film and Television Studies and English Literature.  
What is something that you look forward to engaging in?  
I look forward to learning how to produce a large-scale exhibition, but also how to produce a small-scale one – I hope to gain skills and knowledge that aid me in my own early-career curatorial endeavours. 
What is one valuable insight you have learnt about your role since joining the team? 
The Curatorial team of any arts institution is vital to the exhibition and collection process. The team is very much intertwined with the Registration and Production teams, and across each area, every team member works towards the creation of beautiful and engaging exhibitions, public art programs, events, and collection maintenance. 
How will this experience impact your career? 
I aspire to be a curator and arts writer, so this position has been incredibly informative and educational for me. I have learned about the behind-the-scenes processes of UQ Art Museum, how budgets are formulated for exhibitions and public art programs, how to write for the wider public, how to write for grants and funding, and how to use both the digital and analogue organisational systems of the Museum. 
Lucy Milne: Kinnane Engagement Intern 
Lucy is the Kinnane Engagement Intern this year. She is a current Master of Museum Studies student and has over 5 years' experience as a special education teacher aide supporting students with learning and physical disabilities.   
What is something that you look forward to engaging in? 
I am looking forward to conducting consultations and surveys with cultural mediators to reassess the resources and training available to them to facilitate cultural mediation. 
What is one valuable insight you have learnt about your role since joining the team?  
The Art Museum has recently launched their Disability Action Plan (DAP) which outlines the steps and responsibilities the museum teams are undertaking to enable people who identify as D/deaf and disabled to access and participate in the experiences offered at the museum. As part of my internship, I have had the opportunity to assist the museum in promoting engagement with audiences who identify as blind by writing alt-text and image descriptions for photos published on the museum's social pages. This experience has shown me how producing accessible content is an approach the Art Museum can take to form engagement with audiences who identify as disabled. 
How will this experience impact your career? 
The internship at the Art Museum is an incredible opportunity that is allowing me to develop skills and knowledge in inclusive engagement practice. Under the guidance of my supervisor Danielle Harvey, I am learning how to write using inclusive language, produce accessible content for programming and visitor services including the museum website, and research approaches to support mediators in their role. Understanding inclusion practices will prepare me for a career in visitor engagement where I can support diverse audiences access the experiences offered by the cultural heritage sector.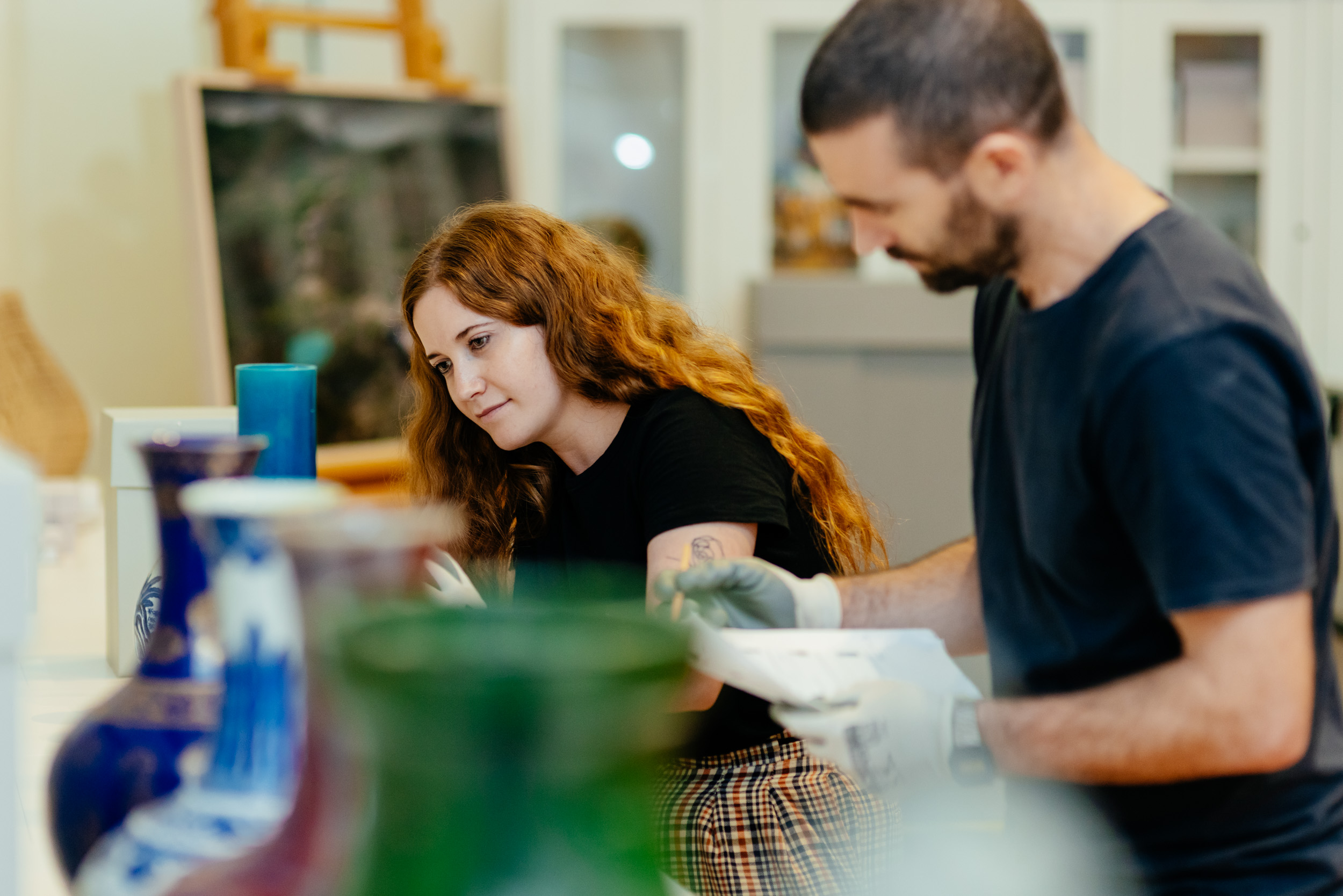 Ella Gagg: Kinnane Registration Intern 
Ella is the Kinnane Registration Intern. She is also completing her Masters in Museum Studies this year in a part-time capacity and has an undergrad major in Ancient History from UQ. She is volunteering at Abbey Museum of Art and Archaeology on a Collections Management Project. Ella is an aspiring Museum Registrar and is particularly interested in repatriation of collections. 
What is something that you look forward to engaging in? 
We have recently entered our first week of deinstall and install, where we reorganise the gallery space for the new exhibition opening in semester two. I have had the opportunity to assist with conducting condition reports, and safely packing artworks from the previous exhibition, "We Are Electric". I am very excited to enter the next phase, where I will help oversee, and aid in the installation of artworks for the new exhibition.    
What is one valuable insight you have learnt about your role since joining the team? 
Over the past few months, I have discovered how important Registration is in guaranteeing operations within the museum run smoothly. From ensuring artworks in the collection are stored and handled correctly to organising loan agreements for artworks going on display in exhibitions, Registration is integral to the functioning of the Art Museum.    
How will this experience impact your career? 
This internship has given me the unique opportunity to learn and develop skills within diverse areas of Registration and Collections Management. These skills, and this amazing practical experience will increase my employment prospects within the GLAM sector.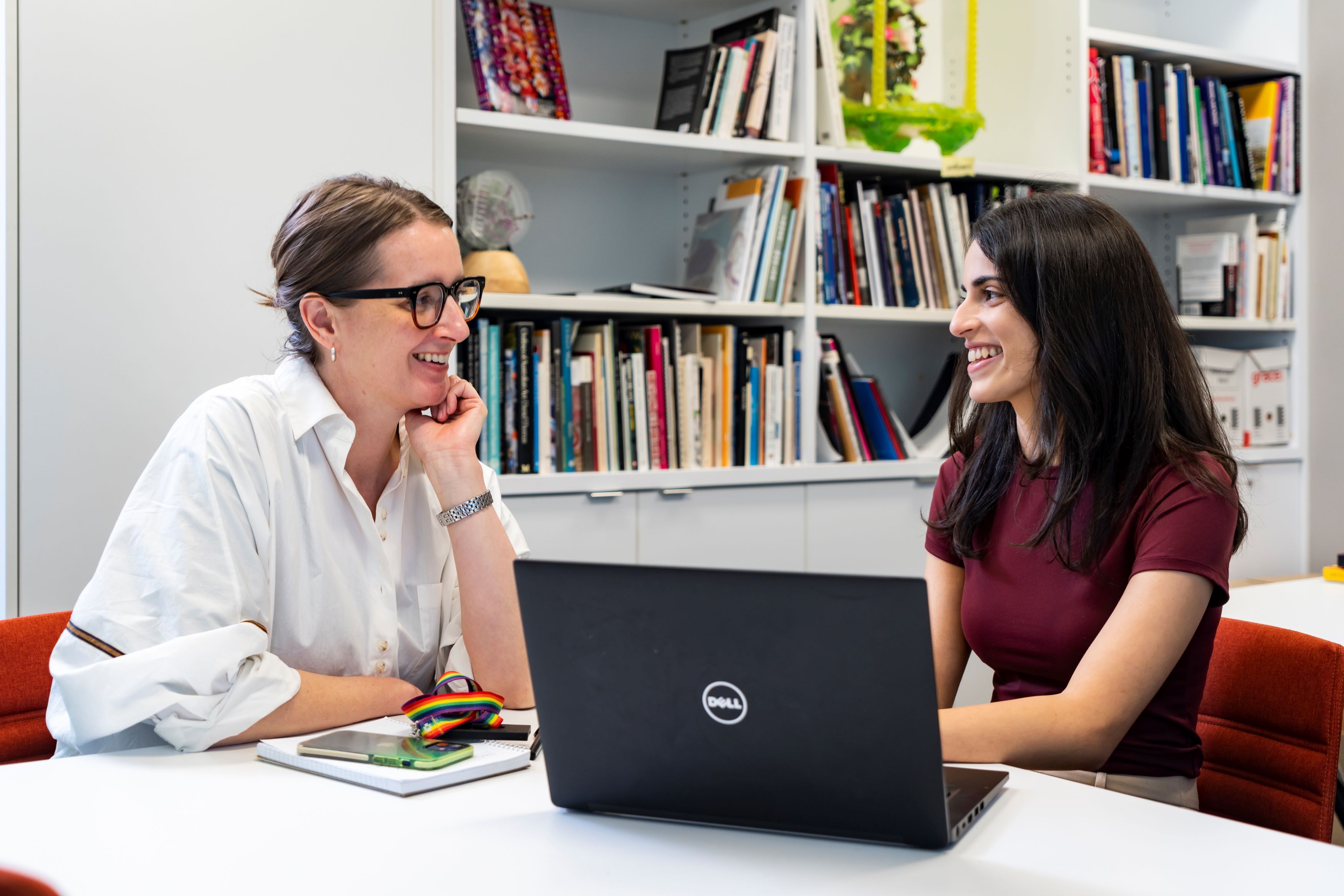 Shirin Mirshafiei: Kinnane Communications Intern 
I am the Kinnane Communications Intern and am currently studying in the Bachelor of Advanced Humanities (Honours) program majoring in Art History. Last year, I took part in the Advanced Humanities' mini-internship experience under the supervision of the HASS Marketing and Engagement Team, and I aim to explore the area of marketing and communications further.  
What is something that you look forward to engaging in? 
Throughout this internship, I look forward to learning about different communication tools and marketing projects that are specific to the university environment. I am also eager to contribute to a variety of online material that highlights artworks as well as the in-depth research processes of exhibitions, presented by the curatorial and public programming teams.    
What is one valuable insight you have learnt about your role since joining the team? 
Within my communications role, I have learnt how cross-disciplinary collaboration is an integral part of daily museum operations. Working with different departments, such as the Engagement Team, has been very influential in broadening my understanding of how to implement new communications initiatives that better connect audiences with all the wonderful programs offered by UQ Art Museum.    
How will this experience impact your career? 
Under the guidance and supervision of Alex Tuite, this experience has not only given me a valuable knowledge base, but has improved my ability to write well, work across disciplines and develop strong researching skills to find new ways of engaging audiences in an institutional context. Together, these skills form a solid foundation for developing my professional pathway in the arts sector.   
 
It is rare to come across real-world training and mentorship programs in the museum space. The Kinnane Endowment Fund has cultivated a unique opportunity to train the next generation of leaders in the arts and cultural sectors.  We are grateful to be part of an environment where we can contribute our learnings and develop life-time skills that will enhance our employment prospects across these fields. 
About the Kinnane Endowment Internship program 
The Kinnane Internships are funded by the Paula and Tony Kinnane Endowment, an extraordinary $8 million bequest received in 2016 from Paula and Tony Kinnane. As a training institution, we aim to connect students with experts in the sector to develop the next generation of arts professionals. Previous interns have gone on to work in leading institutions around the country including QAGOMA and the National Gallery of Australia. Students are equipped with practical skills in each area of specialisation and develop behind-the-scenes knowledge of museum operations that make them highly employable graduates as they pursue opportunities in the field.