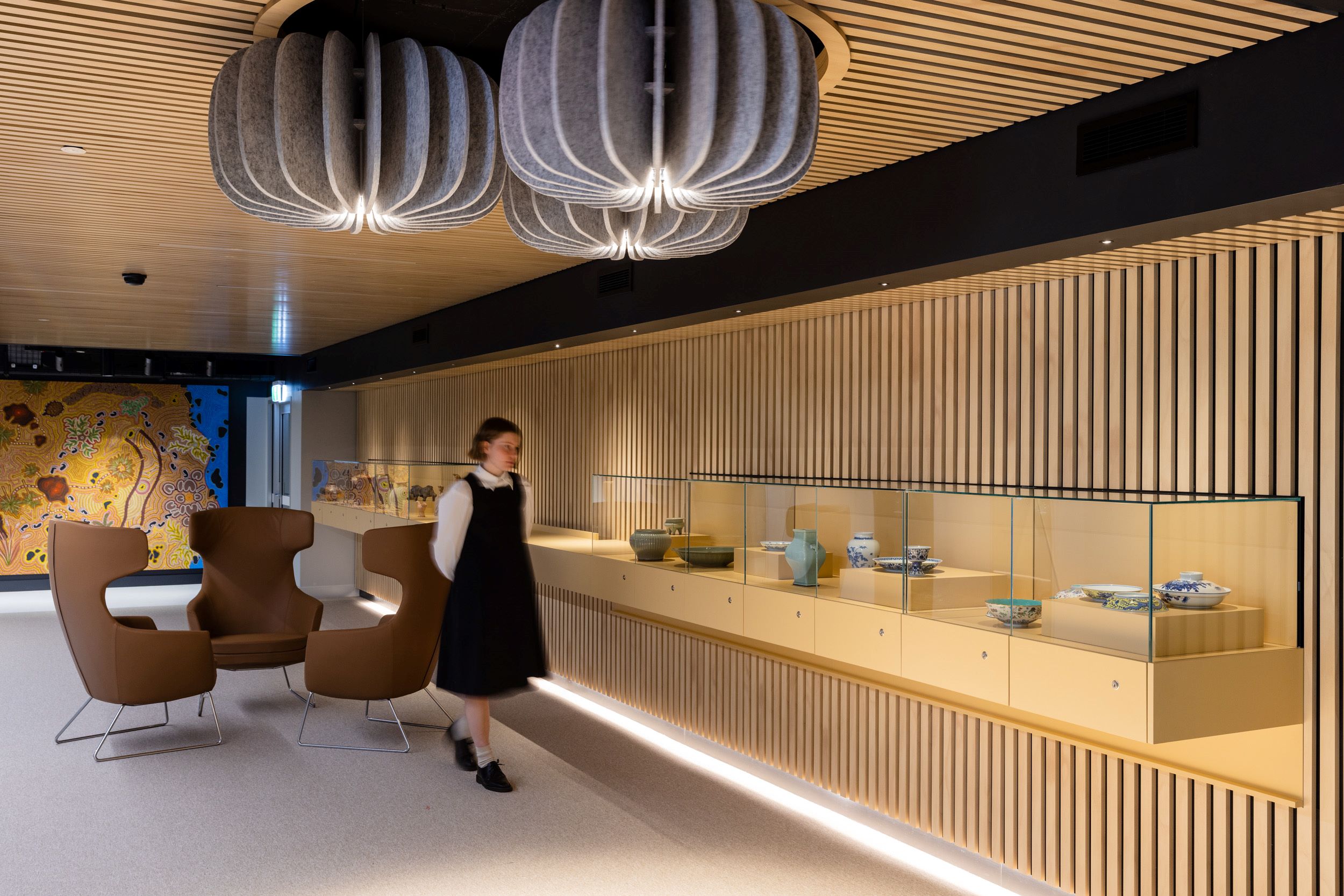 Spanning 5,000 years of Chinese visual culture, the Nat Yuen Collection is now on display in the Gordon Greenwood Building at UQ St Lucia, home of the School of Languages and Cultures.
From the painted earthenware of the Dawenkou culture to the porcelain of the Qing Dynasty, the full collection traces changes in Chinese culture and art over centuries. Different emperors, religions and scientific discoveries all make their mark on the pieces in this collection, donated by Dr Nat Yuen.
Dr Yuen, a UQ alum (MBBS 1965, Doctor of Medicine 1995, International Alum of the Year 2010), donated this collection to UQ with the hope of fostering a wider appreciation of Chinese arts and culture. The collection features 84 works documenting Chinese visual culture, and a selection of these have been chosen for display. Through the works in this collection, viewers can see the unique features of each period, including patterns, form, and clay types.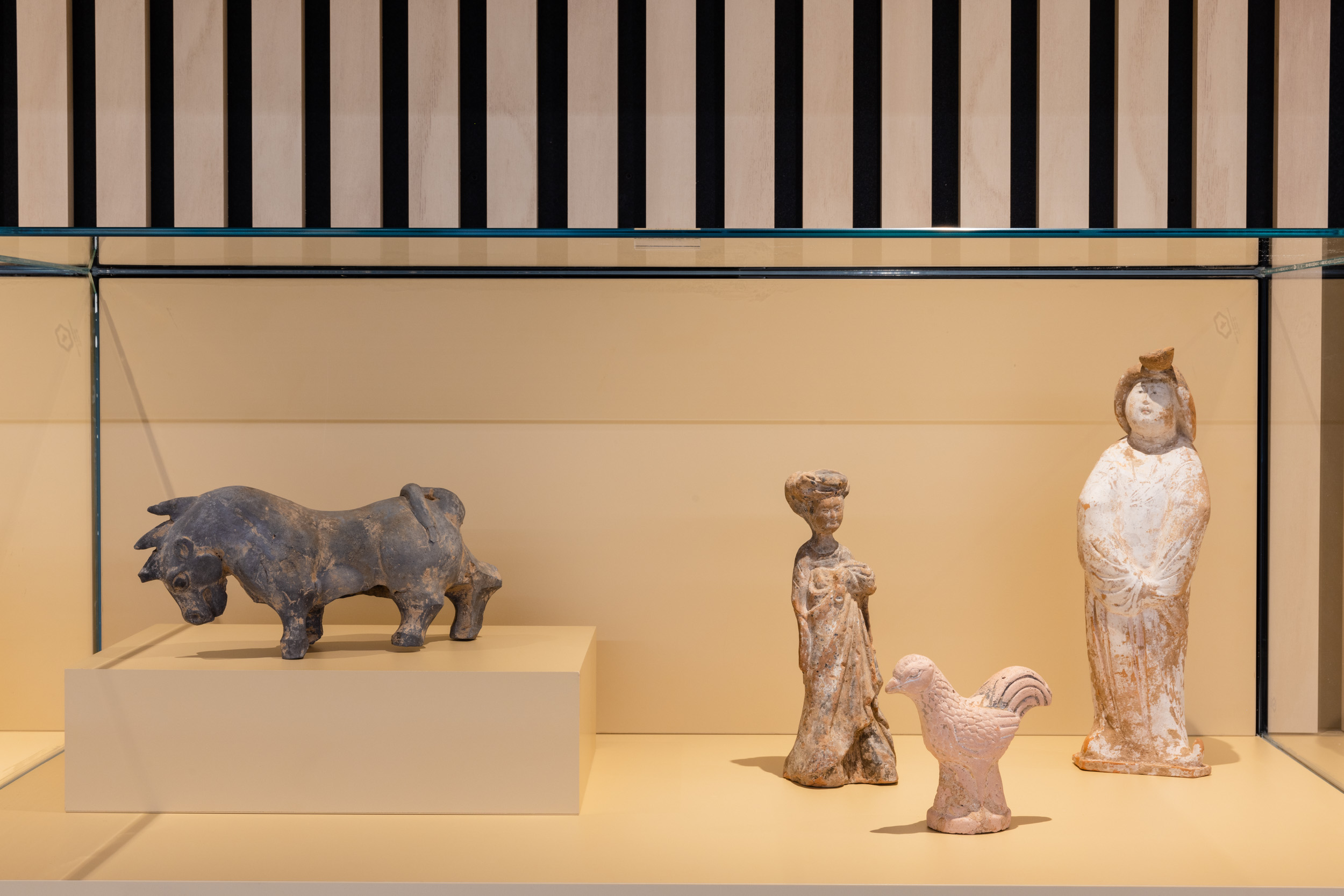 One featured work, "Pottery figure of a court lady" shows the beautifully coiffed hair and elaborate drapery typical of the Tang Period (618-906 CE). In the tombs of Tang nobles sat statues of ceramic attendants, waiting to serve the occupant in the afterlife. This figure, whose paint has faded over time, shows the viewer the importance of beauty and presentation to Tang women.
The oldest work in this collection shows the Dawenkou culture's use of form and clay in a Neolithic tripod ewer. The term "ewer" refers to a wide-mouthed pitcher or jug, which tends to adopt the different decorative elements of the society it was made in. With a tall, flared neck, three mammiform legs and a beak-like spout, this piece demonstrates a culture inspired by organic and animal forms. Also demonstrating technological changes within the period, this piece is comprised of thin-walled earthenware, made possible with the use of the potter's wheel and firing techniques.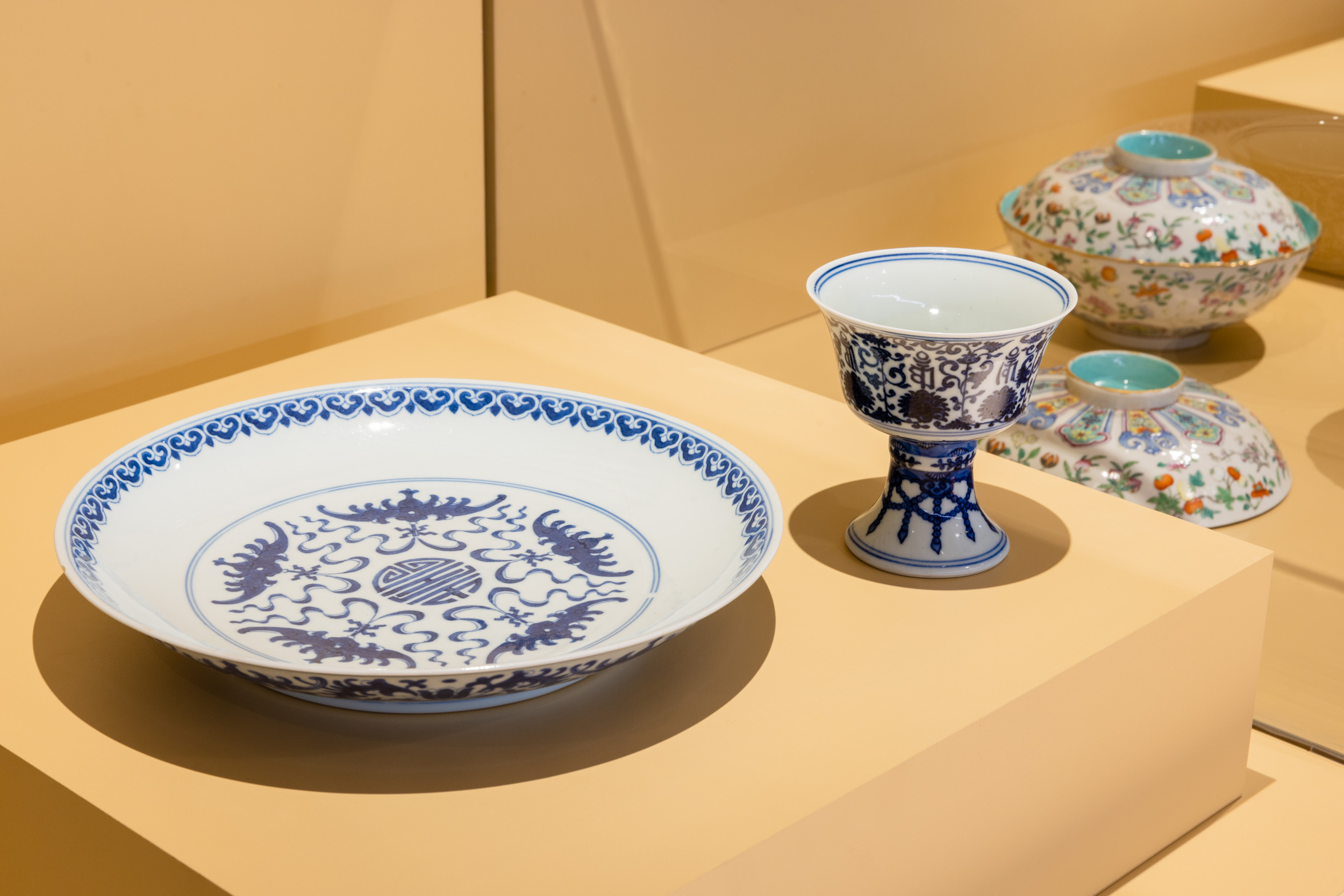 Conversely, one of the newer pieces in the collection is a porcelain blue and white stem cup from the Qing Dynasty, Qianlong Period (1736-1795 CE). Featuring Buddhist calligraphic inscriptions, this piece shows the influence of the Tibetan Lama Buddhist tradition followed by the Manchu Qing Court. This cup would have been used as either a ritual lamp or filled with water and placed on an altar before an image of the Buddha or a Bodhisattva.
Regarded as one of the significant survey collections of Chinese antiquities in Australia, the Nat Yuen Collection is a story of Chinese social and cultural traditions, told through art.
Level 4, Gordon Greenwood Building (32)
Open Monday–Friday, 9:30am-4:30pm