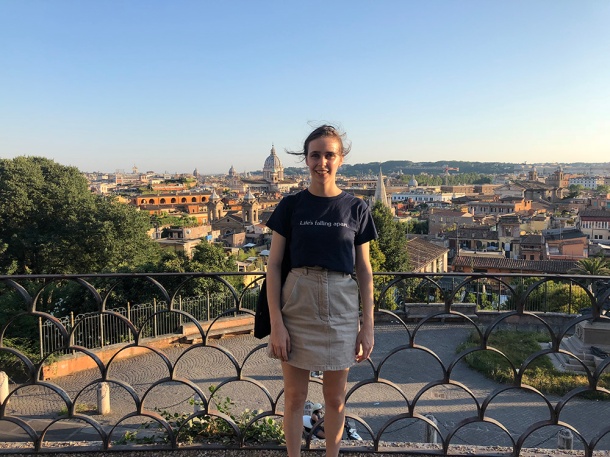 Hilary Thurlow is undertaking her Honours in Art History at UQ (expected completion October 2018), she has been a UQ Art Museum digital communication intern, and has volunteered with us at UQ Art Museum, at Griffith University Art Museum and at QAGOMA. Over the recent winter break she was selected from a highly competitive field to spend two weeks in Rome at the Goldsmiths 'Curating the Contemporary' Summer School. For Hilary, the experience was wonderful, challenging and literally life-changing as it's shifted her thinking about what she does next…
Q: How did you find out about this opportunity and what did the application process involve? 
A: I stumbled across information about the Summer School in an email from the Art and Education mailing list (a joint venture between Artforum and e-flux). I thought the program sounded interesting so I looked into it further and decided to apply. From there, I submitted an expression of interest, CV and a letter of reference.
Q: What kind of preparations did you need to undertake and how did you spend your days during the course? 
A: There was very little preparation except for booking my flights and making sure my passport was in order. I also perused the readings for the course ahead of time to ensure I got the most out of the experience. There was never a dull moment with days filled with reading groups, workshops, and site visits to various galleries, foundations and museums around Rome. Highlights included hearing from Iwona Blazwick OBE, Director of Whitechapel Gallery (London) and Maria Hlavajova, Director of BAK, basis voor actuele kunst (Utrecht).
Q: How would you describe this experience and the influence it's had on the way you're thinking about your Masters, your future and your career? 
A: Participating in the course has completely shifted my future goals. Prior to going to Rome I had no intention of pursuing further study in research or coursework based in curating, as I felt it was a skill learnt through experience and not pedagogy, but how wrong I was! I'm now considering undertaking further study in the field and my perspective and approach to curating has completely changed.
Q: Any parting thoughts for fellow students who may be considering similar overseas study and work experience opportunities? 
A: Do it! There are a large number of opportunities both in Australia and internationally. Whether it's an internship, professional development or further study, these opportunities give you the chance to learn practical skills, build a network of peers and apply your studies in a real-world, supportive environment. You also never know what friendships and future opportunities will come from partaking in these different experiences.
UQ Art Museum is open Monday – Saturday 10.00 am – 4.00 pm, Wednesday 10.00 am – 8.00 pm, closed Sundays and public holidays. The Art Museum offers a range of public programs and opportunities for students. Register to receive our e-news and invitations and follow UQ Art Museum on Facebook to keep up to date