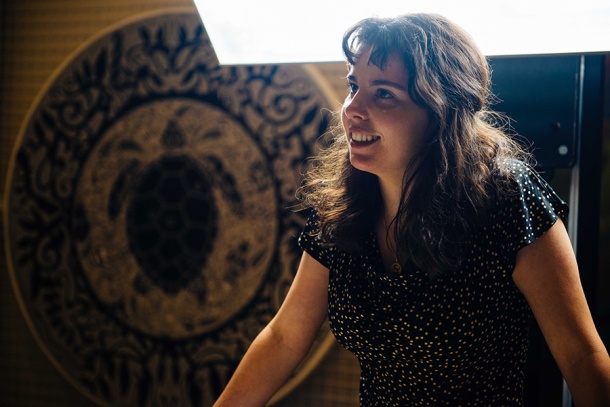 UQ student Amelia Brown is currently undertaking an Arts and Science Degree with majors in Art History, Ancient History and Archaeological Science. Just prior to beginning her final year of study, Amelia undertook a 2017/18 Summer Research Scholarship, generously supported by Drs Edward (Ted) and Christine Dauber. She worked alongside fellow intern Emma Davis within UQ Art Museum's Registration team, an experience she credits with confirming her future career aspirations. We caught up with Amelia to find out more.
Q: What kind of learning experiences did you have as a summer intern? 
A: The experiences in this internship program at the UQ Art Museum were vast and varied. While the main priority was condition reporting and rehousing artworks in Solander boxes, working in a medium-sized art museum meant we had broad access and insight into the workings of all departments. Learning experiences varied from handling fragile artworks and works on paper, to identifying different types of mediums. We learnt how to condition report each work of art and to recognise possible conservation issues. The willingness of museum staff to mentor and advise us had an immeasurable impact on what we learnt. We were instructed on how to handle works of art, helped with the On-Campus Art Program, relocated artworks, and were given the chance to sit in on meetings with both the Registration team and Curatorial department. Furthermore, the internship enabled us to observe conservators working with both paper and painting, including cleaning and inpainting.
Q: What was the most memorable thing you did? 
A: There were so many amazing things, but getting to look at artworks so closely and in such detail, works that are rarely publicly shown because of their fragility, was an amazing experience. Given my interest in conservation, access to both paper and painting conservators was invaluable. One of the very special experiences I had was cleaning a painting, as well as inpainting missing patches.
Q: How do you feel about being provided this scholarship, courtesy of donations from our community of supporters? 
A: I'm very grateful for the extensive opportunities provided through this internship. The experience I gained and what I've learnt have guided me towards a prospective career path. Getting to work closely with talented and experienced staff members would not have been possible without donor support.
Q: What does the future hold for you? Has the internship changed your perspective? 
A: Having varied experiences within each department across the UQ Art Museum has reinforced my desire to work in the arts industry. Having access to a broad range of artworks has cemented my interest to work closely with the art objects themselves. The opportunities we were provided gave us a clear insight into the range of positions in the industry. My original interest in conservation was reinforced by seeing and participating in this work at the UQ Art Museum, something I don't believe could have been provided anywhere else.
UQ Art Museum is open Monday – Saturday 10.00 am – 4.00 pm, Wednesday 10.00 am – 8.00 pm, closed Sundays and public holidays. The Art Museum offers a range of public programs and opportunities for students. Register to receive our e-news and invitations and follow UQ Art Museum on Facebook to keep up to date