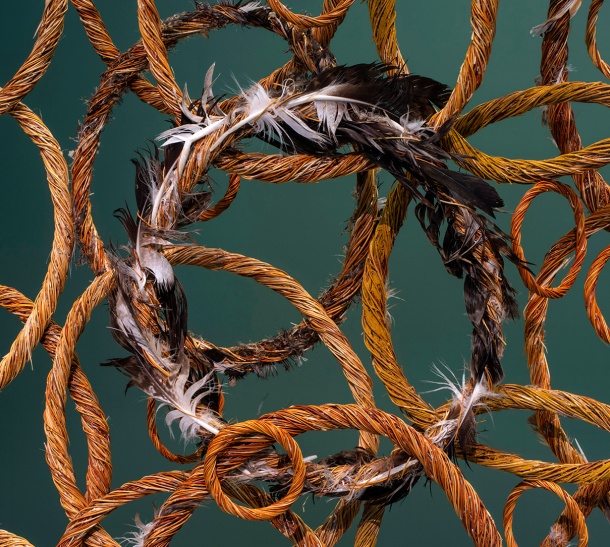 "This commanding work highlights the beauty and versatility of spinifex. Its vertical display emphasises the elegance of Macnamara's medium, but also helps us to imagine the diversity of life which depends on this landscape. The bird feathers, animal bones, echidna quills, and resin embedded in the individual rings, reminds us that spinifex is part of a complex, yet fragile ecology."

— Emma McLean, UQ Art Museum curatorial intern
About Mugama for Country 2018
This installation eloquently represents the spinifex landscape that is so important to Shirley Macnamara. 'Mugama' means 'make', the title translated by the artist as 'Making for Country'.
Embedded in her rings of spinifex are the feathers of such birds as the bronzewing pigeon, eagle, emu, and sparrowhawk. The spinifex landscape supports a wide variety of animals and creatures that live within it; small ground birds, for instance, finding shelter among the spinifex clumps.
Shirley Macnamara states that the ring shape has been part of her work since she began working with spinifex, and sees it as 'a continuing link I have with my landscape, where I live, and with what I do'. By suspending the work at eye level and emphasising its organic quality, she is asking us to look closely and notice what is happening in the landscape, and to ensure its protection.
About the artist
Born in northwest Queensland, Shirley Macnamara was raised in Camooweal and on pastoral properties throughout the Barkly Tableland. Her traditional ties are with her mother's Indjalandji-Dhidhanu Country at Camooweal on the Georgina River and her late father's Country at Lake Nash in Alyawarr Lands in the Northern Territory.
An artist and a cattlewoman, she lives and works on Mount Guide Station, a family-run cattle property south of Mount Isa. Macnamara has been nationally recognised for her fibre art utilising spinifex, ochre, feathers and bone. Her contemporary guutu (vessels) and other works, including her major installation Mugama for Country 2018 – the centrepiece of Shirley Macnamara: Layered threads – stands for generations of traditional knowledge, the resilience of her people, and the need to care for Country.
Text by exhibition curator Michele Helmrich
Shirley Macnamara: Layered threads is showing at UQ Art Museum until 24 November 2018.