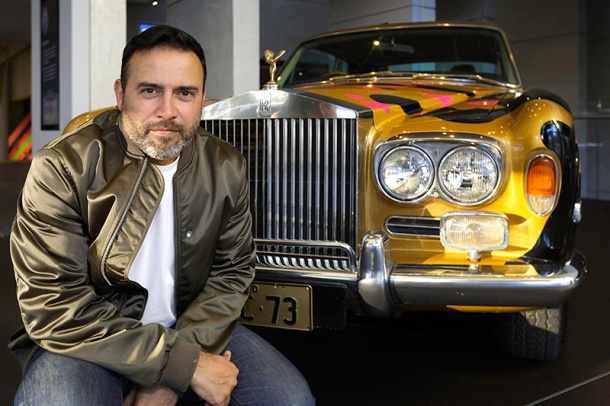 "This powerful and emotive work is the first film created by Reko Rennie and shows the artist's journey reconnecting with his Grandmother's story as a member of the Stolen Generation. Travelling throughout her traditional Kamilaroi lands in a vintage Rolls-Royce, the viewer is also taken on the same journey as the artist to witness his reconnection to place, culture and history."

— Tina Baum, curator, 'Defying Empire'
Artist statement about OA_RR  
I've heard and seen stories of some Australian pastoralists back in the early 1900s owning old Rolls-Royce or Bentley vehicles, dressing up on a Sunday and then driving to church. During this time, there were many Aboriginal women, men and children enslaved on these properties working for nothing but rations, abused and mistreated.
It made me think of my grandmother, Julia, and how she was also enslaved on pastoral stations and missions due to former government policies.
I decided I would buy a Rolls-Royce in similar vintage myself. The marque of the vehicle is a symbol of wealth, privilege and royalty. I have hand-painted the Rolls, with a geometric camouflage, referencing the traditional diamond shape of the Kamilaroi and using a contemporary pattern of camouflage to promote visibility of identity. The video work is about a road trip, where I return to Kamilaroi land and make an emotional journey back to Country for my grandmother and myself, in a reclaimed (Reko Rennie) Rolls-Royce.
Referencing my own urban upbringing, I take the car on Kamilaroi earth and thrash the Rolls-Royce on Country, creating donuts on the land, also in reference to traditional Kamilaroi sand engravings. Then I return to my other home.
Artist text and image courtesy of the National Gallery of Australia
See OA_RR at UQ Art Museum in Defying Empire. The exhibition runs until 10 November 2018.
Defying Empire: 3rd National Indigenous Art Triennial is a National Gallery of Australia Exhibition.
The National Gallery of Australia acknowledges funding support from the Visions of Australia touring and the National Collecting Institutions Touring and Outreach Programs, both Australian Government programs aiming to improve access to the national collections for all Australians.
This exhibition has been made possible through the generous support of Westfarmers Arts.