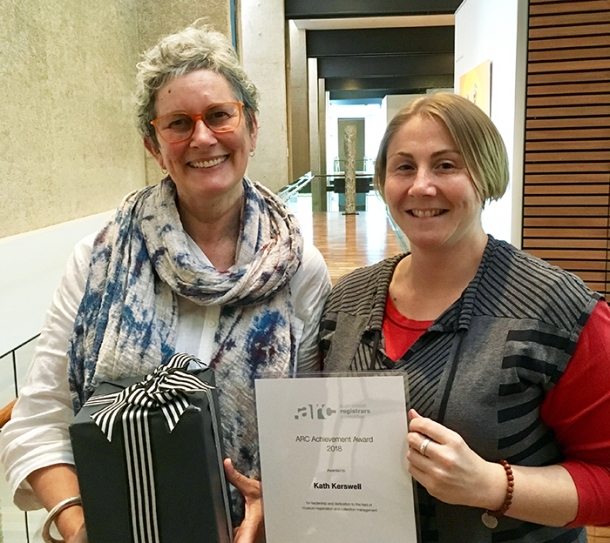 In recognition of her leadership and contributions to education in the field of registration and collection management, Kath Kerswell has been presented an ARC Achievement Award at the 2018 Australasian Registrars Committee conference.
With more than three decades of professional experience in the field, Kath was UQ Art Museum's much-loved Senior Registrar for the past 12 years, until her retirement in October 2018.
In her acceptance speech, Kath said the Award meant so much to her because a group of colleagues had worked together to submit the nomination that was awarded by her peers.
"As part of the cultural heritage industries, we work with artworks, artists and exhibitions that represent diverse voices, and comment on contemporary issues and debates that can make a difference. We share this wonderful work with people who are passionate about what we do, why we're doing it and how we're doing it!"
In retirement, Kath continues to work on exhibition management and is the Exhibition Coordinator for the Botanical Artists' Society of Queensland – a pursuit that combines her love of art, plants and the environment.
We sincerely congratulate Kath for this recognition, and we thank her for the significant role she has played at UQ Art Museum and in helping shape the registration professionals of the future.