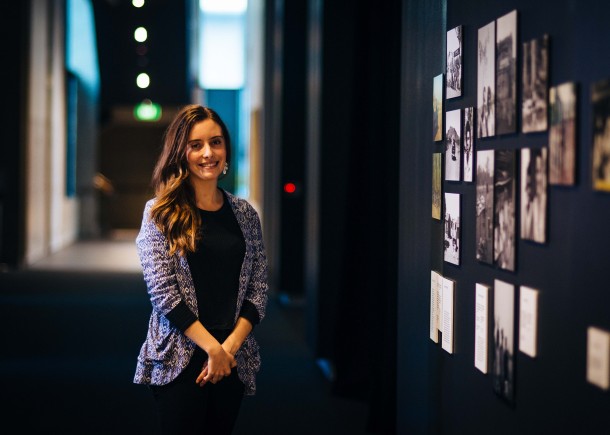 Emma McLean was our very first Kinnane Endowment Curatorial Intern, working under the mentorship of UQ Art Museum's curatorial team as she completed her Bachelor of Arts/ Laws majoring in Art History and French. During this time, Emma provided curatorial assistance with exhibitions, publications, research projects, acquisitions, and artist commissions, and co-curated Workshop and Judy Watson: concealed histories with Isabella Baker.
As Emma prepares to attend the Venice Biennale as a 2019 Professional Development program participant and begin a new role as Assistant Curator at the Museum of Brisbane, she's reflected on her time at UQ Art Museum and offered some tips for current students aspiring to work in the arts.
Q: What are the most valuable skills and experience you've gained during your time at UQ Art Museum?
A: I've learned many important skills at UQ Art Museum, the most important of which, I believe, is a more refined writing style. I have developed this through writing texts for didactic panels, extended labels, acquisition rationales, media content, and educational text. It's been so enjoyable to write about artworks in the UQ Art Collection, and to become familiar with the works in our holdings. I've also realised the enormous benefit of learning about collections in general, and the ways in which generous philanthropy can support collection growth. The most valuable experiences for me at UQ Art Museum though, were opportunities to co-curate exhibitions with Curatorial Assistant, Isabella Baker.
Q: What advice would you give students about throwing their hat in the ring for internships, volunteer positions and other opportunities to engage with the arts while they are students?
A: My advice would be to seek out industry mentors. This might be achieved through unpaid internships or volunteer programs. For instance, I completed volunteer placements with Flying Arts Queensland and Queensland Art Gallery | Gallery of Modern Art (QAGoMA), which I believe helped me find employment at UQ Art Museum. I understand however that volunteering can be an extra pressure, especially if you're working and studying. If you are having trouble finding the time to volunteer, I'd recommend trying to develop your own writing style and to find opportunities for publication. Also, try to get involved with the Society of Fine Arts (SoFA) on campus. They are a supportive network of like-minded people who have taken the initiative to develop their own exhibition just this year – an amazing effort, and a great thing to have on your resume!
UQ Art Museum is open Monday – Saturday 10.00am – 4.00pm, Wednesday 10.00am – 8.00pm, closed Sundays and public holidays. The Art Museum offers a range of public programs and opportunities for students. Register to receive our news and invitations and follow UQ Art Museum on Facebook.