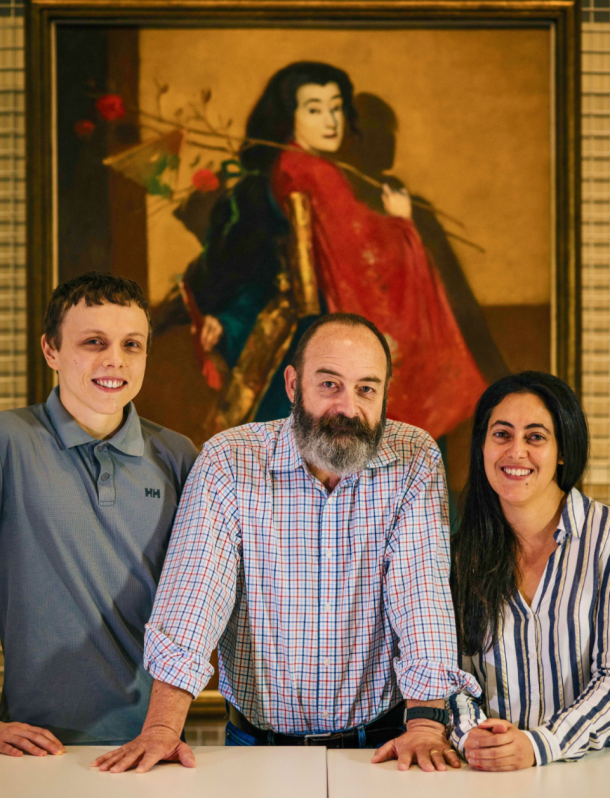 Each year, UQ Art Museum welcomes thousands of UQ students through our doors to take part in tutorials, tours, workshops, and course work. In addition, paid and volunteer positions, internships and mentoring offered to students through the Art Museum gives many of them a competitive edge as they embark on new careers.
Recently, two outstanding UQ Art History students participated in a very special donor-funded internship opportunity with art dealer and valuer Bruce Heiser, who generously donated his time to mentor the students.
Alex Reed and Nikia Tester worked closely with Bruce to choose 25 artworks from the 35 he shortlisted from the Stuartholme-Behan Collection – a Collection comprised of 100 works of Australian art from the colonial period to the 1960s.
The students then developed a tailored 30-minute presentation of highlights from the Stuartholme-Behan Collection, which they delivered to members of the Behan family and the UQ Art Museum donor community.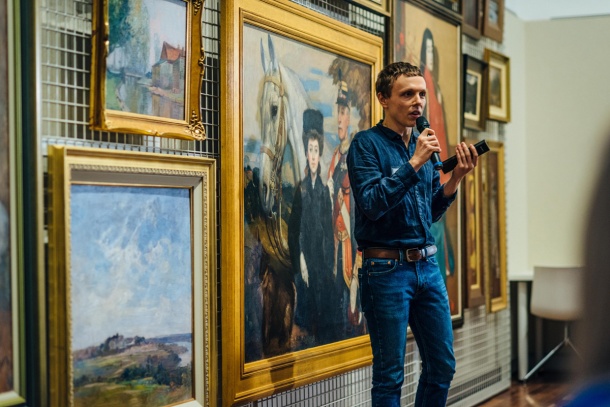 Alex Reed, who is on track to graduate this year with majors in Art History and German, said the practical experience of working on the project had really boosted his confidence:
The experience gave me the opportunity to research a great collection of Australian art, to engage with these works in person and to share these insights with an audience. Bruce Heiser's experience and advice was so valuable and having the opportunity to learn about the history of Norman Behan's Collection, and how it came to UQ Art Museum was also really interesting.
Nikia Tester, who will also graduate this year, is studying a Bachelor of Arts with an extended major in Art History, a second major in Ancient History and a minor in Gender Studies. She was also very grateful to be mentored by Bruce:
This project has provided a fantastic hands-on learning opportunity. I really appreciated the chance to work with professionals inside the Art Museum and from the broader community. It was a memorable experience that will undoubtedly contribute to my career prospects.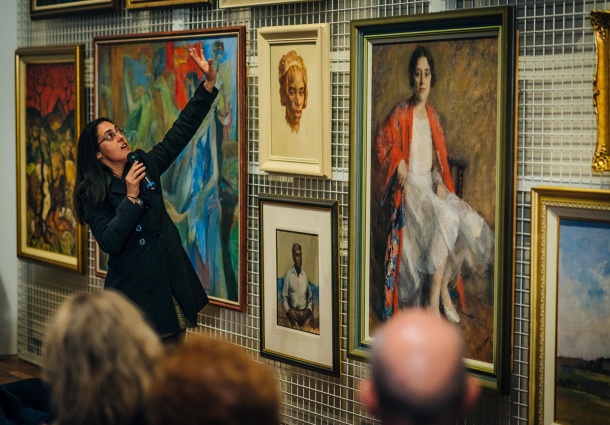 Bruce and Kathryn Heiser attended the presentations and were immensely pleased for the students. Bruce explained:
Nikia and Alex did such a great job and rose to the occasion and should be so proud of themselves. These students are a great reflection on UQ's Art History Department and UQ Art Museum. They are smart and enthusiastic and if they are the calibre of graduates entering the arts sector, Queensland is certainly in very good hands. Not only did they undertake a tremendous amount of reading to inform their presentations, but they also took on the challenge and embraced it with such self-directed motivation, that they deserved to shine, and they really did.
When asked to comment on the value of providing these kinds of practical, donor-funded experiences to students, Bruce described it as invaluable:
Investing in education provides longer-term returns, but the impact you can have on a person's life and career just can't be quantified. To have generous supporters who are willing to contribute to these kinds of projects that give students career-building opportunities to learn, is incredibly important. Nikia and Alex are a prime example of what good education and nurturing can bring about, and what a pleasure it was to work with these bright minds!
About the Stuartholme-Behan Collection
The Stuartholme School in Bardon, having accumulated a significant collection of Australian art from Dr Norman Behan, loaned what is now known as the Stuartholme-Behan Collection of Australian Art to The University of Queensland on a long-term basis in the early 1990s.
The Collection, which now numbers 100 pieces, includes key works by many notable artists, including Arthur Streeton, Charles Conder, and Tom Roberts. Earliest works include a portrait of Sir John Franklin by the convict artist Thomas Wainewright, and two early scenes of Sydney by Conrad Martens. Martens was the official artist to the HMS Beagle expedition, and the first professional artist to paint in Brisbane.
Dr Norman Behan was a well known and respected Brisbane general practitioner, art collector and philanthropist, who had strong ties to The University of Queensland. Over a 40-year period, Dr Behan compiled what he considered to be a representative collection of Australian art – from the colonial period to the 1960s. As his collection grew, Dr Behan gave works to the Stuartholme School to be exhibited for the benefit of the students.
UQ Art Museum is open Monday – Saturday 10.00am – 4.00pm, Wednesday 10.00am – 8.00pm, closed Sundays and public holidays. The Art Museum offers a range of public programs and opportunities for students. Register to receive our news and invitations and follow UQ Art Museum on Facebook.