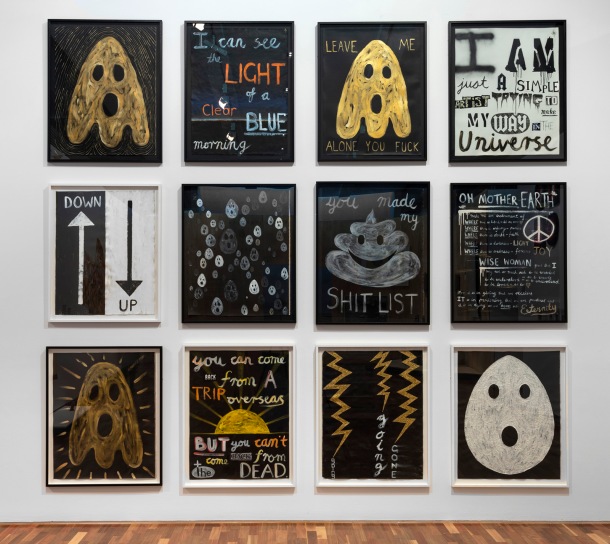 We're excited to have 12 new Nell artworks join the UQ Art Collection – they're on show as part of our Workshop project until 18 January 2020.
UQ Art Museum's Dr Holly Arden said Nell's work combined humour and pathos to create incisive and sometimes heartbreakingly raw expressions of feeling.
In these works, Nell uses motifs and imagery that speak to her ongoing fascination with death and birth in their many forms. Widely recognisable phrases and motifs include an eclectic mix of references to pop and digital culture, spirituality, poetry, artists, art history, and rock music. These are layered with autobiographical details to make works that are, emotionally speaking, highly relatable.
The new works join three others by Nell also held within the UQ Art Collection: Summer, 2012, single-channel digital video; The Dr. said it was like being hit by lightning, 2013, neon; and the sculpture Happy ending, 2006, Noble Black granite.
About Nell
Born in 1975 in Maitland, New South Wales, Nell has a Master of Visual Arts from Sydney College of the Arts, The University of Sydney and École Nationale Supérieure des Beaux-Arts, Paris. In 1996 she completed Honours at The University of California, Los Angeles. Nell held a solo exhibition titled NE/LL at Shepparton Art Museum, Victoria (2016) and her work was included in The National: New Australian Art 2017, Museum of Contemporary Art, Australia and Magic Object, The Adelaide Biennial, Art Gallery of South Australia, Adelaide. Nell won the 2013 National Self-Portrait Prize held at the UQ Art Museum.
Workshop is a space for UQ Art Museum audiences and staff to rethink how we see and display the UQ Art Collection. The project, including Nell's work, runs until 18 January 2020. UQ Art Museum tote bags featuring Nell's Happy ending are for sale at the front desk for $10.