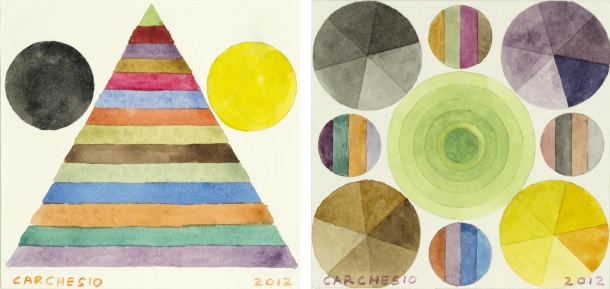 Across time and terrain, human cultures have drawn on the cosmos and its symbols to express the infinite universe and our place within it. An ancient hypothesis traced back to Greek philosopher and mathematician Pythagoras, 'Music of the Spheres' suggests that orbiting planetary bodies produce a musical frequency – revealing a divine poetic order to the universe.
Inspired by these ideas and under the mentorship of UQ Art Museum staff, fourth-year UQ student Elena Dias-Jayasinha has curated the new exhibition Music of Spheres, featuring artists who evoke a constellation of ideas relating to cosmic mysticism, spirituality, imagined worlds, parallel universes and hidden forces. We caught up with Elena to find out more about her curatorial debut.
What did you enjoy about the process of curating an exhibition?
Curating Music of Spheres was such a valuable learning experience. As a first-time curator, I was eager to learn as much as possible and the UQ Art Museum staff were a great support. It's almost impossible to pinpoint what I enjoyed the most from the experience. I loved researching the collection, developing meta-narratives within the overall exhibition, writing didactic labels to make the show more accessible, seeing the works go up during installation – the whole process was so interesting.
Did anything surprise you about this process when you had the opportunity to put the theories you'd been studying into practice?
I think what surprised me the most was how my preconceptions of works were sometimes completely changed when I viewed them in person. While I was, of course, expecting the works to be different from their photographs, some that I was certain I would include in Music of Spheres did not fit at all. But that is the fun of curating – so many unexpected things can happen!
How did you find the experience of being mentored by professional UQ Art Museum staff?
All of the UQAM staff were supportive throughout this process. I predominantly worked with Curator Anna Briers, who taught me a great deal about exhibition development. She gave me valuable insight into the curatorial process, feedback on my writing, and the confidence to trust my instincts.
Do you have an idea of what you might like to do when you graduate, and has this experience helped to shape those plans?
This experience has cemented my desire to work in a curatorial field. Before this experience, I knew I wanted to work in the visual arts sector, but I was uncertain which area I was most passionate about. Now I'm actively seeking out curatorial roles.
Music of Spheres features artwork by Lincoln Austin, Eugene Carchesio, Daniel Crooks, Michaela Gleave, Tjungkara Ken, Peter Kennedy, Lindy Lee, Dylan Martorell, Leonie Pootchemunka and Rosalind Atkins, Koji Ryui, Sandra Selig, David Stephenson and Guan Wei. The exhibition will open at UQ Art Museum on 3 August and will run until 16 January 2021.