One of our important jobs at the Art Museum is to help shape the next generation of arts professionals by providing practical experiences. Of course, this becomes a little more difficult to do when the museum doors are closed and the majority of staff are working remotely due to a pandemic!
But we've embraced the challenges and changed things up for our current group of interns working across a variety of disciplines to ensure they can keep learning and developing their skills. We asked four of our interns to provide some insights into what they've been up to during this unusual period.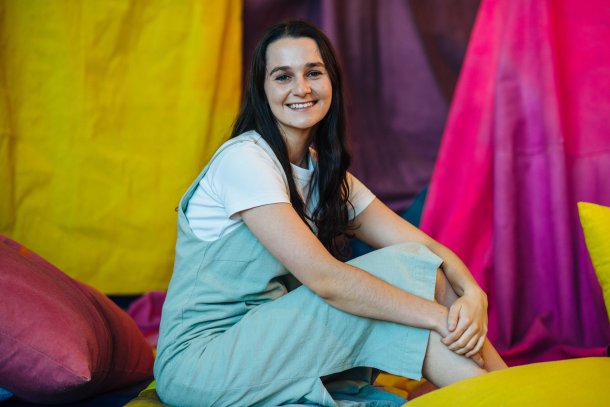 Zali Matthews Kinnane Endowment Fund Curatorial Intern and fourth-year Honours student completing a Bachelor of Advanced Humanities (Honours), majoring in Art History.
As both a curatorial intern at the UQ Art Museum and an Honours student in UQ Art History, I'm used to being on UQ campus all the time. Since the beginning of COVID-19 restrictions, however, I've been working exclusively from home thanks to the extended support of my co-workers. The abrupt change has inspired active interrogation into how, as arts workers, we can navigate this new, physically distanced and intensely online world.

Work life is now punctuated with zoom calls, emails and texts. There's a lot to miss: the energy that UQ campus brings, my co-workers, and most importantly seeing art – in person! Physical distancing has cast into high relief how heavily mediated the act of looking at art (as we know it) is through physical and spatial dimensions. We don't just look at art, but also at the space in which it lies, where it unfolds.

Here on the internet, the regular rules that arts workers follow for exhibiting art have been, for the time being, thrown entirely out the window. Spatial interaction has been radically transposed onto the two-dimensional computer (or phone) screen. As a curatorial intern, it has been incredibly exciting helping investigate new ways of exhibiting work to an online audience instead of a physical one.

— Zali Matthews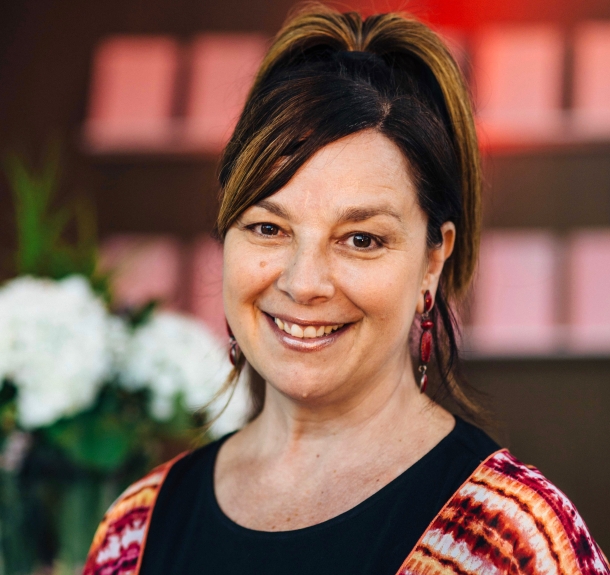 Angela Koulouris Kinnane Endowment Education and Engagement Intern and is currently studying a Masters of Museum Studies. Angela completed a Graduate Certificate in 2018 and is currently undertaking a Graduate Diploma of Museum Studies. She graduated with Honours from UQ's Bachelor of Regional & Town Planning. 
In October 2019, I was absolutely honoured and delighted to be the first UQ student recipient of the Kinnane Endowment Education and Engagement Internship at UQ Art Museum. Working under the guidance and mentorship of Danielle Harvey (Engagement and Training Officer) and the Education team, the internship sees me applying and building new skills in museum operations, as well as cultivating the visitor experience and engagement commensurate to my Masters in Museum Studies.   

Amidst the COVID-19 pandemic, the Kinnane Endowment Internship Fund has been a blessing, allowing me to continue to work as the 'Kinnane Endowment Education and Engagement Assistant'. Projects that I'm currently undertaking include helping scope the Art Museum's COVID-19 safe plan/reopening plan, and a continuing review of Front of House operations and procedures to enrich both student training in this area and our public spaces.

I'm incredibly grateful for the opportunity to broaden my education in museum studies and challenge my professional skills to deliver safe and quality visitor experiences and staff procedures that are essential during this difficult and unprecedented time. I'm also very grateful to UQ Art Museum for supporting 'not-so-young' museum professionals like myself and I look forward to the learning opportunities and challenges ahead.

— Angela Koulouris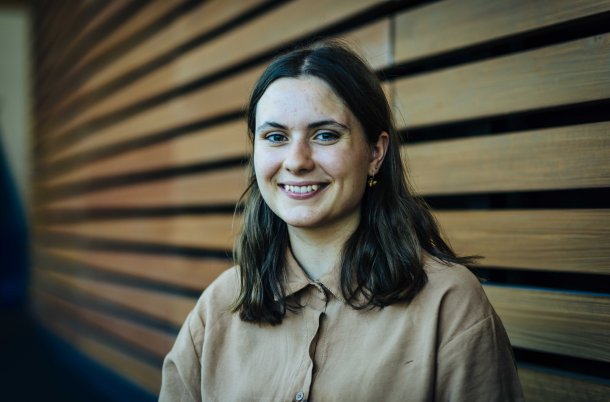 Riva Charles Kinnane Industry Experience Scholar and third-year UQ Bachelor of Arts student majoring in History and Art History.
During UQ Art Museum's closure to the public, I've been fortunate to continue my internship experience from home. Most of my internship experience before COVID-19 had involved research and writing, and assisting my supervisors to plan and organise the Art Museum's public programs and engagement. So in a sense, not a lot had changed for me when everything closed – the only real change was that I wasn't able to interact with staff members in the usual way on campus. Zoom meetings have been valuable for isolated check-ins and general catch-ups, which has been an ever-developing but overall positive experience.

I have continued my work with UQ Art Museum's Danielle Harvey, Engagement and Training Officer, and Nikki Garrett, Education and Public Programs Officer, which began in October 2019. Prior to that, I was working with the Curatorial and Registration teams.

A key project of mine has been helping to develop Cultural Mediation handbooks for the Front of House team, which involves researching current exhibiting artists and their exhibitions – work I've been able to continue from home. I've also recently helped organise the Art Museum's We Need to Talk About… panel series on Zoom. This has involved researching topics and academics at UQ to participate in the panels, along with producing recorded versions of the talks. These discussions are a way to connect UQ students, staff, and the broader community in a time when we couldn't offer the physical experience of the Art Museum.

Though the format has changed slightly, I've been very grateful for the continuation of my internship during the Art Museum's physical closure. Not only have I continued to work on projects I was invested in before COVID-19, but I've also gained skills and had a chance to help explore new modes of interaction for UQ Art Museum with the community and its own staff in times of self-isolation.Working from home has given me a fresh perspective on how UQ Art Museum can still offer a sense of community for its regular visitors, and I'm glad to have helped develop these new methods of social interaction until we can open the doors once again.

— Riva Charles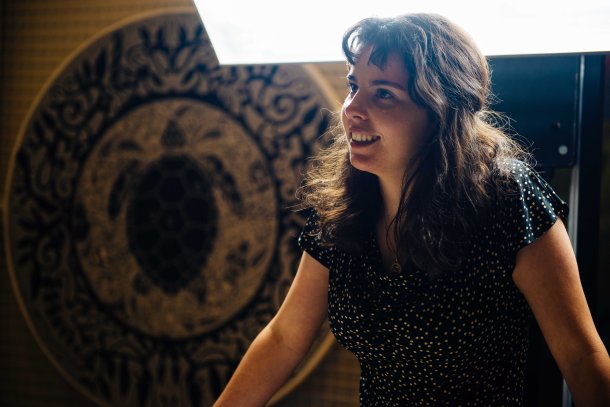 Amelia Brown Kinnane Endowment Registration Intern, UQ Art History (Honours) and dual UQ Bachelor of Arts/Science graduate.
Put simply, 'registration' is about being responsible for an art collection as physical objects. This includes the care of the collection, the condition and storage of works, preparing works for exhibition, dealing with loans and copyright, as well as the movement of works. So evidently, working from home has come as a bit of a change. For the most part, however, the momentary pause has had positive outcomes, allowing the registration team to catch up on tasks often put on the back burner.

There can be no art gallery without the works it houses. Maintaining these works is crucial to continuing our collection as a meaningful cultural and educational tool. In 2019, conservation was a top priority for UQ Art Museum, allowing for the treatment of artworks that had previously been considered too difficult, due to lack of resources and conservation equipment.

One of my projects as an intern has been to report on this conservation, examining each work and how it benefited. Part of this task has been to establish the significance of each artwork that was conserved through research. This information, the importance of the artist, the work and its subject in relation to broader themes, is used to reinforce the ongoing importance of conservation. I'm very interested in conservation and combining this with art historical research has given me a deeper insight into these artworks. A continuing part of this project is helping to develop a significance assessment to aid in prioritising conservation in the future and sustainably and efficiently allocating resources.

The other primary task I've been working on from home is putting together a manual for future registration interns. This sets out all information relevant to the department – it contains research on conservation, collection care and management, as well as institutional and state policy. While most things in registration are learned hands-on, developing this resource has been really beneficial for me and solidified my knowledge.

— Amelia Brown 
The Art Museum offers a range of public programs and opportunities for students. Register to receive our news and invitations and follow UQ Art Museum on Facebook.