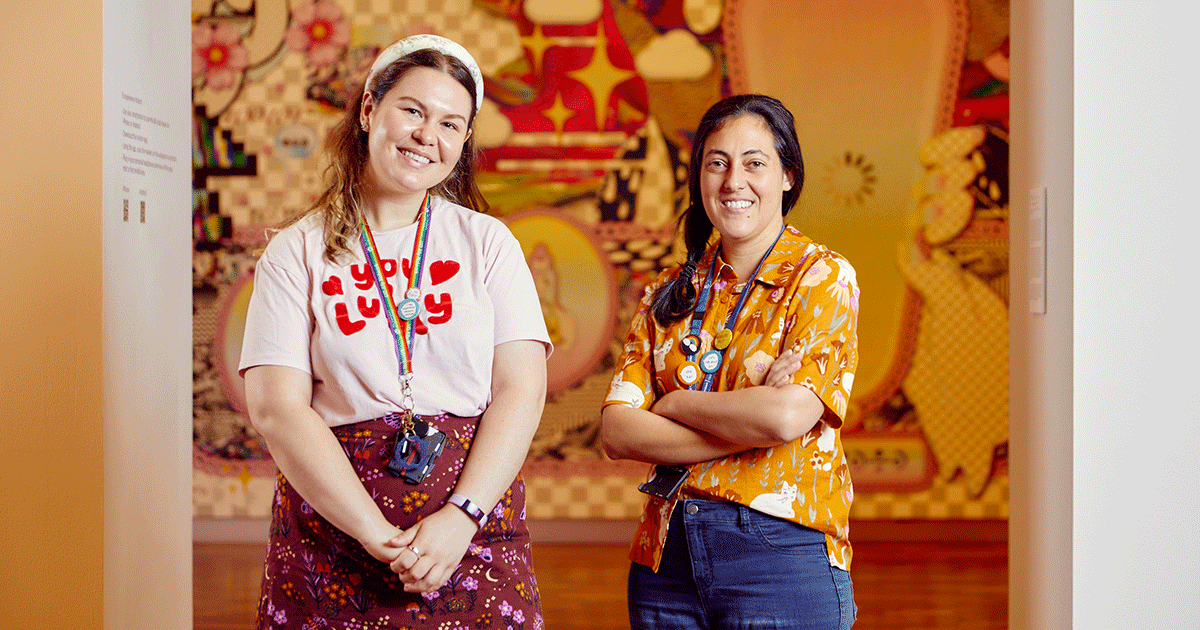 This post was written by UQ Master of Museum Studies student and Art Museum Mediator Nikia Tester.
If you visit the Art Museum you might notice some of the staff – including me – wearing badges.
We started with "let's talk about art" badges, which were designed to help people feel comfortable chatting with us about the artworks on display, or about art and art museums in general. We practice cultural mediation, so providing opportunities for visitors to experience meaningful two-way conversation about art is important to us.
However, following the training we've undertaken as a team in mental health, inclusivity and disability, neurodiversity, cultural diversity, UQ Allyship and unconscious bias, we realised that adding some new badges could help us make visitors feel welcome in other ways.
The new badges include:
"Not all disabilities are visible"

"Trans ally"

"LQBTIQ+ ally"

"I may experience sensory overload"

"They them", "She her" and "He him"
We've also introduced badges to let visitors know if our team can converse with them in languages other than English, as we have speakers of Japanese, Korean, Cantonese, and French among others.
As a mediator at the Art Museum, I use many tools to welcome and invite not only engagement but exchange with our visitors. Whether they've come to us seeking engagement or just a brain break, each person I meet brings value to our spaces, making up a rich tapestry of diversity.
Maya Angelou said, "We should all know that diversity makes for a rich tapestry, and we must understand that all the threads of the tapestry are equal in value no matter what their colour".
These poignant words invite an approach to connection that holds space for each person to share in a sense of safety and openness, not only for our visitors but as an investment in our team culture as well.  
For me, the badges provide a way to communicate to visitors that the Art Museum is dedicated to creating a visibly welcoming space and to meeting our visitors where they are at. The team can choose when and if to wear one, and some of us have chosen to wear badges that make visible our own disabilities or allyship.