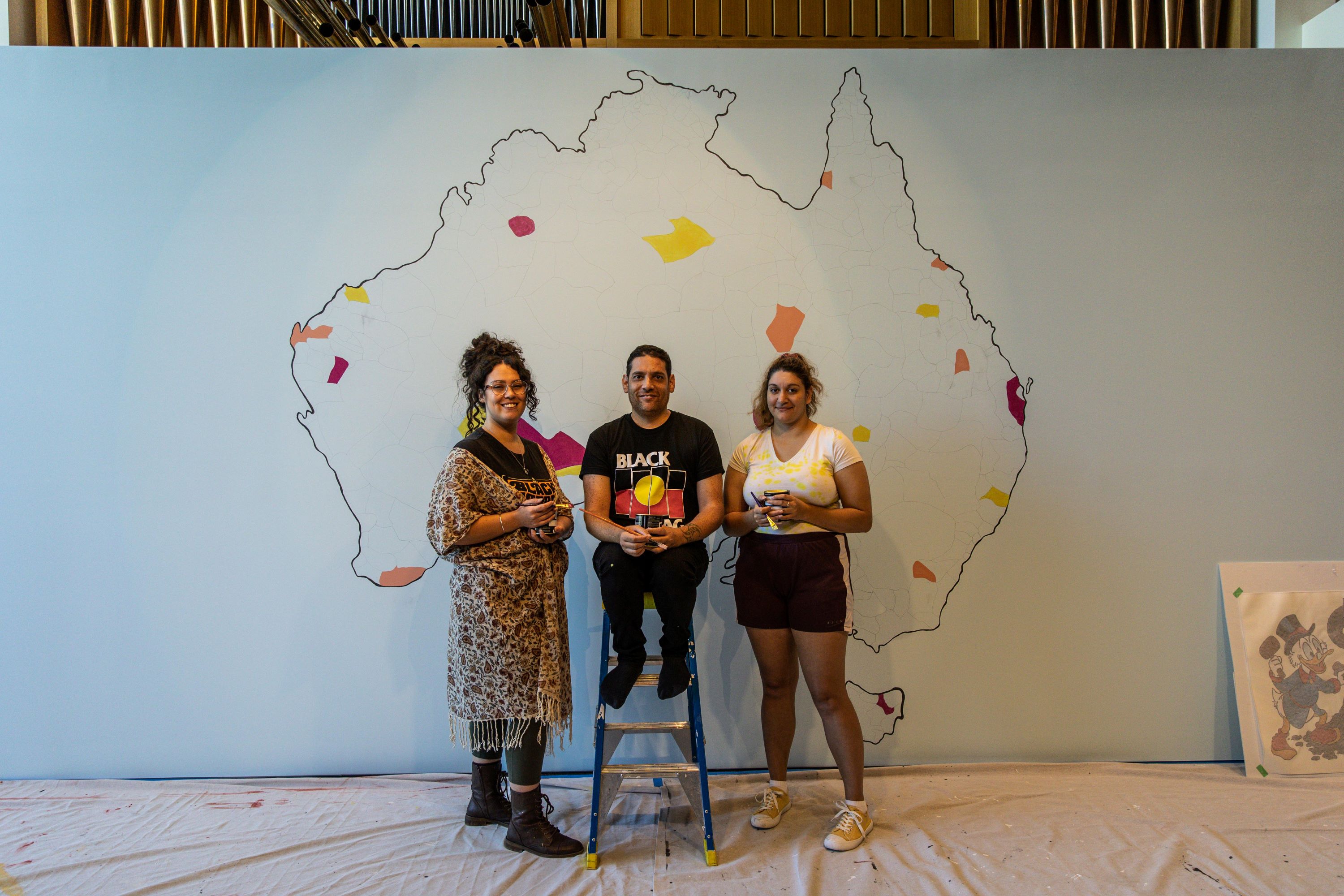 Conversations about Aboriginal and Torres Strait Islander place names, languages, histories and climate unfolded as thirty Aboriginal students worked with artist-in-residence Tony Albert to create Terra Nullius (with Scrooge) for the major exhibition by proppaNOW, OCCURRENT AFFAIR.
About the artwork
Tony Albert's painting Terra Nullius (with Scrooge) recreates the Australian Institute of Aboriginal and Torres Strait Islander Studies (AIATSIS) map of Indigenous Australia, showing Aboriginal groups prior to colonisation. The map serves as a visual reminder of the richness and diversity of Aboriginal and Torres Strait Islander Australia. In the centre of the work, Albert positions the Walt Disney character Scrooge McDuck, created in 1947.
Based on the character Ebenezer Scrooge from Charles Dickens's A Christmas Carol, Scrooge McDuck is portrayed as an oil and mining tycoon, businessman and industrialist. Standing on a map of pre-colonial Australia, Scrooge represents the colonial businessmen who since invasion have ruthlessly extracted Australia's resources for economic gain, with no regard for the environment or the rights of the Aboriginal people to whom the land belongs.
In an interview with Bec Mac for Popsart on the exhibition's opening night, Tony talked about how much he enjoyed the experience working with students to produce the artwork:
"I've loved it so much. I was really lucky that I have work in the UQ Art Collection that could be drawn from for this exhibition, but I wanted to participate with something new and I wanted to work with students here … I've been at UQ for two weeks working with First Nations students from gender studies, anthropology, Aboriginal studies and more. I feel I got so much out of it. This idea was about projecting a work on a larger scale and looking at new thematics and conversations – climate was introduced to my world about two years ago in a very prolific way and has changed my life for the better.
"I've been interested in looking at mining and the importance of where we sit in trying to change our practices. This work is about cultural greed and putting wealth above the land and country, but it's so important to look after where we sit, breathe and sleep. I'm grateful to be able to include a new thought inside a show like this with this work." — Tony Albert