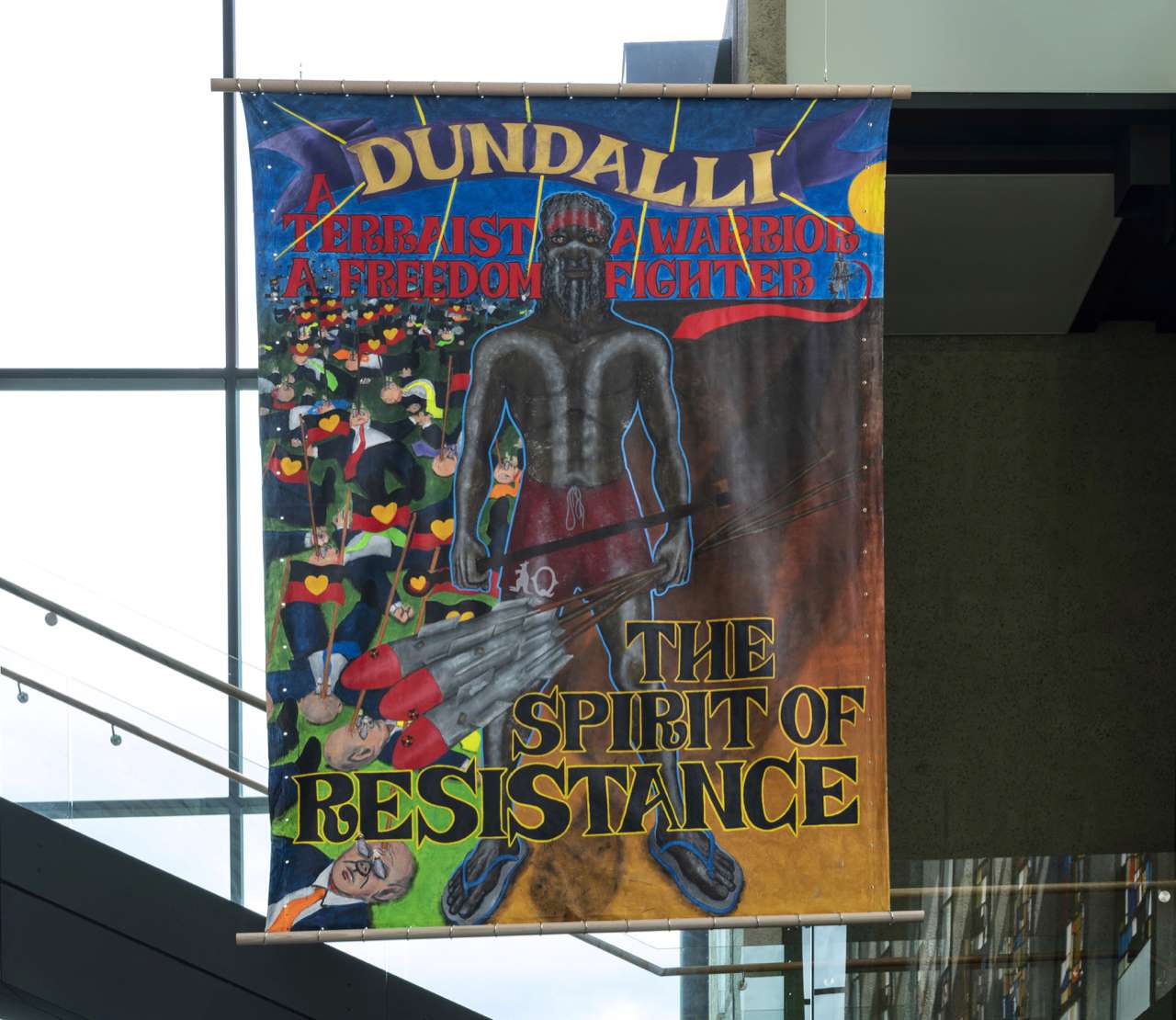 Gordon Hookey often creates paintings inspired by Aboriginal histories that have not been overtly presented within the mainstream narrative. In this banner, Hookey highlights the significance of Dundalli, an Aboriginal resistance fighter of the 1800s, presenting him in a pop-culture lens of heroes and villains. His defiance against the colony ultimately resulted in his public hanging in Brisbane in 1855.
Hookey portrays Dundalli as a superhero holding spears in his hands. At the ends of the spears are nuclear warheads, referencing Maralinga, the site where the British conducted nuclear tests on Aboriginal lands, often without removing the Aboriginal people. On the reverse, a purposeful intervention of a hand-written scroll, resembling white colonial documents, exposes ongoing white fragility and refers to the discomfort and defensiveness that mainstream Australians feel when they are confronted by information about racial inequality and injustice.
The banner is featured in the UQ Art Museum 2021 exhibition OCCURRENT AFFAIR: proppaNOW. UQ Art Museum Senior Curator Peta Rake said it had a commanding presence in the space,   just as Dundalli, the "larger-than-life" Aboriginal resistance fighter featured on the banner, was said to have had.
"The banner sets the tone for the OCCURRENT AFFAIR exhibition that unfolds throughout the Art Museum, and the questions the proppaNOW artists pose and ideas they explore. Through his banners, Hookey seeks to bring new histories of resistance into the national consciousness, and with this particular work, attention to an Aboriginal figure comparable to Ned Kelly, yet still relatively unknown." - Peta Rake
OCCURRENT AFFAIR: proppaNOW is on at UQ Art Museum until 19 June.