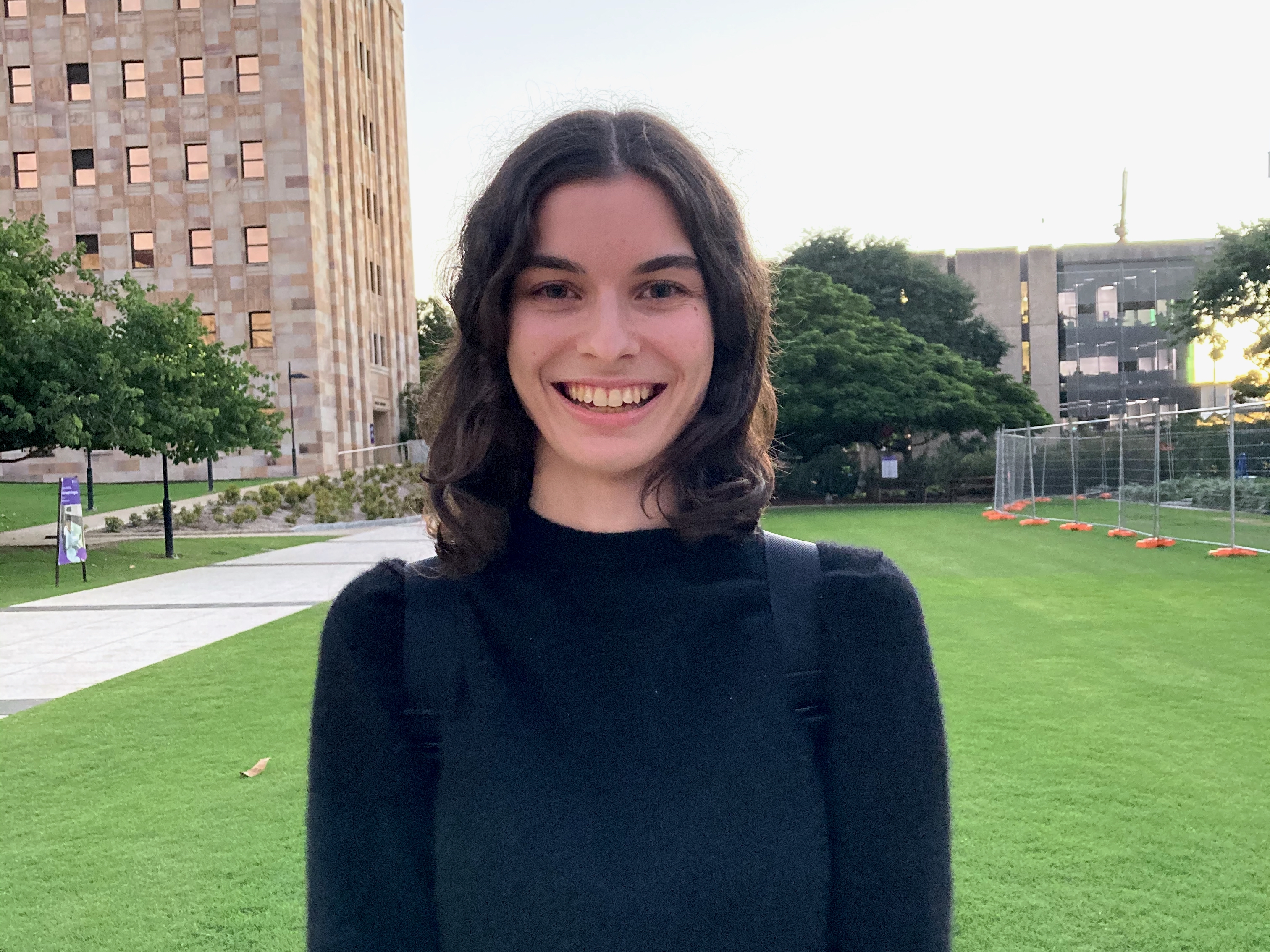 Jenna Muir is studying a Bachelor of Arts (Honours) in Art History at UQ and is the 2021 Paula and Tony Kinnane Endowment Fund Curatorial Intern. We're thrilled to have her on the UQ Art Museum team…when you read on, you'll see why!
Can you share with us a bit about your art industry experiences – work and study – that have brought you to the Kinnane Curatorial Internship?
Sure! While completing undergraduate study in Art History at The University of Queensland, I interned and volunteered for a range of contemporary arts institutions, including Boxcopy ARI, Eyeline Publishing, Carriageworks, Melbourne Art Library (MAL), and the Museum of Modern Art (MoMA). These experiences, along with supplementary education at the Brooklyn Institute of Social Research and NODE Center for Curatorial Studies, and training in Ortelia Curator, brought me to my position as Kinnane Curatorial Intern. UQ Art Museum provides an invaluable opportunity to gain curatorial experience within the Meanjin/Brisbane arts community, and learn from a team that prioritises unlearning, inter-disciplinary research, and local artist practice. It's so rewarding to be a part of that, and I'm grateful to all those people who supported and encouraged me along the way.
What are you most excited about this internship and what are you hoping to learn?
There is a lot to be excited about at UQ Art Museum this year, for visitors and staff – OCCURRENT AFFAIR: proppaNOW is essential viewing for anyone with a connection to Meanjin/Brisbane, and the next chapter of Conflict in My Outlook: We Met Online, Conflict in My Outlook: Don't Be Evil, is openingnext month!As an intern within the curatorial department, I'm eager learn within a collaborative and creative environment where staff from different departments take the time to share their research, projects, and ideas with one another. UQ Art Museum has a range of collaborative activities that I'm looking forward to, including reading groups, cross-department project meetings, all staff meetings, and cultural mediation training sessions with Front-of-House staff. I'm excited to see how this collaborative and supportive framework behind the scenes will inform upcoming exhibitions and viewership.
How do you feel about being given this opportunity due to the generosity of people you never had the chance to meet?
Receiving the Paula and Tony Kinnane Endowment Fund Curatorial Internship filled me with gratitude and respect for Paula and Tony Kinnane, and their relationship with The University of Queensland. Their support of UQ Art Museum and the Music department, and vision to enhance the job prospects of arts students, brings a sense of optimism at a time when tertiary humanities studies are becoming less accessible. I'm even more inspired to make the most of this opportunity, as a way of honouring and demonstrating my thanks for Paula and Tony Kinnane's generosity.
For students who may not have ventured into the Art Museum before, what would you say to them?
Venture in! UQ Art Museum is a great place for quiet contemplation when you need a break from study, and also a wonderful source of inspiration, which will challenge you to think creatively and critically about contemporary issues. Because UQ Art Museum takes an inter-disciplinary approach to research and programming, the space is truly for everyone.
What are you most looking forward to once your studies are completed? What do you hope the future holds? 
Celebrating with family and friends comes to mind, as well as breaking from the rigour of the academic calendar. After that moment of calm, I look forward to continuing as Development Coordinator at MAL. I hope the future holds more arts work that will challenge me to grow and make meaningful contributions to the local arts ecology in Australia and the Asia Pacific Region.
With your help, we can create many more professional opportunities for students like the one Jenna is undertaking, which was possible due to the generosity of Paula and Tony Kinnane's bequest.