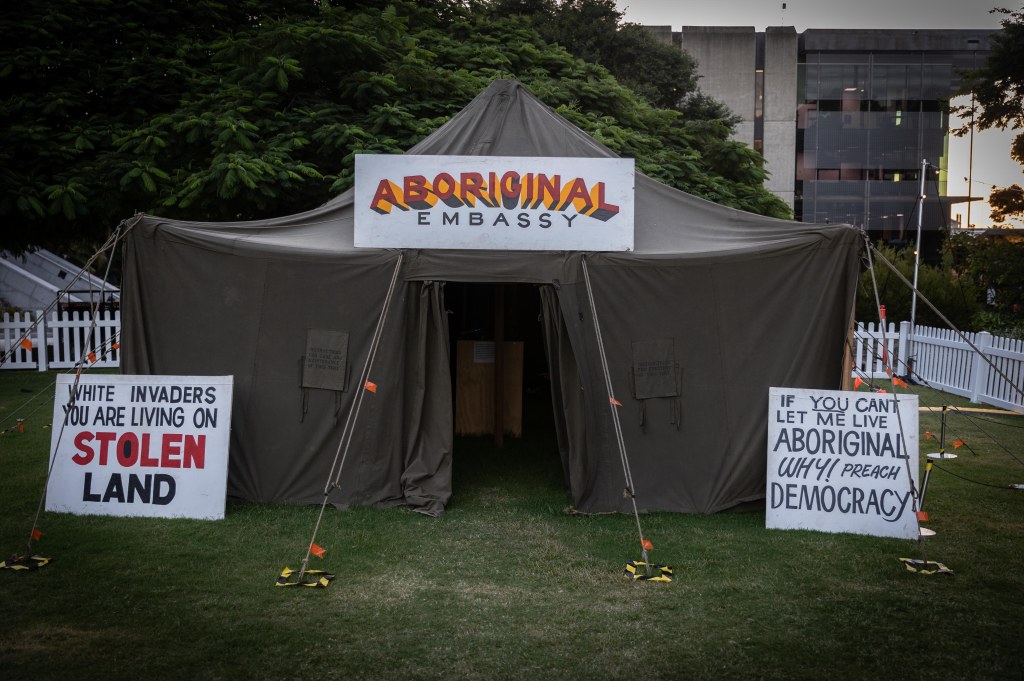 Richard Bell's Embassy has travelled internationally since its first incarnation in 2013. The installation consists of a large military-style canvas tent surrounded by painted protest signs with slogans such as "White Invaders You Are Living on Stolen Land", "…Why! Preach Democracy" and "…We Wuz Robbed".
Bell's installation is inspired by the first Aboriginal Tent Embassy that was pitched on the grounds of Canberra's Parliament House in 1972. Four Aboriginal men (Michael Anderson, Billy Craigie, Tony Coorey and Bertie Williams) set up a beach umbrella on the lawn outside Canberra's Parliament House to protest the then Prime Minister William McMahon's (1908–1988) denial of Aboriginal land rights. In the words of Gumbainggir activist Gary Foley (1950-), "the Prime Minister's statement yesterday effectively makes us aliens in our own land, so like the other aliens we need an embassy".
Bell continues the legacy of the Embassy as a place of solidarity and resistance. As an itinerant roving embassy made in homage to the audacity and strength of the initial Aboriginal Tent Embassy creators, it is a space where people ask questions, share ideas, and create plans for a better future. In this iteration, Bell's Embassy houses video works and interviews featuring artists in proppaNOW.