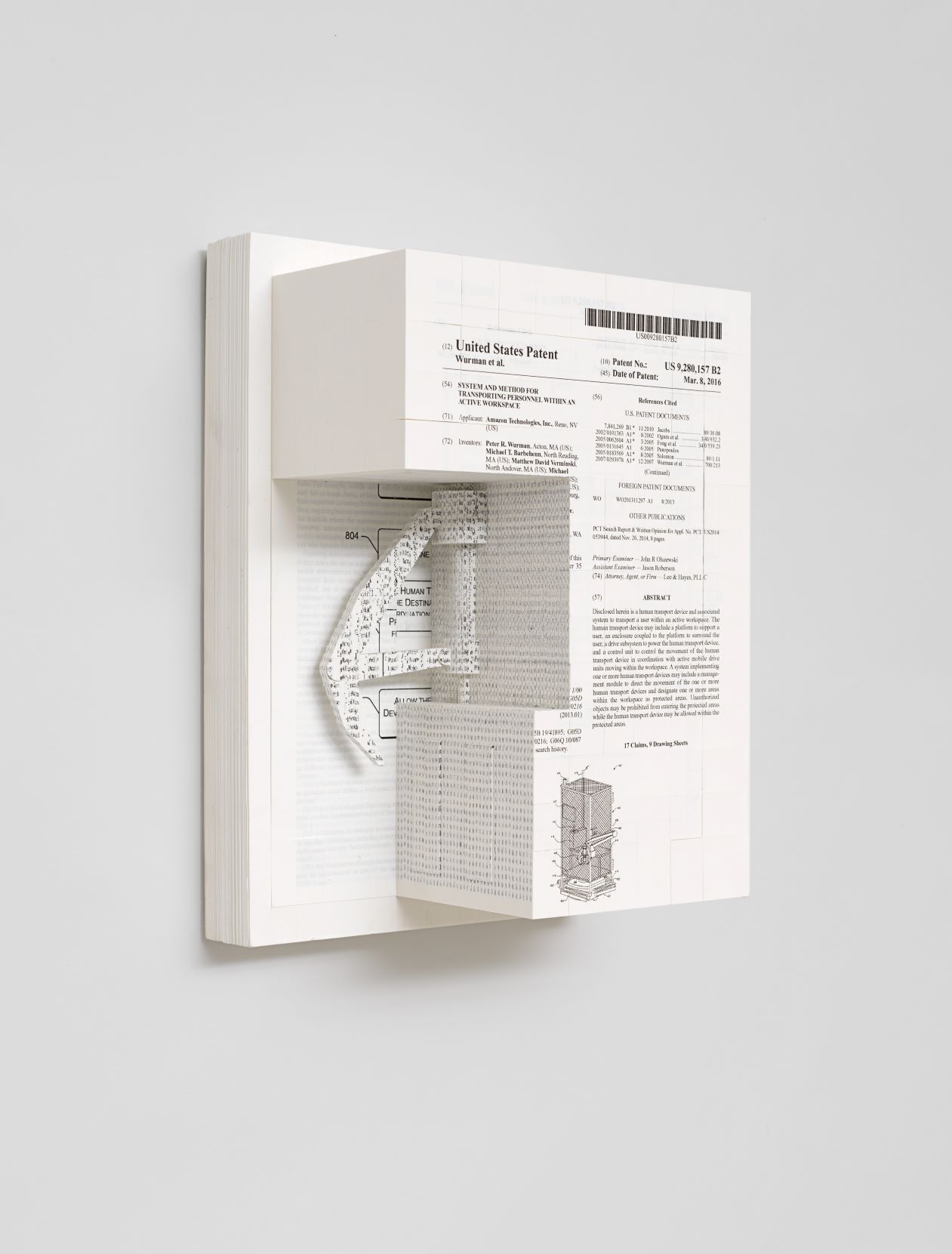 This small-scale wall relief by Simon Denny refers to global operations, entangled supply chains, and the changing relationship between humans and machines. It depicts a device that is essentially a cage to contain a human worker within a highly automated workplace environment. Based on a patent granted in 2017 to Amazon, the 'worker cage' is described as a 'system and method for transporting personnel within an active workspace'.
Intended to enhance efficiency and productivity between workers and robots in a kind of machinic ballet, the cage could be used in an Amazon distribution centre, where millions of products are arranged in opaque algorithmic order in warehouses the size of airplane hangars. Denny's work responds to research undertaken by Kate Crawford and Vladan Joler in their essay and diagram entitled Anatomy of an AI System: The Amazon Echo as an Anatomical Map of Human Labour, Data and Planetary Resources, also presented in this exhibition.
The artist has employed a rapid-prototyping tool that acts as a 3D printer, also hand carving sections of the patent document. Document Relief 19 (Amazon Worker Cage Patent) reveals a dystopian vision that is not speculative or futuristic but realised in our present. Past conjecture around the technologies of automation, the metaphor of the 'uncanny valley', and fears of 'robots taking our jobs', have been supplanted by algorithmically driven Apps and human-in-the-loop systems where machine learning is contingent on harnessing human intelligences, often to exploitative ends.
Patent number 9,280,157 evidences an extraordinary example of worker alienation that reflects the changing nature of work in a data-fuelled economy.
Learn more about the UQ Art Collection.
This artwork is on display until 22 January 2022 as part of the "Don't Be Evil" exhibition. Free entry.