UQ Art Museum staff are sharing our cultural mediation practice with regional galleries in partnership with Museums and Galleries New South Wales. This post about a visit to Townsville was written by UQ Art Museum Mediator and UQ Student Raluca Ghebosu.
As one of the inaugural Mediators at UQ Art Museum I was so excited at the prospect of sharing our mediation experience with others through our partnership with Museums and Galleries New South Wales (M&G NSW). Our partnership with M&GNSW gives us an incredible opportunity to deliver cultural mediation training to venues hosting Mel O'Callaghan's Centre of the Centre.
Cultural mediation seeks to celebrate, honour, and empower and uplift the visitors' voices through discussion and mutual exchange of ideas. Coming from a discipline outside of the arts, I understand some of the difficulties visitors face when engaging with art. Thus, as a Mediator I strive to bridge the cross-disciplinary gap and create a space where visitors can freely engage art regardless of their background.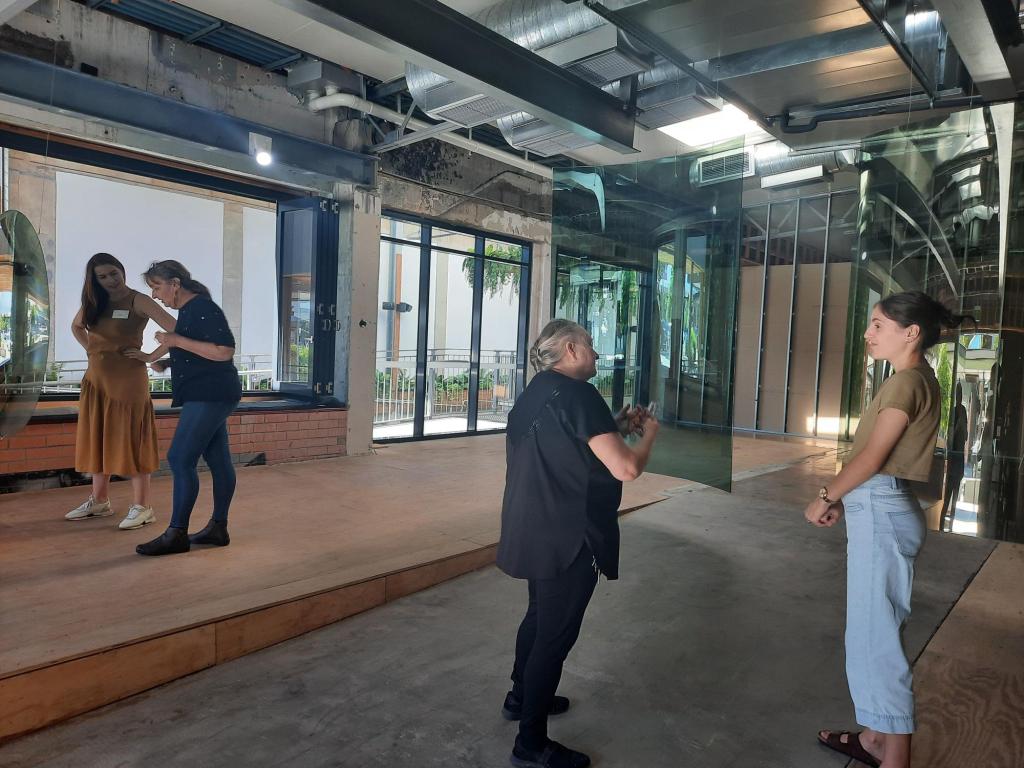 After a resounding success at our first stop in Goulburn, we finally made it to our second destination – Umbrella Contemporary Art Studios, Townsville! Along with my fellow Mediator, Rachael Crawford, we had the pleasure of delivering four "Mediation in Practice" workshops across two days at Umbrella Studios, where we worked with volunteers to build up their repertoire of skills and knowledge relating to both Centre of the Centre and cultural mediation.
During our visit we worked with volunteers on various other creative techniques and ideas that will help them on their mediation journey. We unpacked key ideas and themes through discussion, active listening and critical thinking activities that allowed volunteers to engage with these concepts on a deeper level. Volunteers then took this knowledge and practiced mediation on the floor with their colleagues which allowed them to cement the knowledge and techniques explored in the workshop.
Relationship building is a key facet of mediation, not just within a Mediator team but with the wider community as well. Mediation builds on the principle of peer-to-peer learning and active listening; both are key to positive relationship building. These principles allow us to  connect as a team, share our learning, and further our practices. Creating strong relationships allows mediation to thrive. The volunteers at Umbrella Studios could not agree more, and together we brainstormed ideas such as an online forum or fortnightly gathering that will allow them to share their experiences and grow closer as team — something they agree is vital to their mediation practice moving forward.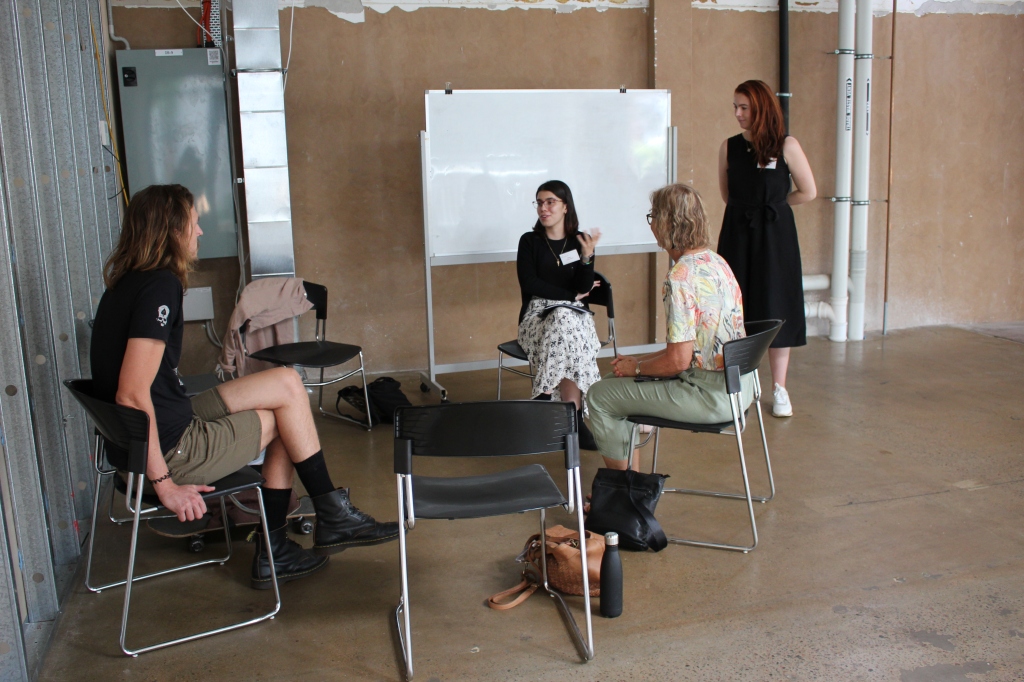 These activities and techniques were quickly embraced by the team and their feedback was resounding — they could not wait to implement it within their team. One volunteer stated: "This is what I born to do! This is what I entered the arts to do." These culminative experiences throughout the workshops created a sense of kinship and volunteers experienced first-hand the same excitement and curiosity we share with our visitors since introducing mediation.
It was amazing to work with the volunteers and to see them so eager to take their learning and apply it to their own practices at Umbrella Contemporary Art Studios. With their newfound skills and excitement, I am sure that they will make a significant impact on their community.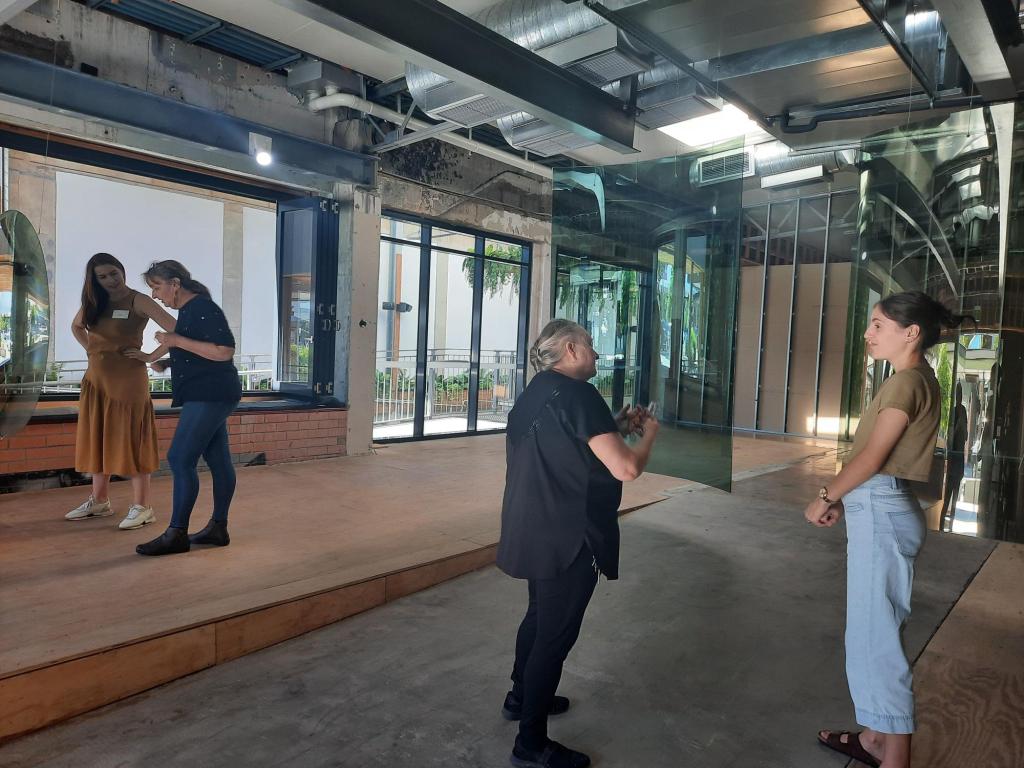 This was a great learning opportunity for me, and the experience has helped me build on my interpersonal skills and being able to respond to a situation in real time. Being able to communicate effectively and build connections with new people as well as strengthening existing ones will definitely both in my personal life and my employability as it will allow me to present myself better in interviews and seem more confident. The session also had a lot of unexpected outcomes, which meant that we had to respond to and alter our plan in real time. This can be a difficult thing to do, but I got a lot more confident in it towards the end. Having the ability to be flexible and confident in my decision-making is something I usually struggle with, but now I feel like I am better equipped for the workforce where this will inevitably happen.
Finally, being involved in the project itself and seeing all the different aspects that go into planning something of this magnitude was a good helped me understand how effectively manage projects, work collaboratively and even review and suggest and make adjustments to program to help it better achieve the desired outcome.
Raluca Ghebosu is a Mediator at UQ Art Museum and a Biomedical Science and Japanese student at The University of Queensland who is passionate about exploring the cross-disciplinary nature of art. Raluca recently travelled to Townville to share her mediation practice with staff and volunteers at Umbrella Contemporary Arts Studio as part of the Mel O'Callaghan's Centre of the Centre tour. 
About the exhibition
Mel O'Callaghan's Centre of the Centre was curated and developed by Artspace and is touring nationally with Museums & Galleries of NSW. Centre of the Centre is co-commissioned by Le Confort Moderne, Poitiers; Artspace, Sydney; and The University of Queensland Art Museum, Brisbane. With Commissioning Partners Andrew Cameron AM & Cathy Cameron and Peter Wilson & James Emmett; and Lead Supporter, Kronenberg Mais Wright. The development and presentation of Centre of the Centre is supported by the Fondation des Artistes; the Australian Government through the Australia Council for the Arts, its funding and advisory body; Woods Hole Oceanographic Institution and the US National Science Foundation.