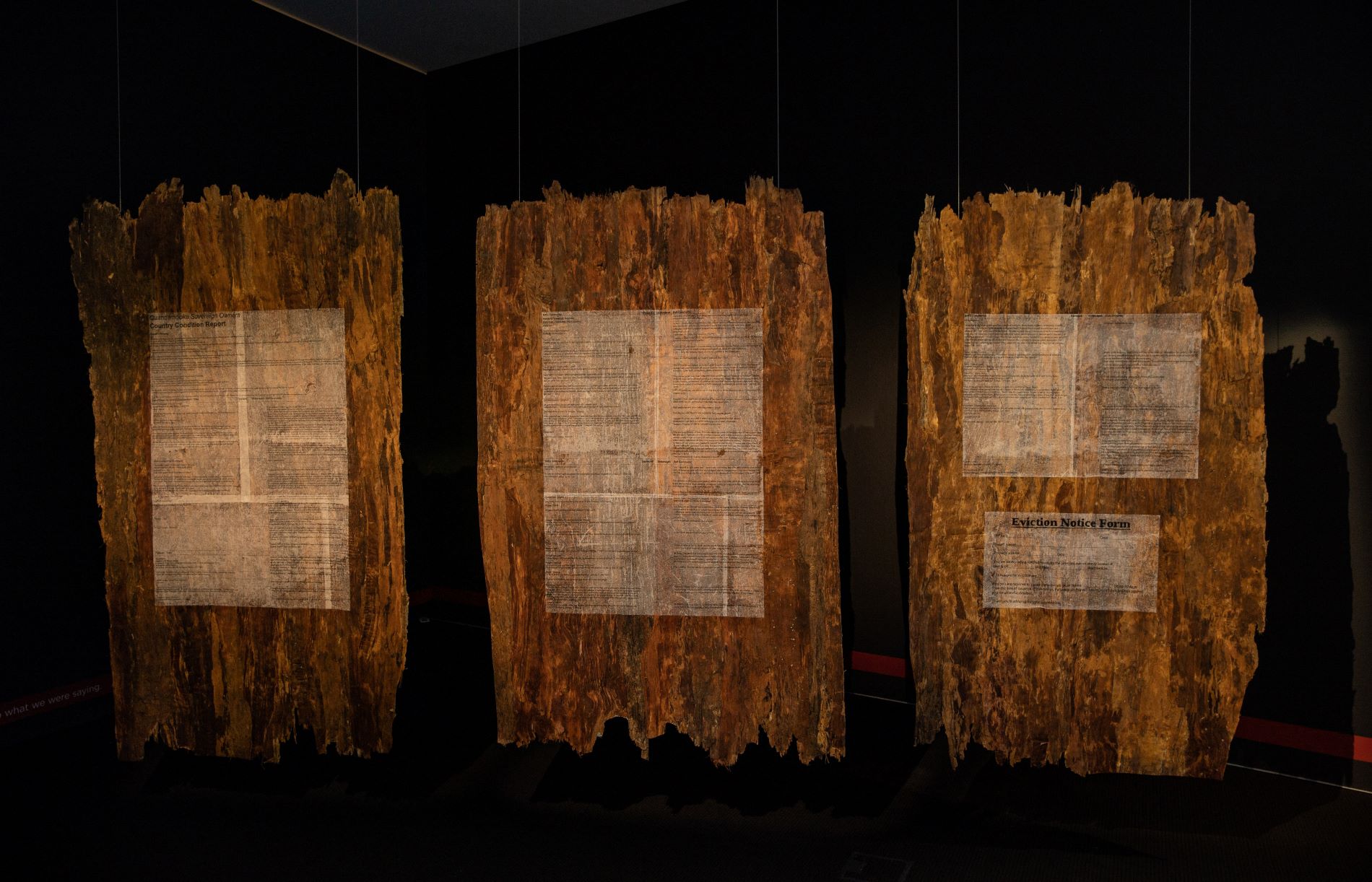 This year's NAIDOC Week theme, Heal Country, highlights the deep and ongoing connections of Aboriginal and Torres Strait Islander peoples to Country, and argues for urgent "significant and lasting change".
Megan Cope uses art as a platform to assert her identity as a Quandamooka woman and as a reclamation of her sovereignty. She holds deep cultural concerns for the environment and its degradation since colonisation. The idiom 'dead wood' refers to people or things that are no longer useful. Cope critiques current political agendas promoting mining and agricultural development over environmental protection, an issue of personal interest to the artist as it has affected her island home of Minjerribah (North Stradbroke Island).
"Dead wood" (2021) was displayed as part of the proppaNOW exhibition OCCURRENT AFFAIR, held at UQ Art Museum earlier this year. The work highlights the environmental consequences of European settlement. In this installation, large sheets of paperbark are suspended from the ceiling, each inscribed with significant information regarding cultural heritage and land and sea management. Acting as a condition report, the work imagines the Traditional Owners as landlords and the paperbark scrolls as an environmental assessment. Government and historical records frequently express the abundance of resources prior to colonial occupation of Australia. "Dead wood" acknowledges this pre-colonial history, the traditional sustainable practices of Aboriginal people, and their role as custodians and ongoing caretakers of Country.
The artist would like to acknowledge Elisabeth Gondwe as primary researcher and collaborator for the historical accounts on this work.