UQ Art Museum staff are sharing our cultural mediation practice with regional galleries in partnership with Museums and Galleries New South Wales. This post about a visit to Goulburn was written by UQ Art Museum Kinnane Endowment Intern Adam Ford.
In Mel O'Callaghan's Centre of the Centre exhibition—her most recent major new commission—the origins of life and its regenerative forces are traced through iterations of video, performance and sculpture.
For the Australian-born, Paris-based, O'Callaghan, such origins and forces were provoked from the pocket of a mineral gifted to her by her grandfather, the renowned minerologist Albert Chapman.
Inside this mineral, pooled within a pocket and potentially millions of years old, lies a small trace of water—a trace of water containing the elemental forces that have necessitated all life on Earth. 
Centre of the Centre was co-commissioned by Le Confort Moderne, Poitiers; Artspace, Sydney; The University of Queensland Art Museum, Brisbane; and is currently touring nationally with Museums & Galleries New South Wales (M&G NSW).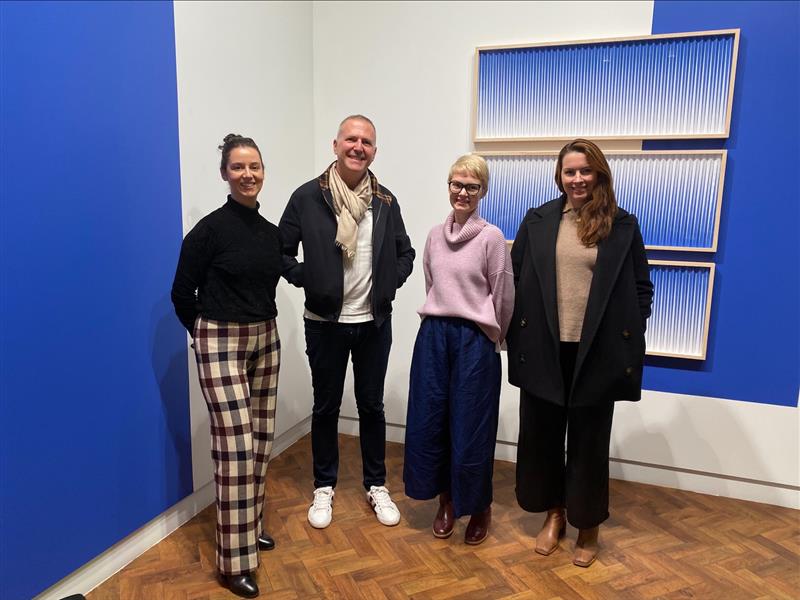 From a UQ Art Museum perspective, the significance of Centre of the Centre extends far beyond O'Callaghan's artistic merit (which is both captivating and undeniable!). Centre of the Centre is special in many ways as it was the first exhibition where we undertook cultural mediation as an alternative practice in visitor engagement.  
Engagement and Training Officer, Danielle Harvey, has provided a robust definition of what Mediation is and seeks to achieve:
"Mediation is a complex and multi-layered term—a term most understood as a resolution of a potential conflict. Yet in the cultural field, the term mediation is far from conflict or resolution centred. In a cultural context, the term is about celebrating, honouring and empowering audience voices in museums in an act of mutual exchange. Facilitated by a Mediator, this act defies the authoritarian ideals of knowledge transmission (one way: from institution to the visitor) traditionally employed by museums." - Danielle Harvey, Engagement and Training Officer, UQ Art Museum.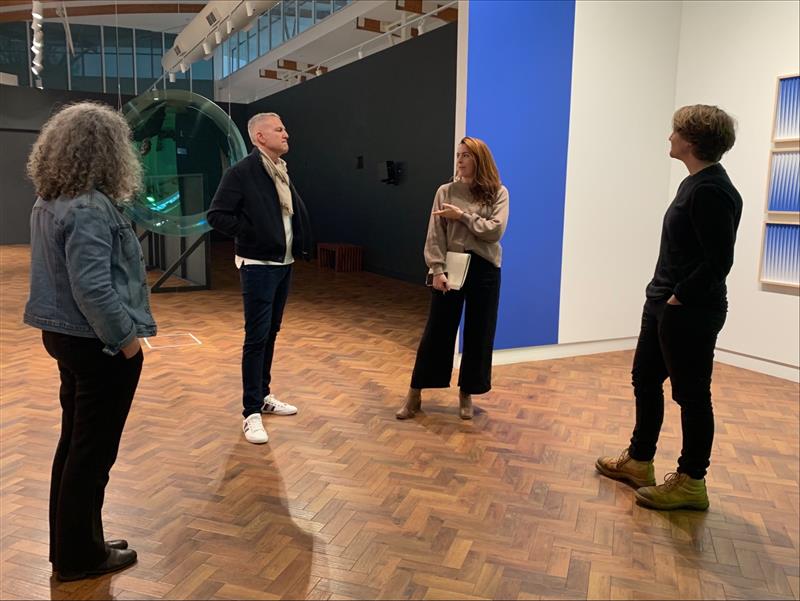 The first stop in the touring program was Goulburn Regional Art Gallery. UQ Art Museum Engagement and Training Officer, Danielle Harvey, accompanied Mediators Shane Pace and Rachaell Crawford across the four days, where they presented at the Cultural Mediation: Conversation Starters workshop; practiced cultural mediation with visitors; hosted a reflection session with Goulburn Regional Art Gallery staff; built upon partnerships with M&G NSW staff; recorded workshop participant feedback; and networked with potential collaborators at the University of Sydney and with colleagues at National Gallery of Australia (NGA) and Drill Hall Gallery (ANU). 
As was uncovered throughout the four days, relationship building is at the heart of how regional art galleries operate within their communities. In its most visible expression, relationship building is often developed via public programming (audience-centred events and activities that link to collections or exhibitions). By embedding cultural mediation practice, regional art galleries can build, broaden and strengthen their relationships with communities and visitors beyond the limitations of public programs which are contextualised by their one-off or limited-series nature.   
Reflecting upon the criticality of visitor relationship building, UQ Mediator and Education Assistant, Shane Pace, summarised the process of cultural mediation and its exchange-benefits: 
"Personally, I realised that my strengths lie in the transfer of information and that these skills are relevant in many roles within a gallery context. The process of sharing has helped me to see that the two-way (or cyclical) dialogue with the visitor and the way we encourage this, is at the core of mediation. I realised that we are pioneering something that is transferrable in many different types of museums and galleries."  

Shane Pace, Mediator, UQ Art Museum
UQ Mediator and Kinnane Visitor Engagement Intern, Rachaell Crawford, echoed Shane's sentiments, highlighting the future ambitions of cultural mediation: 
"Everyone we speak to in the industry is so excited to hear about what we are achieving through our visitor engagement strategy. The need for creating a cultural mediator network across museums and galleries was discussed in our workshop and this is something I can see the UQ Art Museum Mediation Team championing into the future as we lead the way in practising and understanding the importance of team reflection and peer-to-peer support and learning." 

Rachaell Crawford, Mediator, UQ Art Museum
Although there were many key points taken from the cultural mediation workshop, perhaps the most illuminating was the feedback provided to us by our professional colleagues and industry partners. Gina Mobayed, director of the Goulburn Regional Art Gallery, noted that Shane and Rachaell had "similar care and enthusiasm for artists and their work––and the tougher practices [of audience engagement]," and that it was both "refreshing" and "enjoyable." 
Susan Watcher, Acting Gallery Programs Manager, M&G NSW, described Danielle, Shane and Rachaell's workshop as "a really great couple of days: interesting, well-considered and useful," also noting that it "crystallised [cultural mediation] for us [M&G NSW] and the Goulburn staff, too."  
A resounding success, the first workshop in the greater Cultural Mediation: Conversation Starters programme underscored what can be expected throughout the touring duration of Centre of the Centre. UQ Art Museum and M&G NSW will continue to send Mediators to expand their learning, engage with audiences and communities, and establish a professional Mediation network. Following Goulburn Regional Art Gallery, the next stop in the touring schedule is Umbrella Studio Contemporary Arts, Townsville, QLD. The touring schedule can be found here, courtesy of M&G NSW. 
Adam Ford is an emerging-career arts worker who is of European and Indigenous (Nyoongar) descent. Adam is a UQ Art Museum Kinnane Intern, who is building professional skills across curation, registration and engagement. In addition to interning at UQ Art Museum, Adam works as a Public Programs Assistant at the Institute of Modern Art (IMA). 
About the exhibition
Mel O'Callaghan's Centre of the Centre was curated and developed by Artspace and is touring nationally with Museums & Galleries of NSW. Centre of the Centre is co-commissioned by Le Confort Moderne, Poitiers; Artspace, Sydney; and The University of Queensland Art Museum, Brisbane. With Commissioning Partners Andrew Cameron AM & Cathy Cameron and Peter Wilson & James Emmett; and Lead Supporter, Kronenberg Mais Wright. The development and presentation of Centre of the Centre is supported by the Fondation des Artistes; the Australian Government through the Australia Council for the Arts, its funding and advisory body; Woods Hole Oceanographic Institution and the US National Science Foundation.