Film Screening: INFRACTIONS (2019) on Yunbenun (Magnetic Island)
5 March 2023

4:00pm

–

6:30pm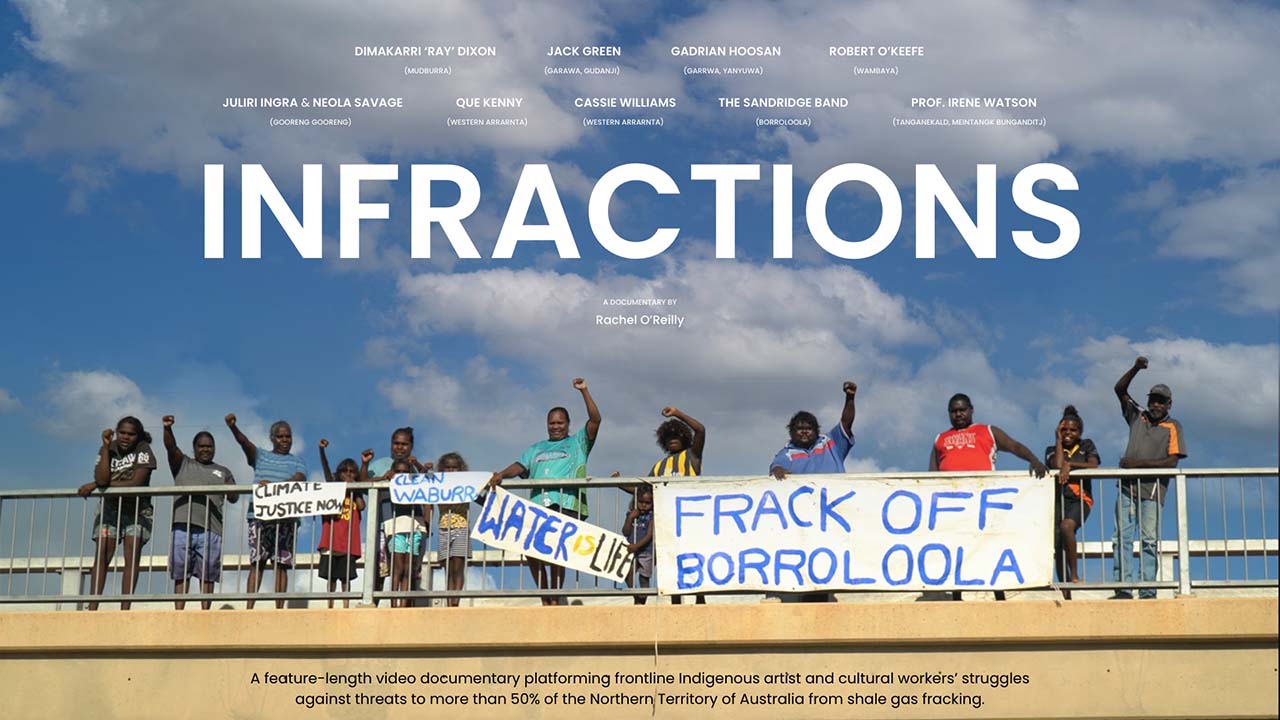 UQ Art Museum, with the Friends of Ninney Rise and JCU Blue Humanities Lab, warmly invites you to a screening of INFRACTIONS (2019) on Yunbenun (Magnetic Island) followed by a discussion with director Rachel O'Reilly.
This screening will begin at 4:00pm at the Picnic Bay Hotel, with complimentary snacks and drinks available for purchase. Places are limited, please register early.
About the film
INFRACTIONS connects stories of Queensland 'unconventional' gas approvals on Gooreng Gooreng country to global shale gas plans potentially affecting 50% of the Northern Territory. The film was made following the lifting of the moratorium on fracking in NT.
It features Dimakarri 'Ray' Dixon (Mudburra), Jack Green (Garawa), Gadrian Hoosan (Garrwa, Yanyuwa), Robert O'Keefe (Wambaya), Juliri Ingra and Neola Savage (Gooreng Gooreng), Que Kenny (Western Arrarnta), Cassie Williams (Western Arrarnta), the Sandridge Band, and Professor Irene Watson (Tanganekald, Meintangk Bunganditj) who was involved in drafting the UN Declaration on the Rights of Indigenous Peoples.
The settler artist/writer Rachel O'Reilly works in Meanjin (Brisbane) and Berlin and grew up on Gooreng Gooreng country in Yallarm/Gladstone. Commissioned by KW Berlin, Germany.
This screening will take place on Yunbenun, Wulgurukaba Country. It is part of Blue Assembly, UQ Art Museum's multi-year program exploring our relationship with the ocean, its adjacent places and other waters. It is supported through the Kinnane UQ Art Endowment. The artist's screening fee will be split with frontline activists.
About Regional Queensland Film Screening Tour: INFRACTIONS (2019), Rachel O'Reilly, Dir. 
UQ Art Museum, with the Friends of Ninney Rise and JCU Blue Humanities Lab, in partnership with Umbrella Studios Contemporary Arts and NorthSite Contemporary Arts warmly invite you to attend the Regional Queensland film screening tour of INFRACTIONS (2019).
Image: 'INFRACTIONS', 2019, 1:03:00, HD video, split screen with text, Dolby 5.1.
Venue
Picnic Bay Hotel 1, The Esplanade Picnic Bay
Magnetic Island, QLD 4819