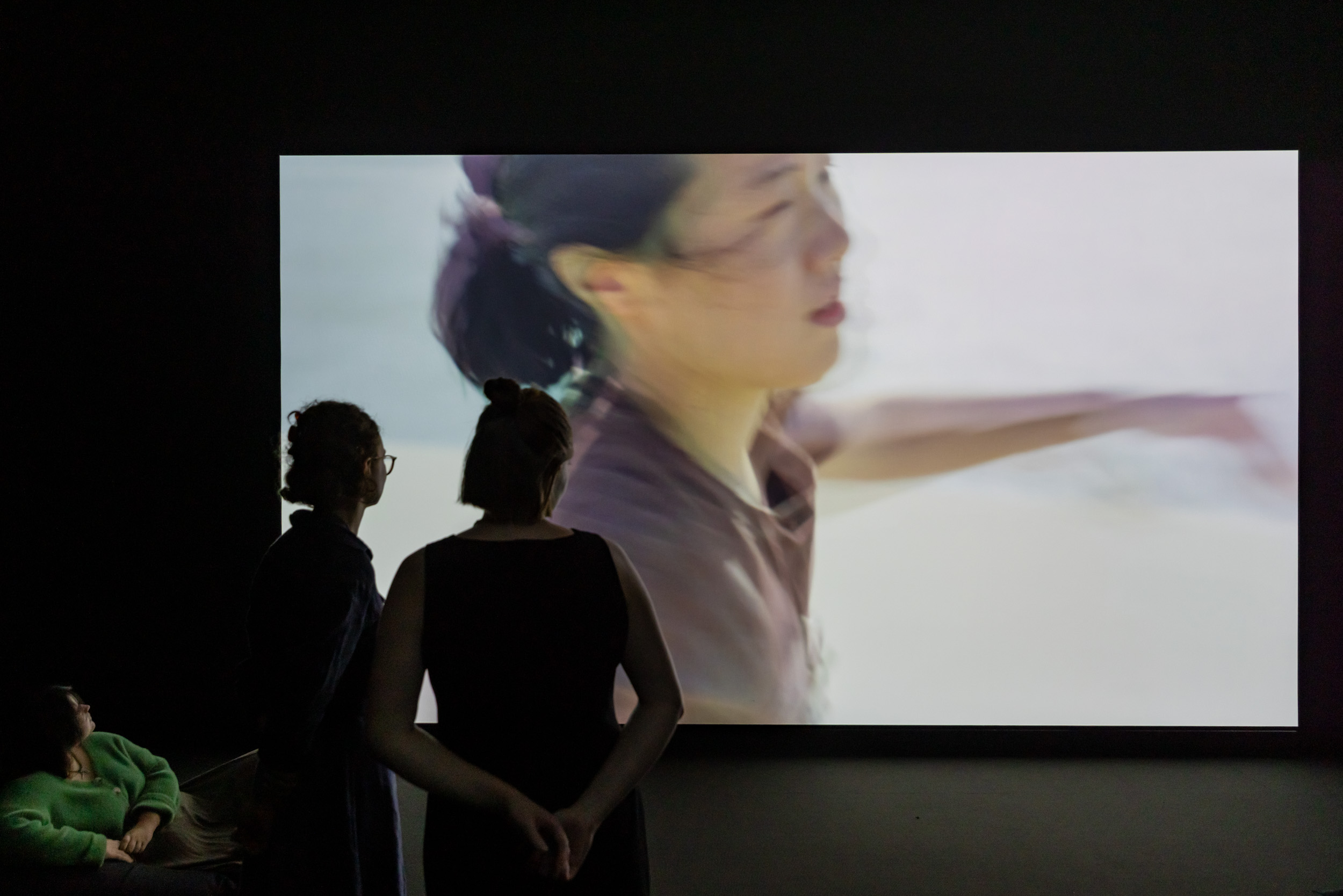 Songs from the Compost is an evocative depiction of the themes exploring interdependence, vulnerability and care in the We Are Electric exhibition. Set on the Curonian spit in Lithuania at a UNESCO World Heritage Site, the film sheds light on the fragility of ecological balance and the interconnectedness of the human and non-human.
In this 28-minute film, a group of non-binary performers traverse lichen-covered forests and coastal sand dunes. They move in unison as a choreographed whole resembling shapeshifters that drift and scuttle crab-like across the landscape, often tangled with each other and pulled earthwards. Subtle bodily mutations display fungi growths or altered evolutionary traits. Some sprout cyborg-like extensions, fleshy appendages, or prosthetics for sensing nature. Each of their bodies enter different states of being, caught in a perpetual state of metamorphosis.
The imagery of this piece steadily layers and builds alongside a hypnotic score. Budvytytè's poetic lyrics draw on the themes of mutation, hybridity and the cyborg as examined by Eco-feminist Donna Haraway. The work also integrates radical microbiologist Lynn Margulis' theories of 'endosymbiosis', which demonstrate that not only is the human body an ecosystem composed of deeply collaborative bacteria, but also that every animal and plant organism encompass millions of distinct species working together in symbiosis. Margulis championed symbiosis as an evolutionary driver, refuting neo-Darwinian ideas around individualism and notions of 'the survival of the fittest'. Haraway's 'symbiotic thinking' is proposed as a remedy for the Anthropocene, a means to contest the anthropocentric hierarchies that insist on the superiority of humanity over nature.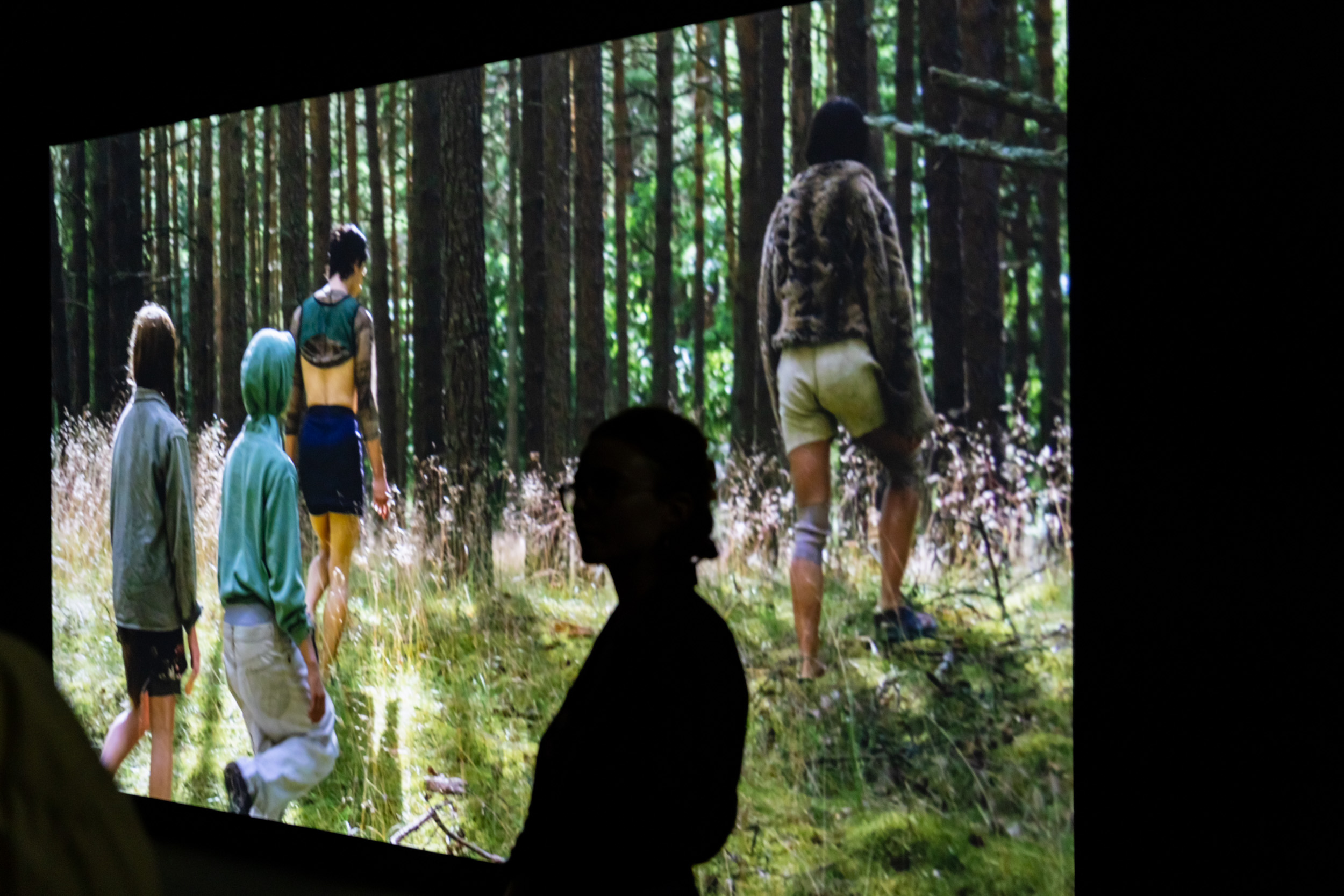 Born 1982, Lithuania. Lives and works in Vilnius and Amsterdam. The artist's work was recently presented in Milk of Dreams, Venice Biennale (2022); Riga International Biennial of Contemporary art (RIBOCA 2)(2020); Eglè Budvytytè: Some Were Carried, Some – Dragged Behind, ACCA (Australian Centre for Contemporary Art), Melbourne (2015); Le Mouvement Performing the City Biel/Bienne 2014, Switzerland; Museu de Arte Moderna, São Paulo (2014); 19th Biennale of Sydney (2014); Messengers, Contemporary Art Centre (CAC), Vilnius (2012); Beyond Imagination, Stedeljik Museum, Amsterdam (2012); Vocabulary Lesson, Swiss Institute, New York (2009); My travels with Barry, the TENT, Rotterdam (2008); and Art in the new field of visibility, De Appel, Amsterdam and Platform Garanti, Istanbul (2007). Budvytytè was resident at Le Pavillon, Palais de Tokyo, Paris (2012) and Wiels, Contemporary Art Centre, Brussels, Germany (2013).