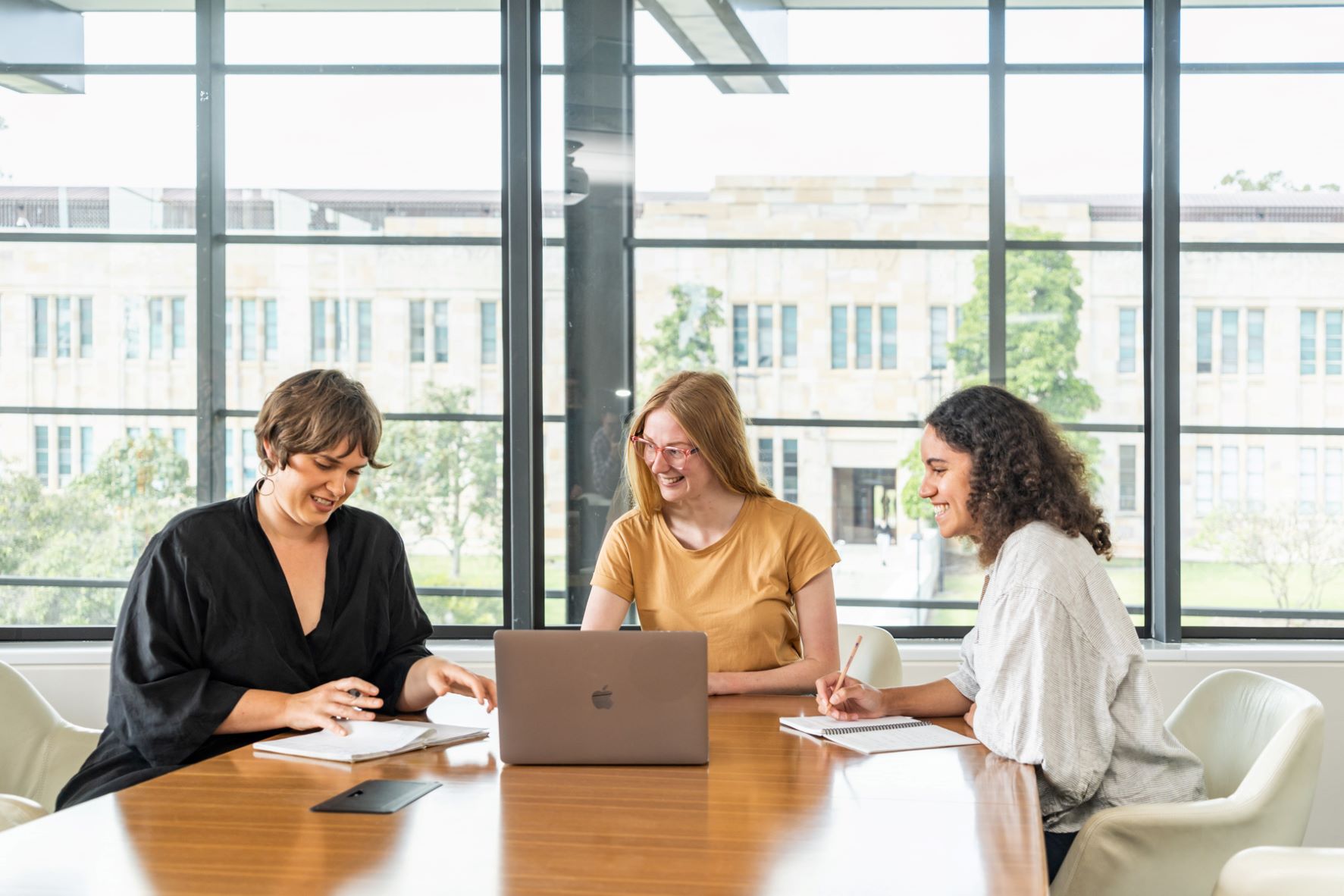 Eva Bunker is a familiar face at the UQ Art Museum from her time as the inaugural Ashby Utting Arts Administration Intern for 2020, and from her role as Engagement Assistant, which developed out of that internship opportunity. Now, we are pleased to re-introduce Eva as our new Education and Public Programs Assistant.
Eva joins the public programs and education team after graduating earlier this year as the Business, Economics and Law valedictorian; she completed a Bachelor of Business Management majoring in Marketing and a Bachelor of Arts majoring in Art History. Eva has also been the recipient of the 2021 Paula and Tony Kinnane Art History Scholarship.
Below, Eva shares more about how her time as a student and UQ Art Museum team member has shaped her professional experience so far and what she is looking forward to in her role as Education and Public Programs Assistant.
When did you first join the Art Museum?    
I first joined the Art Museum as the inaugural Ashby Utting Arts Administration Intern in August 2020. Following the conclusion of my internship, I commenced in a part time capacity as Engagement Assistant, working closely with Danielle Harvey to further the Art Museum's engagement initiatives and practices. 
Have you had any key mentors during your time as an intern at UQ?    
So many! Most notably, I am very thankful for the mentorship I continue to receive from the entire UQ Art Museum team. As an active learner who deeply values education, I am very thankful to work in a team that actively fosters and supports the learning of both visitors and professional staff.  
Working alongside Danielle Harvey to enrich our engagement portfolio over the past 12 months has been an incredibly influential learning experience. Working with Danielle inspired me to think broadly about new approaches to museum management, visitor experience and cultural mediation.
What do you love about connecting people with art?    
Art provides a unique opportunity for us to explore and extrapolate big ideas. Through art, we can interrogate, critique, question, and unlearn the structures which comprise our community. In this way I believe art is so much more than the physical objects we experience; it is a nexus point from which cross-disciplinary dialogues and debates can expand. It is deeply rewarding to witness these rich engagements take place.
What are you looking forward to in your new role as Education and Public Programs Assistant?    
As an Art Museum, we have a valuable opportunity to provide a unique space where voices from across the university can come together to discuss, (un)learn, and form new knowledge through critical inquiry. I deeply look forward to the opportunity of developing rich education initiatives which draw students and researchers into the challenging and important conversations our exhibitions invite. Watch this space - there are many exciting things to come!  
---
We warmly thank Ashby Utting for his support of UQ students through the internship program Eva was able to benefit from. If you think you might be our next Ashby Utting Arts Administration Intern, you have until Monday 19 September to apply (open to UQ students only – please log in to access this link).