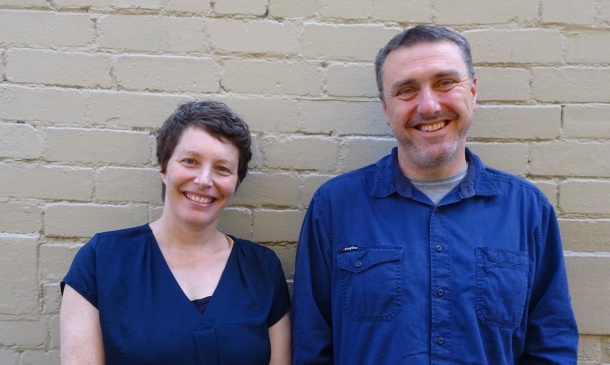 Glenn Barkley and Holly Williams are co-founders of The Curators' Department and co-curators of the National Self-Portrait Prize 2017. As submissions began to arrive at UQ Art Museum in preparation for the announcement of the winner at the 10 November opening, we asked the curatorial duo what we could expect to find in this year's exhibition.
Q: From what you've seen of the submissions so far, how are you feeling about the artists' responses to your exhibition theme, 'Look at me looking at you'? (NB: Read more about the theme here) 
A: We've been struck by how artists have really taken the theme to heart – sometimes when you're looking for a show title you're wanting something catchy (!) but the artists seem to be really engaged by the idea of 'Look at me looking at you' – more so than we would have thought. In some instances it has really pushed their art-making in interesting directions.
Q: It's been noted that this year's NSPP artists are not 'the usual suspects'. How did you approach the task of selecting artists? 
A: As curators we are interested in the diversity of practice in Australia. A lot of our work also takes place outside of the confines of major metropolitan institutions, and the show reflects that. We are interested in artists who are, for one reason or another, marginalised. The Australian art world is a diverse multifarious organism but this is not always evident!
Q: Self-portraiture can be challenging for artists in general, and particularly for those artists who may never have explored the genre…what are your thoughts? 
A: It is difficult and, for some, the show has been an opportunity to explore portraiture for the first time – in some instances we've felt that this may have a longer-term effect on what they do. We're sensing others may be pleased to be finished with it! There is a group of artists in the show who work primarily with portraiture of a sort, so it will be interesting to see how these works, and artists, fit together.
Q: What can visitors to this year's NSPP expect? 
A: A group of diverse works in diverse materials – some are quite humorous, and others, deeply moving. There are different textural elements in the exhibition, which captures the range of practices represented.
The winner of The University of Queensland National Self-Portrait Prize 2017 will be announced at the exhibition opening on Friday 10 November by this year's judge, Ms Erica Green, Director, Anne & Gordon Samstag Museum of Art, University of South Australia, and Curator, 2018 Adelaide Biennial of Australian Art. Visit our website for more details about the opening, and the program of artists' talks on Saturday 11 November 2017.