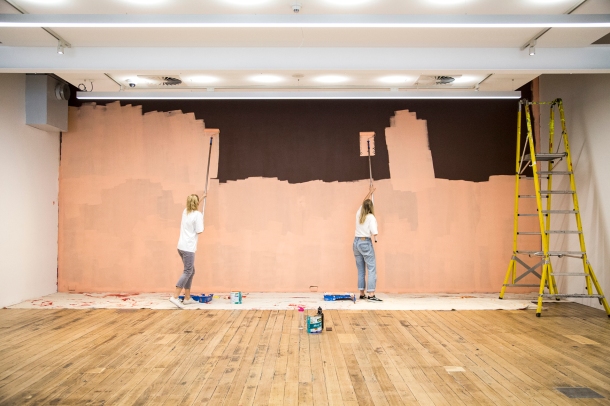 This year, we're asking you to participate in our artistic program. Be part of Lara Merrett's painting project High Stakes, contribute to John Baldessari's Wall Painting, or choose an artwork to hang in our gallery spaces.
These projects are part of UQ Art Museum's extended research inquiry that will use art and the university context as vehicles to investigate topics that matter to artists, students, and our communities. Rather than traditional three-monthly rotations of exhibitions and themes, we're aiming to engage in longer-term conversations that provide a range of access points for our audience to get involved.
Associate Director Dr Holly Arden said the move to involve the community more directly in the creative process aimed to bring artists, artwork, and audiences closer together.
"It's one thing to see and appreciate an artwork or an exhibition in an art museum space, but being an active participant in the process – talking with artists and arts professionals, working with materials or having the power to influence what's shown on the wall – that completely changes the idea of an 'audience'.

"Whether you pick up a roller to paint a wall for the John Baldessari project, you choose an artwork from the UQ Art Collection as part of Multiple Choice, you join the team working with Lara Merrett, or you drop by to see the results, we want you to feel involved."
Senior Curator Peta Rake is working closely with Lara Merrett to coordinate a large-scale outdoor studio on the UQ Art Museum lawn, where volunteers will help create the artwork for High Stakes over ten days.
"It's an exciting chance for students and the community to work with an experienced artist like Lara to help create the 60 fabric canvasses that will culminate in a large installation inside the Art Museum in July.

"Situating Lara's 'art studio' in such a highly visible and open location in front of the Art Museum will also give many more people simply passing through the area, a sense of inclusion in the process.

"As a result, we expect the installation will have a strong connection to our campus and the people who spend time here. And we hope that by being closer to the creation of these works and being able to make physical contact with the fabric paintings in the Art Museum space, will also challenge assumptions around what painting can be, and how we can engage with it."
Unlearning is the first in a series of multi-year research inquiries titled An Art Museum in Several Acts. Visit the website to find out how to register your interest in these projects. Information about Multiple Choice is coming soon.